I've been looking into Baidu.com Inc. (NASDAQ:BIDU) recently, using their financial reports (which can be found here), to determine if it would be a good investment. There are several things that attract me to BIDU. One of the most important factors would be the fact BIDU is the biggest player in the Chinese online search advertising market, with a market share of around 80%. The online search advertising market is expected to grow at a compounded annual growth rate of 24.6%.
In this article, I will be looking at several things I believe may boost BIDU's value over the next few years. As I have already mentioned, expected growth for BIDU's main market is pretty high. But how has BIDU performed over the last 5 years? Let's take a look at the graph below.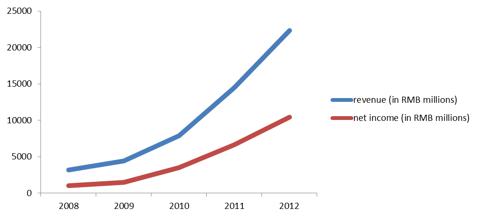 In the 2008-2012 period, revenues grew from only 3.2 billion RMB to 22.3 billion, while net income went from 1.0 to 10.5 billion. BIDU has managed to steadily increase its profit margin (which is defined as net income divided by total revenues). Between 2008 and 2012, the profit margin went from 32.8% to an amazing 46.9%.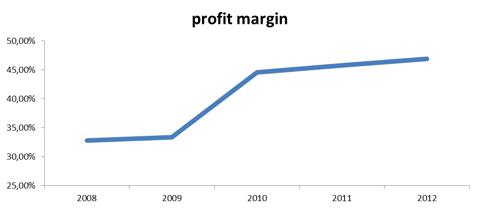 The 2012 revenue of 22.3 billion RMB equals $3.58 billion. Analysts expect this revenue to reach 4.9 billion dollars in 2013 and 6.3 billion dollars in 2014. With BIDU's large market share and the forecasted market growth, I consider these estimations to be very reliable.

While Baidu has a comfortable lead over all of its competitors in the online search market, it only has a 35% market share in mobile search. However, I believe BIDU should be able to grab a bigger share of the market, especially considering the large amount of money they have available.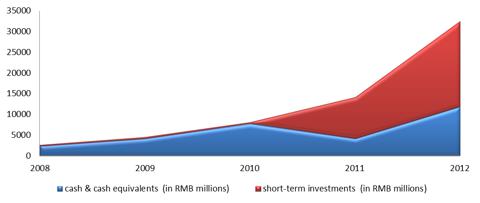 Total cash and cash equivalents at the end of 2012 were 11.9 billion RMB (1.9 billion USD), while short-term investments were at 20.6 billion RMB (3.7 billion USD).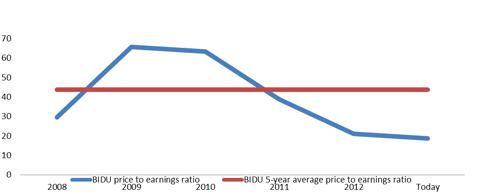 With a price to earnings ratio of 18.8, I believe BIDU is now very reasonably valued. Its 5-year average p/e is at an amazingly high 43.7. For comparison, Google (NASDAQ:GOOG) is trading at a price to earnings ratio of 24.3, with the industry average at 27.5. BIDU's 2013 forward p/e is at 16.8, with its 2014 forward p/e at only 13.4. The next graph compares BIDU's current and forward p/e's to Google's.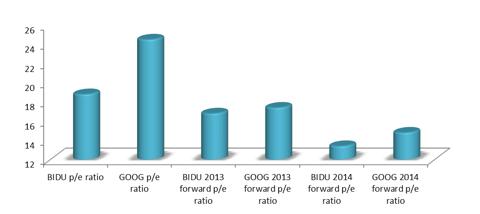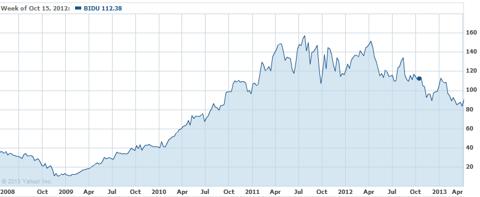 (Picture is from Yahoo Finance)
At a price of $90.62, BIDU is cheaper than it has been for quite some time. In fact, it has dropped by more than 40% from its 52-week high of $152.85. Its price to earnings valuation has dropped to only 18.8, which is extremely low for a company with such dominance in a quickly growing market. In this article I have used Google for comparison, but I would in no way recommend readers to choose between the two as they are in completely different geographical markets.
For me, BIDU's current low price offers an amazing opportunity to get some exposure to the growing Chinese internet population
Let me know what you think about BIDU! Please comment below!
Disclosure: I have no positions in any stocks mentioned, but may initiate a long position in BIDU over the next 72 hours. I wrote this article myself, and it expresses my own opinions. I am not receiving compensation for it (other than from Seeking Alpha). I have no business relationship with any company whose stock is mentioned in this article.