Now That Taxes Are Done, Is It Time to Dump H&R Block?
2013 has been a very good year for H&R Block (NYSE:HRB) thus far. Since we rang in the New Year, the stock price has grown as much as 59.8% before finishing the last week before tax due date at 28.58, still a 53.9% gain this year. Any time there is growth this rich, we need to look at why, and when is the right time to exit. Of course, Rule #1 states that you should never lose money, and nobody could really be blamed for taking a 55% profit in 4 months, if that were the case!
H&R Block is truly a cyclical business if there ever was one. Of course that's INTUitive… get it? Because Intuit (NASDAQ:INTU) is one of the main competitors. As their fiscal year comes to a close at the end of April and they release their earnings report, I believe it is a critical time for them as a company.
Post tax season has not been kind to H&R Block the last two Mays. Last year earnings was favorable and we saw a 13% drop. This was almost identical to what happened in 2011. The chart below shows the dramatic drop, and in both cases the stock made a slow and steady upward progression, before taking off in 2013.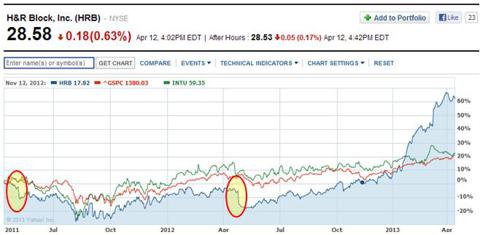 Click to enlarge
Also, as you can see from the chart Intuit has more closely mirrored the S&P 500 (I'm not saying that this is good or bad). Historically, H&R Block has a Beta of .98 while Intuit's is .75.
Over the last 3 quarters, H&R Block has missed earnings expectations, as indicated in the chart below. The January miss was particularly bad. Then again, that hasn't seemed to deter investors. The EPS estimate for April 2013 is 2.65.
In the short term, I am bearish on H&R Block and believe that selling/shorting is an option because there will be a regression for the following reasons:
They have missed expectations the last 3 quarters
The mean Analyst Opinion over the next 12 months is right at $29.00.
H&R Block has a P/E ratio of 22.4. This has risen from 19.8 in January, and the rest of the S&P mean right now is 17.7.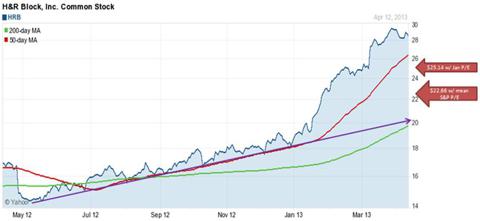 Click to enlarge
Here is the HRB over the last year, taken from Yahoo charts. I have added a purple line which shows the trending level of support. Take notice how from May 2012 - Jan 2013, it is dead on consistent and matches with the 50 day moving average, and carried out it is right about where the 200 day moving average is currently. I have added some other points of reference where, as I've stated, I believe the current P/E ratio is inflated a bit. The prices are labeled where the P/E ratio was in January and where the price would be if it mirrored the S&P 500.
Various Price Valuations for HRB
Price Valuation
Change from 4/14/13
2 year support trend
20.00
-43%
50 Day Moving Average
26.41
-8%
200 Day Moving Average
19.78
-44%
Mean S&P 500 P/E
22.66
-26%
HRB P/E 3 months ago
25.14
-14%
Average
22.80
-25%
I believe the analysts are probably correct in that a year from now, HRB stock price will be around $29.00. However, I feel that a pullback to below $23 or 25% is very probable. I additionally feel that we will see the trend of dumping H&R Block in early May continue. When that happens, I for one will be monitoring to see if the stock will continue to decline or if it might be the right time to enter.
Disclosure: I have no positions in any stocks mentioned, and no plans to initiate any positions within the next 72 hours. I wrote this article myself, and it expresses my own opinions. I am not receiving compensation for it (other than from Seeking Alpha). I have no business relationship with any company whose stock is mentioned in this article.