Micron technology (NASDAQ:MU) is in the final stages of an acquisition of Elpida Memories of Japan. The price for Elpida started out at $2.5 billion, denominated in yen. The Japanese bankruptcy court has approved the deal and that decision was subject to appeal by the debt holders. A group of American unsecured debt holders actually did appeal at the last minute on March 31. The face value of the debt involved is about $278 million, with the agreement allowing for payment to unsecured debt holders at 17.4% of face value. So the amount involved is about $48 million or less than 2% of the $2.5 billion deal.
Since the offer for Elpida was made by Micron, the yen had fallen in value by about 20% by the date of the appeal, thus reducing the cost of the purchase by about $500 million. Since the date of the appeal, aggressive easing by the Bank of Japan has caused the yen to decline another approximately 4%, reducing the cost to Micron by another $100 million. This has been caused by parties with a 2% interest; the other 98% of debt holders who voted for the acquisition must just be livid.
According to the Micron 10Q filed February 28, 2013, certain payments from Micron that had been anticipated by the Sponsor Agreement were not required to be made because cash on hand at Elpida did not decline to the trigger point, indicating improved operations at Elpida.
From 10Q:
"As of February 28, 2013, we have provided payment guarantees related to financing of capital expenditures of 29 million euros (or the equivalent of approximately $38 million) and 6 billion yen (or the equivalent of approximately $65 million). We have also provided a payment guarantee relating to an extension of Elpida's existing working capital credit facility, which provides for aggregate borrowings in the amount of up to 10 billion yen (or the equivalent of approximately $108 million), with an outstanding borrowing as of February 28, 2013 of 8 billion yen (or the equivalent of approximately $87 million). We have entered into an omnibus reimbursement agreement with Elpida in connection with our financial support obligations under the Sponsor Agreement, whereby Elpida and certain of its subsidiaries have agreed, among other things, to reimburse us for any amounts that we are required to pay under or in connection with the payment guarantees. These obligations under the omnibus reimbursement agreement are collateralized by approximately 93% of the Rexchip shares held by Elpida and one of its subsidiaries. In the event we are required to make any payments to Elpida's lenders under the guarantees, our rights will be subrogated to those of the lenders, including any rights to exercise remedies with respect to collateral securing the underlying loans. Failure to close the Elpida acquisition would not relieve us of our obligations under the foregoing payment guarantees. Under the Sponsor Agreement, certain conditions require Elpida's cash balances to be below a certain level in order for capital expenditure financing support to be available to Elpida. As of February 28, 2013, these conditions were not satisfied. As a result, we will not be obligated to provide any such further support unless and until such conditions, as well as all other applicable conditions, are met."
While some partial payment guarantees have been issue, so far, no cash payments from Micron have been required for the ongoing operations of Elpida.
The latest little nugget on this deal is a report that Samsung (OTC:SSNLF) is buying mobile memory parts from Elpida and NAND memory from Toshiba (OTCPK:TOSBF). Sound strange? It is strange. In 35 years of experience, I have only heard of semiconductor suppliers buying parts from their competitors on a few occasions. Those occasions involved desperation moves caused by yield busts or damaged factories.
Samsung has a shell of new semiconductor plant in place in China that is targeted to build 10 nm class NAND memory.
Over half of the world's DRAM and NAND memory production is within 85 miles of the Korean DMZ. The Samsung memory super fab is in this center of memory production. A fairly small conventional explosive missile attack could put this facility out of production for a year or more.
Pictures of the "Little Guy" in North Korea and his military staff have maps of potential targets in the U.S. Of course Washington DC and the large American West Coast cities are highlighted, but so is Austin, Texas. What is in Austin Texas? The only other major Samsung fab, a logic fab, is located in Austin, Texas. That fab produces the Apple (NASDAQ:AAPL) "A" chips used throughout the Apple mobile product line. If North Korea thinks Austin could be a target, the Samsung facilities in South Korea must have a big red target on them.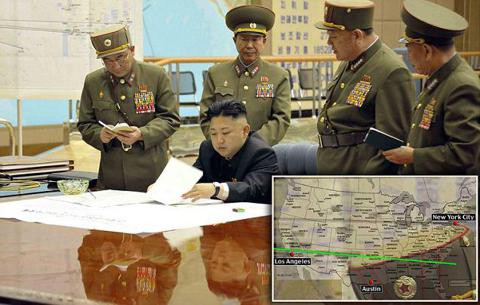 The possibility of North Korea attacking South Korea and incurring the wrath of that country, the U.S., and even China are vanishingly small, but apparently not zero.
To connect the dots: Samsung is buying memory from competitors. Samsung has a facility ready to be equipped in China. Samsung's total memory production is within 85 miles of the Korean DMZ. A crazy man is in charge of North Korea.
Could these dots point to a movement of irreplaceable Samsung equipment from South Korea to the Chinese facility where it would be out of reach of North Korean missiles?
The problem with this apparent shortage of both DRAM and NAND memory is that this is the quarter when the gadget manufacturing base, all users of memory, increases inventory for the build season later in the year. If a major Samsung production fab is offline for even a quarter (more likely a year), memory prices will go through the roof in the last half of 2013. The only pure play beneficiary of this is Micron/Elpida.
The Micron/Elpida deal will close, maybe in another month or so. The appealing debt holders probably wish they had never filed the appeal and Micron is probably standing by watching the Yen fall further with a smile on their corporate face while Elpida moves deeper and deeper into profitability.
The Micron acquisition of Elpida that didn't look very bright a year ago now looks like incredible genius AND luck blended in equal proportions.
When this deal closes, Micron changes from an $8 billion operation to somewhere between a $16 and $22 billion operation, depending upon the degree of price increases. Micron will be very profitable, and will be the second largest memory manufacturer in the world, the second largest silicon wafer processor in the world, and given that much of Samsung's capacity is used internal, Micron becomes the largest merchant market memory supplier in the world…with pricing power.
I am buying highly speculative Micron January 2014 call options with strike prices throughout the option chain, including 15s. This might be the play of a lifetime.
Do your own DD and good luck and don't use grocery money for buying options.
Disclosure: I am long MU. I wrote this article myself, and it expresses my own opinions. I am not receiving compensation for it (other than from Seeking Alpha). I have no business relationship with any company whose stock is mentioned in this article.