Washington Trust (NASDAQ:WASH) has been paying dividends for over 100 years (who counts after that?). The dividend has been increasing steadily for twenty. The bank survived the financial crisis of 2008, the Great Depression in the 30s and the innumerable panics of the nineteenth century. Washington Trust got through the recent crisis comparatively well due to "boring banking" - no trading, no sub-prime. Traditional banking along with a profitable wealth management business has put Washington Trust in a strong position to continue the long history of dividends to shareholders.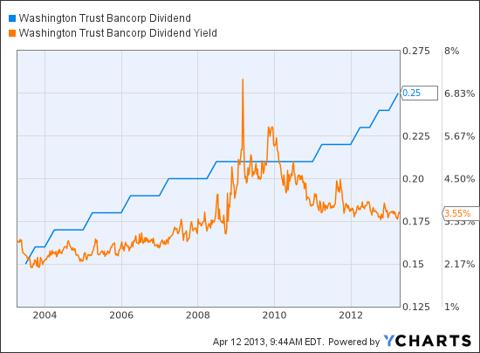 Washington Trust is the largest independent bank in Rhode Island, the oldest community bank in the nation and one of the oldest public companies listed on the stock market. For nearly two hundred years Washington stuck mostly to traditional local banking. From the 1990s it began expanding throughout Rhode Island, acquiring two local banks, and acquired two wealth management firms - one in Rhode Island, one in Massachusetts. As of December 31, 2012, Washington Trust had total assets of $3.1 billion, total deposits of $2.3 billion and total shareholders' equity of $295.7 million.
Loans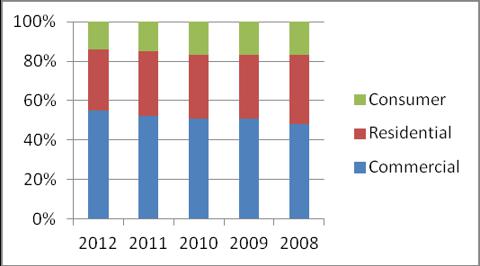 Washing Trust's loan portfolio is weighted towards commercial loans and has been gradually increasing that weighting - from 48% in 2008 to 55% in 2012. This results in a shorter term and more adjustable portfolio than one weighted towards residential. Currently 40% of the loan portfolio is due in 5 years or less, and about half will adjust next year. This portfolio is well structured to profit from a rise in interest rates in next five years. Given that interest rates are more likely to rise than fall in the next five years the bank should do well. Total loans have been growing consistently over the past five years: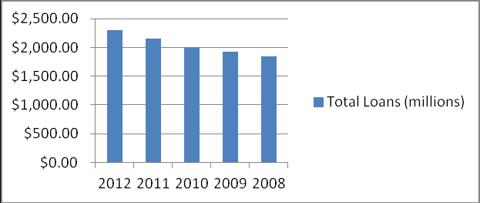 Nonperforming assets are under 1%, and past due loans slightly above. Here Washington Trust performs much better than the regional and national averages. A stronger economy would bring Washington Trust's asset performance back to considerably lower pre-crisis levels.
Washington Trust has $375 million in securities available for sale. The majority is in agency mortgage-backed securities. The bank has reduced its securities holdings significantly, from $596m in 2010 to $375m now. The reduction has primarily been allowing securities to be paid off without replacing them. I see this as a sensible strategy, allowing the bank to concentrate on its strength in local knowledge - originating and holding loans.
Wealth Management
In 2005, Washington Trust acquired Weston Financial Group. This became the wealth management business within the bank. Assets have grown from $1.2 billion to just over $4 billion. Revenues from fees for administration now make up 19% of total bank revenues. This is the most significant source of non-interest revenue for the bank.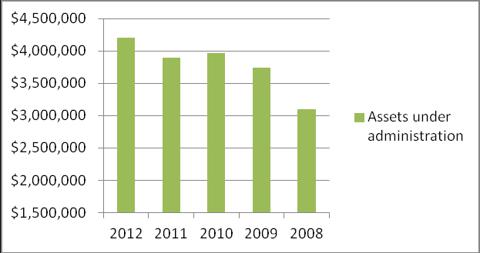 Deposits and other fund sources
As shown, deposits are increasing steadily, at roughly the same rate as loans. Demand and savings accounts pay next to nothing (<0.25%) making for a very cheap source of funds. Time deposits have a weighted cost of 1.35%, but are decreasing as shown above.
The most significant interest expense - slightly above half the total interest expense - are borrowings from the Federal Home Loan Bank of Boston (FHLBB) with an weighted rate of 3.13%. Washington Trust has been paying these off quickly. In most cases they are tied to specific assets held for sale and when those assets are sold, the FHLBB advances are repaid, even when that involves a prepayment penalty.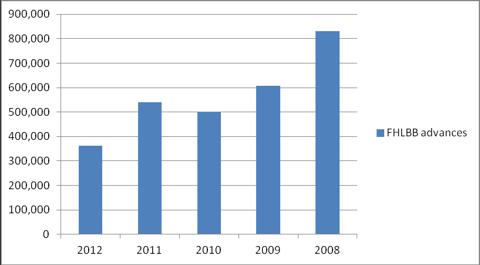 As a result, net interest margin (NIM) is improving - from 2.93% in 2010 to 3.2% in 2011 and 3.29% in 2012.
Non-interest expenses are dominated by salary and employee benefits. In part this is due to underfunded employee pensions. The low interest rate environment reduces the expected return on the pension funds creating a shortfall. To help mitigate this Washington Trust has invested in bank owned life insurance products. These provide a tax-free income to offset pension benefit liabilities.
Analysis
Washington Trust is well positioned for an increase in interest rates. They estimate that a 1% increase in rates would lead to a net interest income increase of 3% in the first year and nearly 6% the year after. A greater increase would be even more helpful.
What originally attracted me to look at Washington Trust was the ROA. As SA contributor Harvard Winters points out, ROA is critical to a bank's continued earnings. Even research by the Federal Reserve concurs "we find that high ROAs are associated with above-average performance on operations and decisions that are basic to the banking intermediation process." (Kupiec and Lee, 2012). For 2012, Washington Trust reported ROA of 1.16%. Book value CAGR was 5% from 2008 to 2012.
Washington Trust returns much of its earnings to shareholders. Since 2008, the payout ratio has been over 40%, with dividends increasing. There are no regulatory concerns about capital - they could increase payout to over 100% and still be within regulatory limits. Given Washington Trust's long history of dividends and their ability to pay more, I consider the payout to be safe. In addition to dividends, Washington Trust has authorized the repurchase of 110,000 shares.
Risks
The principal risk for Washington Trust is the geographical concentration. Over 95% of loans are made in Rhode Island. Any significant disruption to the Rhode Island economy would be a serious blow to the bank. While loses from Sandy were limited, a similar scale storm hitting Rhode Island directly would cause major concern.
The concentration in commercial loans is likely to result in outperformance if interest rates rise. However, if the residential real-estate market outpaces commercial real-estate then this bank will likely underperform other lenders.
Employee expenses - especially underfunded pensions - are rising quickly compared to the size of the business. This is occurring despite a nationally depressed labor market. While the bank is hedging some of this cost, if these expenses are not kept under control they could meaningfully reduce earnings in the short and longer terms.
Conclusions
Washington trust is not an exciting bank - assets are traditional and conservative, acquisitions have been very limited and there is no search for a buyer. So I do not expect any rocket ship returns. On the other hand they have survived, and thrived, through highly adverse conditions. They have maintained a steady and high dividend payout throughout. If you're looking for dividend income for your retirement and your grandchildren's retirement as well, Washington Trust is likely to be a trustworthy choice.
Disclosure: I have no positions in any stocks mentioned, but may initiate a long position in WASH over the next 72 hours. I wrote this article myself, and it expresses my own opinions. I am not receiving compensation for it (other than from Seeking Alpha). I have no business relationship with any company whose stock is mentioned in this article.