The U.S. economy is rebounding slowly and unemployment numbers are beginning to fall. As American companies add employees, the demand for uniforms, apparel, and supplies goes up. The main player in this industry missed earnings estimates in March but has still managed to rise to its 52-week high.
Uniforms & more
Over 5 million Americans go to work each day in a Cintas (NASDAQ:CTAS) uniform, giving it the highest market share in the uniform industry. Some of the world's largest corporations outfit employees with Cintas' gear, including McDonald's and Starwood Hotels. Besides uniforms, it provides document management and shredding services, cleaning services, fire protection devices, and safety products.
Mixed quarter
On March 19, Cintas reported third-quarter earnings. The report was mixed and initially sent the stock down 6% over a three-day period. Here's what it looked like:
Estimates called for $0.61 per share on revenue of $1.06 billion
Actual results were $0.60 earnings per share on revenue of $1.08 billion
Earnings increased 3.4% year-over-year
Rentals revenue increased 3.9%
Total revenue increased 6.3% year-over-year
Personally I had expected a blowout quarter, but it definitely was not bad enough to send the stock down 6%. Investors thought the same and the stock has since rallied 6.23% to its 52-week high. This miss is not a sign of things to come and was simply an opportunity to buy.
Year-to-date results
For the first nine months of Cintas' fiscal 2013, it has shown a good amount of growth. Take a look at the key financial statistics:
Earnings per share have increased 10.2%
Revenue has increased 4.6%
Operating income has risen 3.1%
Net income has risen 4.8%
Shares outstanding have decreased 4.4%
18.5% increase in its dividend
On October 16 of last year, Cintas announced it would be raising its annual dividend 18.5% to $0.64. This represented an incredible 30th consecutive year of increases. Management said, "The dividend together with our share buyback program during the year continues to demonstrate our commitment to increasing shareholder value." This dedication to increasing shareholder value is the number one thing I look for in the management of a company.
Renting its way to profits
Rental uniforms and related products accounted for 71% of Cintas' revenue in 2012. I generally do not give full details about a unit of a company, but it is crucial to understand where the majority of a company's revenue comes from so you can make a sound investment decision.
The rental program is structured to appeal to both small businesses and large corporations and looks like this:
No upfront costs or purchase
Uniforms are individually fit for each employee
Each week, soiled uniforms are picked up and professionally cleaned ones are delivered
The uniforms are laundered, inspected, repaired, or replaced if necessary
The best part of the rental program is that "it costs less than it would cost to buy an employee a cup of coffee and a doughnut each day." The benefits are clear and the rising costs of uniforms paired with the risk for damage or loss have made companies sign up with Cintas at an accelerated rate. Contracting your business with Cintas means less work for the company in need, allowing for increased productivity and reduced stress.
Notable competition
Cintas, UniFirst (NYSE:UNF), and G&K Services (NASDAQ:GK) make up over 40% of the uniform rental market. At the close of 2012, Cintas had a major lead in the space with over 800,000 active customers. UniFirst had an estimated 200,000 customers and G&K had around 160,000 customers.
UniFirst jumped 8.2% after blowing away earnings estimates in January. Earnings were $1.54 per share versus estimates of $1.33, which was an 18% increase year-over-year. As a result of the beat, the company received numerous upgrades sending it even higher over the next week. UniFirst has rallied over 21% in 2013 to its all-time highs. Earnings are expected to grow 9% for the full year and another 6.9% in 2014.
G&K has had an incredible 2013 as well and is up nearly 30%. The company blew away both earnings and revenue expectations in January, causing the rally. Analysts currently project earnings to grow 25% this year and another 11% in 2014. G&K sports strong numbers, but I think the stock has run just too much for my liking.
I like where UniFirst and G&K Services are headed, but I believe Cintas is the best company in this industry. The size of Cintas' customer base alone shows how dominant it is and I would not consider the other companies unless they began taking those customers away. Take a deeper look and see if you would prefer one of these over Cintas, but make sure to note that there is more of a risk of these two losing customers to Cintas than the other way around.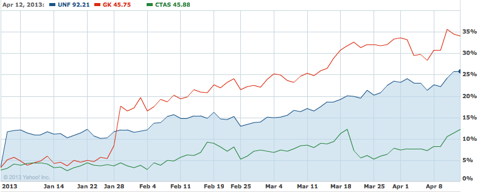 The bottom line
Cintas has been flying high in 2013, but it has underperformed others in its industry. As the economy recovers and employment numbers rise, the company will add customers and push its sales to all-time highs. Cintas has one of the best management teams around and I believe they and the stock will continue to deliver for investors. I am looking to start a long position on any weakness.
Disclosure: I have no positions in any stocks mentioned, and no plans to initiate any positions within the next 72 hours. I wrote this article myself, and it expresses my own opinions. I am not receiving compensation for it (other than from Seeking Alpha). I have no business relationship with any company whose stock is mentioned in this article.