Introduction
Since my last article about Potash Corp (NYSE:POT) on January 11, 2013, the price of muriate of potash has declined by about 10% and is currently under $400 per ton. Similarly, Potash Corp stock price is down by 7.9% during the same period. This price performance is significantly below that of the S&P 500 index but not as severe as that in the stock prices of major competitors CF Industries (NYSE:CF), Agrium (AGU) and Intrepid Potash (NYSE:IPI) and worse only than that of Mosaic (NYSE:MOS) (see graph).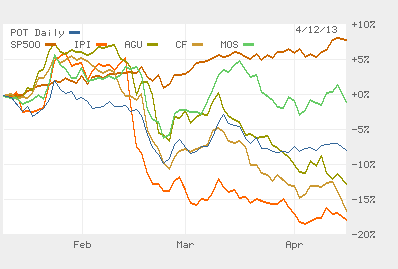 While lower potash prices are not an ideal situation for Potash Corp, there are a few positives including higher demand and new potash mines becoming more difficult to develop, thus, further increasing demand for this fertilizer. Potash Corp controls about 20% of the world potash production and even at current prices of potash, its current production profitability is at a nice level. Its common stock offers an attractive entry and overall the company is a solid investment even if potash prices stay the same or decline. And any spike in the price of potash will lead to outsized returns for Potash Corp.
Fundamentals and valuations
Among the leading fertilizer companies, Potash Corp has the most attractive valuation and fundamentals based on a number of measures. In addition, PotashCorp has the highest annualized dividend yield of 2.8% compared to 0%, 0.9%, 1.7% and 2.1% for Intrepid Potash, CF Industries, Mosaic and Agrium. Also, PotashCorp has the second largest leverage with a total debt to equity ratio of 0.4 only behind Agrium whose total debt to equity ratio is 0.6. However, Potash Corp has a significantly higher net profit margin (26%) than that of Agrium (9%). Leverage is a positive for capital intensive and solidly profitable companies as it boosts the equity returns. In addition, interest payments are tax deductible for the borrowing corporation while dividends are not.
In terms of cash generating ability, Potash Corp has a price-to-cash-flow-from-operations (price-to-CFO) ratio of 10.6 compared to price-to-CFO of 7.5, 4.8, 10.9 and 6.6 for Intrepid Potash, CF Industries, Mosaic and Agrium, respectively. Importantly, Potash Corp is nearing the completion of its potash expansion program started in 2003, which should further increase future cash generating abilities. Potash Corp's stated goal is to produce 17 million tons per year by 2015 and it is on track to meet this goal.
For comparison, Intrepid Potash made $253 million of capital expenditures in 2012 and expects to spend $235 to $285 million in capital projects in 2013. Its cash balance as of Dec. 2012 was $58 million and the company generated $188 million of cash inflow from operations. CF Industries expects to spend $1.5 to $1.8 billion on capacity expansion and related costs in 2013. It had $2.3 billion in cash at the end of 2012, while generating $2.4 billion of cash flow from operations through 2012. Mosaic has a solid balance sheet with $3.3 billion in cash but the company has $700 to $800 million in annual capital expenditures and plans to build two new phosphate mines at a $1 billion cost each and an ammonia plant expansion at a cost of $1 to $1.2 billion in the next few years. Its cash from operations in fiscal 2012 was $2.7 billion.
Finally, Agrium made over 50 tuck-in acquisitions in 2012, putting significant pressure on its balance sheet and finishing 2012 with $726 million in cash. It generated a total cash outflow of $620 million in 2012. With $1.5 projected capital expenditures in 2013, down from about $2 billion in 2012, a cash balance of $562 million as of Dec. 2012, and free cash flow of $1.2 billion in 2012, Potash Corp appears well positioned to withstand any economic deterioration and/or further decrease in the price of potash.
Low potash price
Potash demand was about 51 million tons in 2012 and is expected to increase to 55 to 57 million tons in 2013. Demand is expected to be robust in North America, where supplies are at record low levels. Similarly, Asia and South America appetite for fertilizers should rise in 2013 driven by increased demand for food. While potash price is off the highs of over $800 per ton reached in 2008 and 2009, it is still significantly higher than the average in the 1980s and 1990s of about $150 per ton.
Historically, potash companies have been controlled by governments and potash was selling historically at less than $200 per ton with little price volatility. For example, Potash Corp was owned by the provincial government of Saskatchewan from its creation in 1975 through 1990. Similarly, Uralkali and Belaruskali were owned by the Russian and Belorussian governments, respectively. And ICL is still controlled by the Israeli government. As these companies became private in the 1990s and early 2000s the price of potash spiked. This benefited potash producers but at the same time disproportionately hurt farmers across the globe and many farmers decided to take a potash holiday.
During the potash price increase in 2008 many private and public enterprises started to regard muriate of potash more seriously. As a result, BHP Billiton (NYSE:BHP), the large Australian based mining company, made an unsuccessful bid for Potash Corp and other mining companies and governments started to look into potash exploration ventures. With the price significantly off the recent record high, these ventures are becoming less profitable. It is estimated that a potash mine costs around $4 to $5 billion and it takes about five years to build and start operating. It is no surprise that major companies are putting their potash expansions on hold as evidenced in this article about Vale (NYSE:VALE) and its potash project in Argentina.
It seems like a potash price of about $400 per ton, while much lower than the highs achieved a few years ago, could be beneficial for producers as well as users of potash. The potash users, mainly farmers, can boost their yields at a reasonable cost. As the price of agricultural produce continues to rise, farmers in developed as well as developing countries will likely increase the potash usage due to favorable economics. In addition, Potash Corp recently signed large contracts with China and India at prices of $400 and $427 per ton, respectively. These deals are likely setting the floor for potash prices for years due to a rise in demand.
Finally, while a price of $400 per ton is profitable for existing potash producers such as Potash Corp it is not so attractive for new potash explorers who need to spend considerable amount of time and money to start production. Potash Corp is well positioned to profit in the current environment and to benefit from any short-term price hikes similar to the one in 2008 and 2009.
Conclusion
To sum it up, Potash Corp is an attractive investment due to the following major reasons:
leading potash producer with over 20% market share,

favorable valuation measures,

high and sustainable profit margins,

increase in demand for potash due to rising food demand and prices, and

high barriers of entry for new competitors.
Potash Corp is focused not only on maximizing returns to shareholders, but on being a responsible corporate citizen. This is evidenced in its 2012 performance report in accord with the standards set by the global reporting initiative. All this, combined with a solid balance sheet and a peak of capital expenditures that is already behind the company, offers good sowing and harvesting opportunities in the next few years. Investors should consider Potash Corp's shares.
Disclosure: I have no positions in any stocks mentioned, and no plans to initiate any positions within the next 72 hours. I wrote this article myself, and it expresses my own opinions. I am not receiving compensation for it (other than from Seeking Alpha). I have no business relationship with any company whose stock is mentioned in this article.