If someone would have told me that Krispy Kreme Doughnut's (NYSE:
KKD
) stock would produce the highest return of any NYSE listed stock in the last six weeks, I would have told them to get their head examined. Why would a stock held in so much disdain, for such a long time, produce a rally of such magnitude?
I guess the answer is; it just gotten beaten down beyond recognition and Wall Street eventually identified it again, by rewarding it with a powerful rally. The shares have nearly quadrupled producing a 292% return. If you annualize it, this calculates to an APR of 2536%- try getting that APR at your bank.
Store breakdown: There are 523 locations in KKD's system. Company owned locations comprise of 93 units or 18%. The company owns the real estate on 47 of its sites, as well as two processing plants. There are 298 international and 225 domestic locations comprising of 281 factory stores and 242 satellite stores. KKD is attempting to develop "small retail concept" stores which still produce product, but do so with much less space. This will be accomplished through a process utilizing tunnel oven technology.
The company intends to cut its costs by this method while still producing America's favorite doughnut. The intention is to maximize sales while simultaneously cutting expenses. The concept shows promise, and KKD plans to have nine locations in operation by year end.
International flavor: It's interesting to note that KKD actually has a higher international presence than domestic, with 57% of its locations outside the U.S. , and intends to aggressively expand its worldwide footprint by adding another 160 locations in the near future. This strategy should pay some nice dividends, especially if the U.S. dollar weakens.
Segment analysis: The light at the end of the tunnel is beginning to glow. KKD produced $4.7 million in operating income in fiscal 2009, making it profitable for the first time in over five years. The company's supply chain segment was the big winner, as it enjoyed a gross operating profit expansion of 32% from $4.4 million to $5.8 million. This represents a gross margin of 27% (the segment produced $21.8 million of revenues for the quarter). Although the company's franchise operating income fell about 7% from $4.3 million to $4 million, its gross profit margin as a percentage of franchise revenues actually rose 620 basis points from 60.1% to 66.3% ( this segment generated quarterly revenues of $6 million).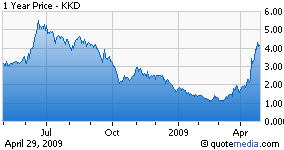 The company owned store segment results are clearly where the opportunity for improvement is greatest, as this segment lost $828,000 for the quarter versus earnings of $895,000. Although this segment showed a 16% drop in revenues from $76 million to $64 million, experiencing a meager $1.7 million swing in profits could be construed as a "good thing" for those with allegiance to the "glass is half full" crowd.
Looking ahead: KKD is getting its act together, slowly but surely. Its debt load was reduced 8% from $43.2 million to $39.6 million, although its interest expense actually increased. Its additional interest, resulted from onetime fees associated with amending its loan agreements to remain in compliance with its loan covenants. Although the doughnut maker's SG&A costs fell about 12% in the quarter from $6.9 million to $6.05 million, it unfortunately rose as a percentage of sales from 6.2% from 6.6%, and management needs to take action quickly to rectify this situation. Other than that, the company is doing the right thing by expanding its international franchise base, as this segment produces the highest profit margins.
Bottom line: Although the stock is susceptible to profit taking, its momentum is off the charts, making it hard to argue with! A rally to the $6 vicinity by the end of June is probably in the cards on this one.
Disclosure: Author holds a long position in KKD