On March 20, 2013, Seadrill (NYSE:SDRL) gave a presentation at the Howard Weil 41st Annual Energy Conference. In this presentation, the company did an excellent job of discussing its strong growth potential as well as its future plans for rewarding investors. The company also discussed other positive trends affecting the industry as a whole as thus this presentation may be relevant for investors in other offshore drilling companies as well.
The rise of Seadrill is one of the more remarkable stories in the history of the offshore drilling industry. The company's rig fleet consisted of just five units in 2005. Since that time, the company's fleet has grown rapidly to its current size of sixty-five rigs. The company expects to have seventy rigs by next year and seventy-five rigs by 2015.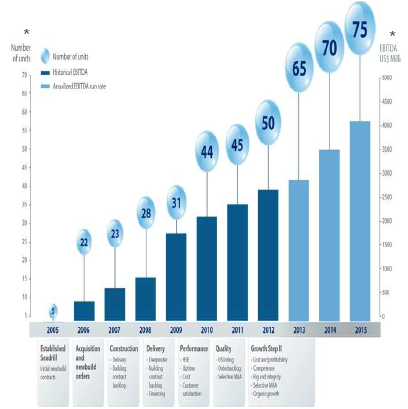 Source: Seadrill
Interestingly, Seadrill appears to be ignoring the effects of the upcoming sale of its tender rig division. This sale will result in the transfer of the entire tender rig fleet (except for three rigs) to SapuraKencana. This is a total of twenty-one rigs that will be leaving Seadrill's fleet. While the company does have some new rigs under construction, it does not have enough to replace all of these rigs and still grow its fleet by 2014. It is curious why Seadrill continues to ignore the loss of these rigs when discussing its growth prospects. Seadrill owns a significant amount of SapuraKencana's outstanding stock and so it is possible that Seadrill's management assumes that the company will still hold a stake in these rigs, albeit indirectly. However, Seadrill will not be directly profiting off of these rigs.
Despite this, the company's growth story remains intact. Seadrill states in its presentation that it has the potential to deliver EBITDA growth of at least 50% between now and 2015. The company's large newbuild program is the driver of this growth. As I stated in a previous article, Seadrill has 24 offshore drilling rigs under construction and these 24 rigs will likely be profitable enough to grow the company's EBITDA even with the loss of the cash flow from the tender rig division. One reason for this is that a significant portion of these new rigs are ultra-deepwater drillships which are the most profitable type of offshore drilling rig. The remainder are high specification jackups. This could also work out well for Seadrill.
Through its newbuild program and existing fleet, Seadrill is quite well positioned to exploit current market trends in the jackup rig sector. One of these trends is the aging of the world's jackup fleet. As Seadrill notes in its presentation, by 2015, more than 289 jackup rigs worldwide will be more than thirty years old. By 2020, more than 302 rigs will be thirty years old or older.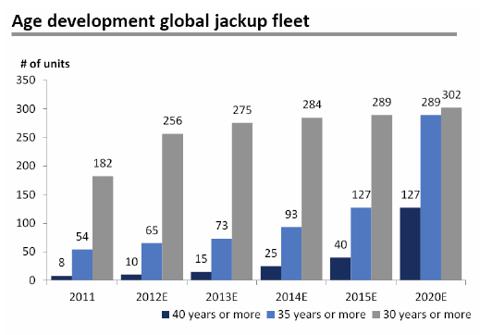 Source: Seadrill
In previous articles, I have discussed how oil companies that contract out offshore rigs have displayed a marked preference for modern equipment. This is partly due to the improved capabilities that modern rigs have compared to older ones. Today's offshore wells are much more technically demanding than in the past and this requires more technically-capable equipment. Due to the limited supply of these modern jackup rigs relative to demand, a bifurcation of dayrates has occurred with the most modern and technically capable rigs commanding a significant price premium over older and less capable units. Due partly to this, it no longer makes financial sense for offshore drilling contractors to maintain and upgrade their oldest rigs. As a result, we would expect to see companies scrapping the oldest rigs in their respective fleets. That is indeed happening. Worldwide, twelve jackup rigs were retired in each 2011 and 2012. This is a level that has not been seen since 1989.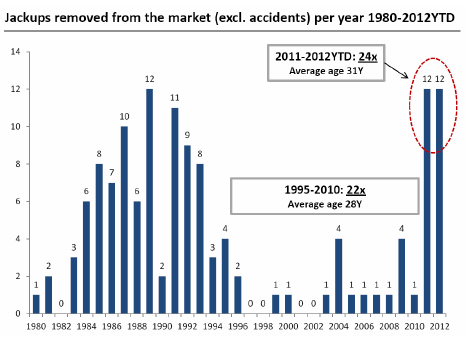 Source: Seadrill
Seadrill states that this trend is likely to continue going forward and much of the data and evidence supports this conclusion. This will serve to reduce the growth of the worldwide jackup fleet and, given the size of the current orderbook, this is a good thing for offshore drilling companies. There are currently ninety jackup rigs under construction worldwide and most of these rigs will be delivered this year. This would greatly increase the supply of rigs were it not for all of these retirements. As previously mentioned, more than 289 rigs worldwide will be at least thirty years old by 2015. However, there are only ninety rigs under construction which is clearly insufficient to replace all the older rigs. These dynamics are serving to tighten the market for modern jackup rigs and are serving to both lengthen the average drilling contract and increase dayrates.
Seadrill has secured its revenues for quite some time into the future. At the end of the fourth quarter, Seadrill's revenue backlog stood at a record $21 billion.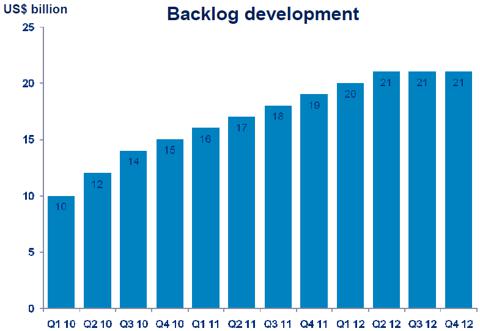 Source: Seadrill
This backlog represents what is for all practical purposes guaranteed revenue. Seadrill's customers are contractually obligated to pay this money to the company in exchange for the use of its rigs. This revenue will be primarily paid by large, multinational, and wealthy oil and gas companies and so there is little risk that the counterparties to these contracts will be unable to pay. BP (NYSE:BP) is responsible for the largest portion of this backlog at 24% but other customers such as Total (NYSE:TOT), Exxon Mobil (NYSE:XOM), and Statoil (NYSE:STO) are also major customers.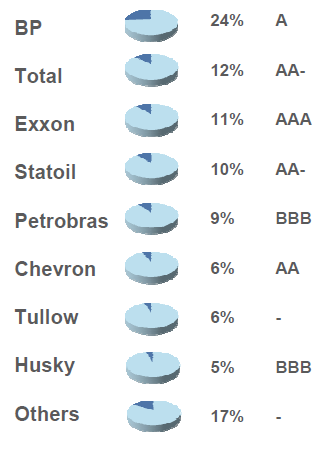 Source: Seadrill
Seadrill's revenues totaled $4.295 billion in 2012. Thus, the company's backlog effectively guarantees almost five years of revenue at the company's current level. That would mean that the firm could operate at its current level of profitability for almost five years even without landing another contract. This is a very good position to be in. The odds of this actually happening are very slim, however. One reason for this is that Seadrill has a large number of new rigs that have not yet secured contracts.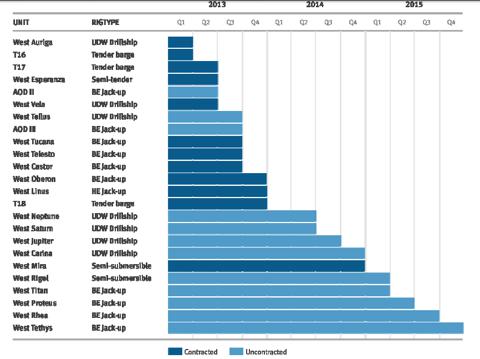 Source: Seadrill
Seadrill should have little difficulty contracting out these new rigs (that are not already under contract) due to the extremely tight market and high demand for rigs. This will increase Seadrill's revenues and backlog. These uncontracted new rigs will also be one of the largest contributors to the company's projected EBITDA growth.
As the chart shows, Seadrill has already secured contracts for several of its new rigs. This would represent guaranteed growth were it not for the aforementioned tender rig sale. The fact that the company has contracted out so many of its newbuilds at respectable rates prior to delivery shows the strength that is present in the market. If Seadrill can successfully exploit this strength using the money from the sale of its tender rigs, as I believe it can, then it should have a solid basis from which to deliver future growth.
Disclosure: I am long SDRL, BP, STO. I wrote this article myself, and it expresses my own opinions. I am not receiving compensation for it (other than from Seeking Alpha). I have no business relationship with any company whose stock is mentioned in this article.
Additional disclosure: I am invested in funds that may own stakes in both XOM and TOT but I have no direct position in either company.