NQ Mobile (NYSE:NQ) offers a wide array of security solutions for Android smartphones. NQ Mobile has two divisions:
Consumer Mobile Services, which consists of mobile security and privacy services, and mobile games and advertising
Enterprise Mobility, which offers managed mobility services to some 1200 enterprise customers
NQ Mobile's core business is providing security software for smartphones, but they also provide additional services, like privacy and family protection, anti-data theft, and the like. All these are offered as a software as a service (SAAS) cloud computing business model which usually carries higher margins and higher valuations compared to the traditional software license sales model.
Business model
The company uses a fremium model, where its basic services are free:
the company says that 85 (now 97.7) million of its 242 (now 283.4) million registered users are active. But over 90 percent of those users receive a free service and generate no income, so the third step has been to monetize that vast base, by pitching premium features like device wipe and recovery or anti-eavesdropping for a fee. (FT)
Now 9.8M users pay for premium versions of NQ's products. NQ accessed the enterprise segment of the mobile market via the acquisition of NationSky in May 2012, and expanded into games and mobile advertising via the acquisition of Feiliu in November 2012. They've also cut several deals with retail outlets in the US, and most significant, cut a comprehensive deal with America Movil (NASDAQ:AMOV), which is going to sell and market all of NQ's flagship products under their own brand starting this year.
Distribution Strategy
NQ distributes its products to customers via five different channels:
Pre-loaded on mobile handsets by the manufacturers
Pre-loaded by wireless network operators
Integrated into chipsets in mobile phones
Sold through wireless retail stores
Downloaded from app stores
Market opportunity
Smartphones are increasingly becoming the most important computing platform for many people, the premier way to access the internet, do business, bank, chat, share photos, GPS, connect to social media sites or even pay bills. The combination of the small form factor, instant on, locational services guarantees that this role is only going to increase in myriad ways for the foreseeable future.
A future beacons in which nearly every phone is a smartphone, and in which smartphones emerge as the premier computing platform. Of course, NQ isn't in the smartphone business, but in the security and related services business. But it is leveraged to the growth of the Android smartphone business. Here is FT, describing a bit of company history:
And while virus threats to home computers are destructive and well documented, "the mobile device is a much more intimate relationship with its user. It carries your most sensitive data: pictures, contacts, messages, call log, e-mail. Your phone has become your identity."
Most PC users are aware of the need for security software, but on smartphones, this is still something of a blank space. This will change rapidly, as these threats to smartphones are multiplying fast:
Security firm Sophos has released its 2013 Security Threat Report, and has revealed that Android is now the top target for hackers, beating out Microsoft's Windows operating system. (MIT Technology Review)

Mobile malware is not anything new, but the scope of the threat reported here appears to be unprecedented in mobile. As recently as September of 2011, it was big news to find 20,000 Android devices communicating with known criminal command and control networks on a given week, per InformationWeek's Kurt Marko. One of the worst Android botnets to date was called Rootstrap; it was reported to have reached 100,000 compromised devices about a year ago . Back in 2009, it wasn't uncommon to find headlines-in this publication, say-like "Mobile Malware Isn't So Bad, For Now." (MIT Technology Review)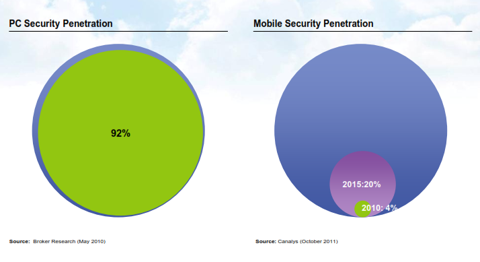 As you can see in the figure above, not only is the smartphone market growing rapidly, mobile security threats are growing rapidly and the mobile security market is still largely untapped. Needless to say this underscores a very large market opportunity. The managed mobility service market is also set to grow at a compounded 54% annual growth rate (OTCPK:CAGR) from 2011 to 2016, with the Chinese mobile games and mobile advertising markets growing at an expected 43% and 69% CAGR until 2015 (April company presentation)
Competitive strength
The market in which a company operates might grow tremendously, if there is too little to differentiate the products and companies that make up that market. If there is hefty competition and low entry barriers, than even the fastest growing markets are no guarantee for highly profitable companies (witness the solar industry).
So this is perhaps the most important dimension, and the only possible downside we see for NQ, especially at present, rather depressed valuations. Not that there is too much too worry though. The company and its products won numerous awards and concluded a host of deals with significant partners (see below).
With respect to the latter, the most significant deal to date is perhaps the one with America Movil, the third largest mobile telecom company in the world. The company also does a lot of R&D in order to maintain its leading position and keep ahead of threats:
Research and development, which accounts for around 9 percent of revenue and involves 250 engineers and - so far - 68 patents. (FT)
Competition
But one can entertain legitimate worries about the extent of the competition. There are at least some 20 other providers of security software for Android, so the space is a bit crowded. NQ has been on top before:
With features such as traffic monitoring, installed app review, remote wipe and alarm, and online contacts backup, coupled with the Checkmark certified mobile anti-malware engine, NetQin Mobile Security offers its users a well rounded security solution. The tool was also a top performer in the recent WCL Custom Test and found to be the most advanced in malware detection capability. The WCL Custom Test featured a more in-depth analysis of the features available, and showed that NetQin Mobile Security is a comprehensive mobile security application.
But one can worry too much about competition as well. Here are quite a few reasons that considerably lessen these worries:
The market will grow tremendously, we've already argued this above
NQ has an advantage with a large installed basis and a client + cloud based model.
The SaaS business model provides recurring revenues and high margins and economies of scale and scope
The margins are indeed very healthy, this isn't an industry at risk of cutthroat competition where margins disappear and the product becomes a commodity. The company enjoyed a gross margin of 67.8% in Q4, that's down but due to the acquisition of NationSky. Excluding NationSky, gross margin was 79.5. So competition doesn't prevent margins this high and they are hardly eroding, either, so worries about competition are overblown. Net operating margin ex NationSky did come down a bit but is still very healthy at 30.7% in Q4 2012.
External validation from companies like America Movil.
The company is embarking on a sophisticated marketing strategy to profit from the growth in the industry.
A few of these points merit some further comments. Here gross margins:

The company described the client and cloud based advantage:
NQ Mobile's proprietary "Cloud+Client" technology sets us apart from the competition. Each of our approximately 283 million registered user accounts is a part of our mobile security cloud, contributing new security knowledge to our database and helping us detect virus samples, malicious URLs, and other threats. This knowledge has given us the power to build the most sophisticated database on the market, which includes nearly one billion links and hundreds of thousands of apps for mobile devices.
A large installed basis seems to be an advantage, but it's difficult to assess how important that is with relation to be able to detect more threats.
Marketing and partnering
The validation from the partnership with America Movil, the third largest carrier in the world in terms of subscribers, is another reason not to worry too much about competition. Here is what CEO Khan said about that deal (CC notes Q4 2012):
I can't specifically talk about which competitors - they did evaluate us against multiple competitors, I can tell you that. It's folks that you would expect them to be evaluating as a large provider they are. And they went through a significant feature functionality, testing process, evaluation process in terms of how in the end we were selected. I would tell you that here's some of the things that really differentiated us during the process. One is the breadth of our products and services, the fact that with one provider we can launch security services for the consumer, privacy services with the consumer, as well as Family Guardian, the family protection services was definitely an advantage to us. So the scope of our product breadth, of being able to partner with one provider and address multiple consumer segments and multiple channels at one time definitely is one factor. The other part of it frankly is technology. The performance of our technology as well as the experience that we have globally are customer-based, being as large as it is to a customer like American Movil which is extremely large. There is definitely an advantage. And then another part of it is the fact that we are, you know, they being a mobile carrier, they valued our experience as a mobile company, from a mobile DNA that we have -- that we bring them in terms of the understanding how the ecosystem works as well as how the technology works on the mobile front. And I think that's extremely important. Those are all factors that I know during the process came up and we're -- and how they valued it.
The deal with America Movil is only the most spectacular in a flurry of deals, partnerships, and acquisitions:
Telefonica (August 2011)
BrightStar Corp. September 2011
TCC, the largest Verizon Premium Wireless Retailer in the US April 2012
AWireless Retail May 2012
Acquisition of NationSky, entering the enterprise market May 2012
Investment into Hesine (with MeidaTek) Augustus 2012
Phones4U Retail partnership October 2012
Acquisition of Beijing Feliu, leading mobile internet platform (games and ads) in China October 2012
I-Mobile Jan 2013
America Movil third largest mobile carrier in the world March 2013
Russel Cellular (Verizon retailer with over 170 retail outlets) April 2013
Axiom Telecom exclusive partnership April 2013 pre-loading NQ applications on all Android devices
Many of these offer opportunities to market and sell. The company is embarking on a retail strategy as well. This strategy looks particularly promising in the US, where they have access to some 1,600 retail stores while at the time of the CC (March 7) only 900 of these were activated. The attach rate from these store is 20%, on average (Q4CC) but they're still in a learning process here, lessons that are applicable elsewhere:
We're now at a place where we can turn on a retail partner and get them to that 20% attach rate in a very, very compressed time frame (Gavin Kim, Chief Product Officer, Q4CC)
Carrier sales channel
One thing to realize is that carrier channel sales like those with America Movil are all paid additions, not free pre-installations. The more these carrier deals get (which is fairly certain, considering the size of America Movil), the higher the conversion ratio of paid users to registered users. This is likely to be a significant driver of revenues, as at present, only a fraction (in the order of 10%) of its 283.4 million registered users (per the Q4 2012 filing) are paid users, so we think the importance of this little fact has been somewhat overlooked.
Balance sheet and valuation
NQ's balance sheet is very healthy, they have no debt and have $128M in cash ($2.66 per ADR) and generate positive cash flow. There is a $20M share buy-back program in place and the company generates considerable profits: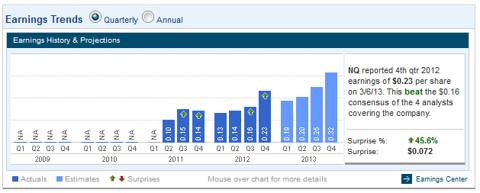 For a company with a 50%+ growth rate, seven consecutive quarters of beating estimates and raising guidance and gross margins just under 80%, the stock price at the moment of writing ($8.64) seems way too cheap.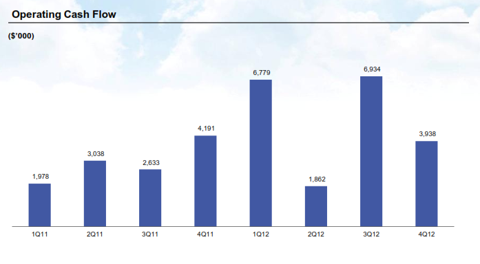 Strip it of the cash (since the company is cash flow positive and management argued during the CC that their first inclination is to integrate existing acquisitions, rather than embarking on new ones, this isn't illegitimate) and one arrives at $6 per share.
That's about 6x estimated earnings in 2013. We're really hard pressed to come up with any even remotely plausible reason for this, the only thing we can come up with is that the company is a Chinese small cap, and these have a bad reputation. We think that these worries are greatly overblown, as fellow SA contributor Treasurehunter already noted, there are some facts that provide comfort.
The company raised $31M from top-tier VCs including Sequoia and GSR and was deeply vetted by both
The company is audited by PWC (the only top 4 not to have a problem with Chinese frauds)
NQ went through a proper IPO process (not a reverse merger) and was vetted by 3 US investment banks (Piper, Oppenheimer and Canaccord)
NQ registered for a secondary and was vetted by Morgan Stanley and Merrill Lynch in Summer 2012
Ex-CTO of Samsung Wireless, Omar Khan, performed EXTENSIVE due diligence (using his extensive contacts in the mobile industry) before joining in Jan 2012 as co-CEO
NQ's products have 50,000+ reviews (average rating 4.5 stars) in Google's app store.
2 of NQ's core products won Top 25 awards at CES 2013
America Movil did deep technical due diligence on NQ before entering into an extensive partnership
NQ's founders entered into a voluntary 2 year lock-up in Summer 2012 on their shares.
Conclusion
It is difficult to come up with an even vaguely plausible reason for NQ Mobile's low valuation. Yes, the market is crowded, but NQ is thriving nevertheless, growing fast, enjoying high margins, cementing its position through deals in the retail and carrier sectors, and expanding in related areas like mobile games and ads, and in the enterprise sector. The market is also still in its infancy, with enormous growth potential still ahead.
The only other worry we could find, the "Chinese small cap" tag, seems overblown. It seems to us that a significant amount of people looked in considerable depth at both the company and its products for most of the worries to disappear here. While no iron clad guarantees can be provided (but can they ever?), this is more of a marketing problem than a real problem. Sooner or later, the share price is going to catch up with the corporate developments.
Disclosure: I am long NQ. I wrote this article myself, and it expresses my own opinions. I am not receiving compensation for it (other than from Seeking Alpha). I have no business relationship with any company whose stock is mentioned in this article.