When J.C. Penney (NYSE:JCP) went forth with their controversial and ultimately disastrous "Fair and Square" pricing strategy which eliminated coupons and sales in favor of supposed everyday low pricing, the company was left to watch as masses of customers left. After all, sales had become one of the company's strongest driving points and one of the main motivators for shoppers. Then, within two days of now former J.C. Penney CEO Ron Johnson's firing, I received that elusive coupon in the mail. Such a gesture alone won't be the cure all for a company standing against a wall of losses and consumer backlash, but it's a step finally in the right direction.
It is often said Wall Street hates uncertainty, but the recent firing of Johnson added perhaps the most hope and certainty the reeling company has seen since his inception. Johnson's $148,924 in severance, which is far below the millions most in such leadership positions demand, is even almost bearable for the remaining shareholders and customers who've suffered more than mere financial despair.
Now even though Johnson had only been at the helm for approximately 17 months, the company's attempts to repair its floundering image may take years. After all, one needs to look no further than the company's earnings to realize just how deep a hole the chain has dug. After reporting a fourth quarter loss of $1.95 or well below the $0.18 loss forecast, the company stares at a projected full year 2013 loss of $2.50.
However, disturbing stats such as the 32% drop in fourth quarter sales in 2012 don't indicate a weakening retail sector as a whole. They just put a final exclamation mark on the error of Johnson's ways. With Macy's (NYSE:M), Gap (NYSE:GPS), Dilliard's (NYSE:DDS), Nordstrom (NYSE:JWN) and Target (NYSE:TGT) all anticipating 2013 earnings growth of at least 5%, the number of available customers is by no means shrinking. They remain available and with a couple good moves by J.C. Penney could still migrate back to the brand they once supported.
After all, in 2010, or one year before Johnson's arrival, J.C. Penney enjoyed full year earnings of $1.59. With a reinvigorated focus on sales and a newfound effort to accommodate the 50-something female shoppers that define the store's customer base, the company may slowly grow back to the state it enjoyed before Johnson's arrival. The elimination of ads such as these the company ran in 2012 which appeared to poke fun at the company's core customer base could also only have a positive impact as well.
As for shareholders, buying into J.C. Penney at this point appears risky, but potentially rewarding. After bouncing off from the recent low of $13.55, or just below the $13.71 price shares bottomed at in March 2009, the stock sits above proven and solid support. Also, the company should benefit from a ruling last week that will temporarily allow the franchise to continue to sell non-branded Martha Stewart products.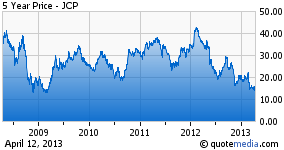 Meanwhile, the company's efforts led by new and returning CEO Myron Ullman to raise $1 billion in an effort to restore its dwindling supply of cash assures investors the company is striving to return to a path of financial responsibility. Although there are some questions regarding the company's fiscal health as they reportedly hired Blackstone Group (NYSE:BX) to raise the money, J.C. Penney did still have a cash position of $930 million in February and should see that figure grow as they look to cut costs.
Such financial responsibility, if proven feasible, could also lead to an exaggerated upward swing in the company's share price. After all, the company's short interest of 28% is almost triple that of Macy's, Nordstrom and Dilliard's combined.
It was Ron Johnson himself who once said that J.C. Penney's main competitor was not another store or website, but "ourselves and our way of thinking." I personally couldn't agree more and with Ullman returning as CEO and the franchise back focusing on providing discounts, the company finally appears set to overcome its own missteps and return to the strategy that once proved profitable.
Disclosure: I have no positions in any stocks mentioned, and no plans to initiate any positions within the next 72 hours. I wrote this article myself, and it expresses my own opinions. I am not receiving compensation for it (other than from Seeking Alpha). I have no business relationship with any company whose stock is mentioned in this article.