While the S&P 500 and the DJIA have rallied to all-time high levels, aerospace-related stocks have outpaced the general markets. Within the sector, regional Airlines' PPS have seen substantial capital appreciation this year compared to their big sisters. Major airlines such as Delta Air Lines (NYSE:DAL) and United Continental Holdings (NYSE:UAL) have rallied 30.41% and 29.51%, respectively, but regional airlines such as Alaska Airlines (NYSE:ALK) and Spirit Airlines (NASDAQ:SAVE) have rallied 37.25% and 47.94%, correspondingly. Another major regional carrier is the Irish-based company Ryanair Holdings plc (NASDAQ:RYAAY). The company has received no attention lately, but its outstanding fundamentals prompt for the analysis of this company.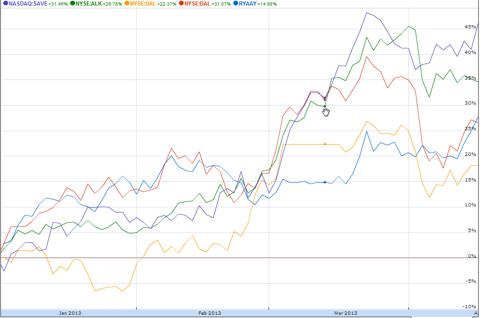 Figure 1. Year-to-date performance of Alaska Airlines (green), Delta Air Lines (red), Ryanair Holdings (blue), Spirit Airlines (purple), United Continental Holdings (yellow).
Ryan Air is a low-cost carrier operating in Europe. It offers extremely cheap passenger tickets, allowing the company to take market share from major airlines such as Lufthansa, Iberia and Air France-KLM. The carrier operates more than 1,500 flights per day from 57 bases. It connects 178 destinations operating a fleet of 305 Boeing 737-800 aircraft.
From the fundamental analysis point of view, the company is trading with a P/E of 15.96 and a forward P/E of 14.94. Its balance sheet carries sizable debt, with a debt-to-equity ratio of 1.11. However, the sales on a quarter-over-quarter basis have increased 14.73%, and its business model allows it to operate with a profit margin of 12.54%. As a result, its stock PPS has jumped 29% on a year-to-date basis and 40% over the last six months. However, the rally may not be over for this company.
Despite recent worries about the economy in European countries the company has fared well. According to its most recent quarterly earnings report, the company observed an increase of 3% in passenger traffic from 16.7 million for the quarter ending in December 2011 to 17.3 million for the same period in 2012. Although its load factor remained unchanged at 81%, its revenues increased by 15% from €844 million ($1.13 billion U.S.) in Q32011 to €969 million ($1.267 billion U.S.) in Q32012. Its profit-after-tax soared 21% from €15 million to €18 million ($19-23 million U.S.). The company has fared well even though fuel costs rose €81 million ($105.95 million U.S.). Furthermore, the company increased its 2013 fiscal year revenue guidance to €540 million from €490-€520 million.
Furthermore, the company will be expanding its fleet size from 275 to 305 Boeing 737-800s in the interim. Clearly the company is confident about its cash flow growth ability and this should provide investors with confidence about the potential for capital appreciation.
Wrap up
In brief, although the European economy had been contracting, Ryanair Holdings' solid business model allows it to navigate in rough waters. Despite the fuel prices increased, the company was able to increase its revenues in the last quarter. Further, the company has announced the expansion of its fleet with 30 new Boeing 737-800 aircraft, which hints that the company foresees a future of growth. For these reasons, Ryanair Holdings should be considered for the long markets.
Disclosure: I have no positions in any stocks mentioned, and no plans to initiate any positions within the next 72 hours. I wrote this article myself, and it expresses my own opinions. I am not receiving compensation for it (other than from Seeking Alpha). I have no business relationship with any company whose stock is mentioned in this article.