On May 5, Malaysia will hold its 13th General Election and investors or would-be investors in the iShares MSCI Malaysia Index Fund ETF (NYSEARCA:EWM) will need to pay close to the results and what happens in their aftermath because the last time elections were held, the Malaysian stock market experienced a 10% one-day plunge after results were announced - only to recoup most of those losses before sinking again with the global financial crisis.
The 2013 Malaysia Elections: A Quick Update
In my January article about Malaysia (The Malay Dilemma: Is Malaysia A Safe Emerging Market Investment?), I wrote in considerable detail about the dilemma Malaysia presents for investors due to its complicated history, ethnic and political situation, but also why the country is potentially an attractive emerging market for investors of all kinds.
To quickly recap Malaysia's current political situation and the elections: Malaysia has been ruled by a coalition of political parties know as the Barisan Nasional [BN] since its independence in 1957. This coalition consists of the United Malays National Organization [UMNO)] the Malaysian Chinese Association [MCA], the Malaysian Indian Congress [MIC] and several small political parties mostly from East Malaysia (the states of Sabah and Sarawak on the island of Borneo). However, its UMNO and the Muslim Malay majority or the so-called "Bumiputera" ("son of earth" or "son of the soil") who call the shots and effectively run the country.
Meanwhile, Malaysia's loosely-aligned opposition is known as Pakatan Rakyat or PR ("People's Pact" or "People's Alliance") and consists of the following political parties representing very different constituencies:
Obviously these opposition parties will each have their own set of priorities or agendas should the Pakatan Rakyat gain power under PKR's Anwar bin Ibrahim - meaning he will have his hands full trying to balance all of their demands.
Barisan Nasional had effectively maintained a two-thirds majority in Parliament from 1969 until the 2008 general elections when the opposition won 82 seats (out of 222 seats) or 36.9% of parliamentary seats (with the remaining 140 seats or 63.1% going to Barisan Nasional) plus captured control of several state governments.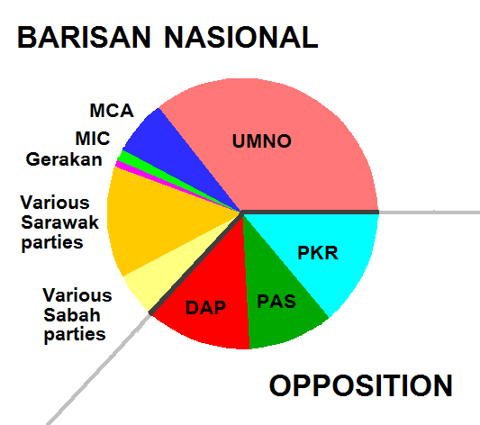 Source: "Malaysian general election, 2008" Wikipedia.
The failure to maintain a 2/3rds majority came as a shock to Barisan Nasional (as they won 91% of the parliamentary seats in the 2004 elections) and eventually led to the resignation of Abdullah Ahmad Badawi as Prime Minister in favor of his deputy, Najib Razak, the son and nephew of former prime ministers, who promised to implement reforms to win back popular support.
This time around there are three possible Malaysia election scenarios investors in the iShares MSCI Malaysia Index Fund ETF need to consider:
The Pakatan Rakyat opposition wins and forms a government.
Barisan Nasional looses more seats in parliament, but still wins enough seats to form a government.
Barisan Nasional wins and gains more seats in parliament.
Few neutral outside observers are predicting scenario #1 to occur and even if they are, they would be predicting only a narrow victory for the opposition given the resources Barisan Nasional has to spend. That largely leaves scenario #2 or #3 for investors to consider.
However, under a parliamentary system of government, whoever fails to win enough seats in an election could still attempt to form a government (through backroom deals with smaller parties or individually elected politicians from other parties) while whoever wins will need to hold together a governing coalition (through backroom deals with smaller parties or individually elected politicians). And even then, a government is not entirely secure as Barisan Nasional was able to "flip" one state government won by the opposition in the last election by getting four opposition assemblymen to defect.
To further add to the potential political intrigue or uncertainty, there has been on and off talk through the years of a PAS-UMNO unity alliance (to champion Malay rights and Islam) given the repeated sodomy charges or allegations made against opposition leader (and former UMNO politician) Anwar bin Ibrahim and DAP being Chinese dominated. Opposition observers question the ability of Najib Razak to remain prime minister if Barisan Nasional fails to pick up seats or win back states lost during the last elections (as there is no shortage of potential political rivals eyeing his job) - meaning there would still be some uncertainty for investors in the iShares MSCI Malaysia Index Fund ETF if the opposition wins or if BN wins under the second scenario.
For foreign investors who want to follow the Malaysian elections, Google.com.my/news along with a special site set up by Google just for the elections would be good sources to start with as Google includes a good mix of pro-government and pro-opposition Malaysian media sources. It should be noted that English print media in Malaysia such as the New Straits Times and The Star Online (which has a great interactive election map graphic here) tend to support the government (Bernama would be the official news agency of the government) while mostly online media sources like The Malaysian Insider and Malaysiakini tend to support the opposition or attempt to be neutral.
Finally, it should be mentioned that Malaysia has a thriving blog scene but investors might want to keep an eye on the well trafficked pro-UMNO Rocky Bru blog and many of the other pro-government blogs in his blogroll should Barisan Nasional win too narrow of a victory. That's because any closed door UMNO dissatisfaction with Najib Razak as prime minister could materialize publicly somewhere in the blogosphere first (besides among opposition media sources).
The iShares MSCI Malaysia Index Fund ETF and Malaysia's Elections
Unfortunately for American investors, the iShares MSCI Malaysia Index Fund ETF, which attempts to track the MSCI Malaysia Index, is really the only liquid Malaysian investment option trading on a major exchange. As of April 12, (according to Google Finance), the iShares MSCI Malaysia Index Fund ETF is up 1.65% since the start of the year, up 5.13% over the past year, up 31.23% over the past five years and up 210.08% over the past 10 years given how bad of a hit it took (as with all Asian stocks) during the Asian financial crisis:
The previous elections were held on March 8, 2008 and here is a close up of the performance of the iShares MSCI Malaysia Index Fund ETF during the period from February 13, (the date parliament was dissolved) until the end of March 2008: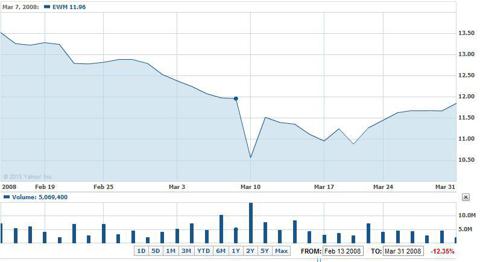 Finally, here is a closer look at the performance of the iShares MSCI Malaysia Index Fund ETF for 2008: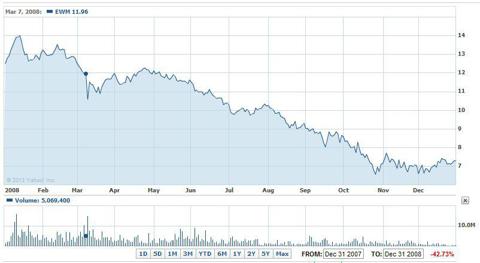 The last chart is rather telling as one cannot forget that Malaysia's last general elections unfolded after the Dow Jones Index had already peaked and when the slow moving train wreak of a housing bubble bursting and the mortgage crisis were already unfolding in the States - meaning the hot money (along with ordinary investors) that chases hot returns in emerging markets like Malaysia was already nervous and looking for a reason to exit.
With the above charts in mind, here are some other key takeaways from the 2008 elections that investors in the iShares MSCI Malaysia Index Fund ETF need to consider or at least be aware of:
After a 10% drop on the first trading day after 2008 elections, trading on the Bursa Malaysia was halted as the 10% drop triggered the circuit breakers. However and once the election results were fully digested, a relief rally helped investors to recoup most of those losses - only for the Malaysian stock market to sink with other global stock markets in the 2008 financial crisis.
Political linked stocks and government linked stocks on the Malaysian stock exchange were impacted the most by the unexpected 2008 election results with political linked stocks being those with direct links to Barisan Nasional while government linked stocks (e.g. Telekom Malaysia, Sime Darby etc.) are those with more indirect links to the government. However and due to minimum Bumiputera equity ownership requirements for publicly listed companies (Check out the Securities Commission Malaysia's webpage: "Bumiputera Equity Requirements For Public Listed Companies"), it's difficult for any stock listed on the Malaysian stock exchange to not have some kind of ties or links to the government (Click here to view the current holdings of the iShares MSCI Malaysia Index Fund ETF).
A recent article in The Star quoted an (unfortunately) unnamed CIMB research report, which apparently had a table showing that since 1982, the Malaysian stock market was up an average of 6.2% three months after a general election and up an average of 16.7% a year after the election with 2008 being an anomaly given the global financial crisis.
Of course, the past is never a sure prediction for the future and investors who are technicians or have a short-term time horizon should also take a closer look at the most recent technical chart for the iShares MSCI Malaysia Index Fund ETF:
The Malaysia ETF and Elections: Some Final Thoughts
Malaysia's elections will mean uncertainty for investors in the iShares MSCI Malaysia Index Fund ETF because neither Barisan Nasional nor the Pakatan Rakyat opposition can be complacent as both need to capture parliamentary seats and states held by the other while defending parliamentary seats and states they already control.
Moreover, Prime Minister Najib Razak and opposition leader Anwar Ibrahim are under intense pressure to deal a knockout blow to each other as another win with a poor performance for Barisan Nasional will make Najib's ability to remain Prime Minister more difficult while at age 65, it's equally hard to see Anwar leading Pakatan Rakyat in another parliamentary election (and no one has yet to emerge with the same kind of clout he has to lead Pakatan Rakyat in future elections).
For those reasons, existing investors in the iShares MSCI Malaysia Index Fund ETF might want to sit tight and read the news coming out of Malaysia while emerging market investors with a stomach for risk could take a wait and see approach and consider getting in after May 5.
Disclosure: I have no positions in any stocks mentioned, and no plans to initiate any positions within the next 72 hours. I wrote this article myself, and it expresses my own opinions. I am not receiving compensation for it (other than from Seeking Alpha). I have no business relationship with any company whose stock is mentioned in this article.