Few industries seem to be more misunderstood than the banking industry, which still seems to be treated by the news and analysts as a pariah feasting on public funds for survival. I look more constructively at the industry and while strong regulations are certainly necessary and have already been established, I contend that for the economy to fully recover, it will be behind strong banks that are able to provide the lending capacity to foster that growth. The recent 1st quarter 2013 earnings announcement of Wells Fargo (NYSE:WFC) was a perfect example, in which record earnings and broad portfolio strength, was overshadowed by a slight slowdown in mortgage revenue. Wells Fargo has a multitude of extremely profitable and often counter-cyclical businesses, which should help the company post huge earnings and pay increasing dividends over the long-term, but the company is still valued quite cheaply, mainly due to the overall pessimism of the banking sector. Wells Fargo is an earnings compounding machine that is truly a great business at a reasonable price.
Wells Fargo is a very different company than the majority of the large U.S. banks, with some very strong durable competitive advantages, and a history of strong management. The company acquired Wachovia in the depths of the financial crisis at a bargain price, which gave the company a truly national presence, and dramatically increased its overall earnings power. Wells Fargo has become the dominant mortgage originator in the United States with roughly a 25% market share, and it is important to note that the company picked up this market share when asset values were low, and spreads were quite high. This is in direct contrast with the way that Countrywide Financial or Washington Mutual would pick up market share by consistently finding new ways to reduce credit quality, and provide loans for people that had little chance of financing them. Key to the Wells Fargo business model is its cross-selling platform, where the ratio in the retail bank reached 6.1 products per household in the 1st quarter of 2013, up from 5.98 YoY. The wholesale banking cross-sell increased to 6.8 products and wealth management cross-sell reached 10.3 products. Cross-selling allows the company to enhance its relationship with its clients and provides an attractive and relatively stable fee revenue stream. There isn't a large bank in the United States that doesn't envy Wells Fargo's cross-selling ability, but they don't seem to have the same culture to implement the effective processes that Wells Fargo uses to increase wallet share with customers. I've been amazed at how successfully Wells Fargo has improved the formerly Wachovia branches performance and closed the gap between their performance, and the legacy Wells Fargo branches. This is emblematic of a very strong management team and I believe Wells Fargo's stability at the top has been a key differentiator.
Wells Fargo has over 80 businesses and the key is that they have one of the lowest cost deposit bases in the country. This provides a foothold in which the company can expand its relationship to include things like mortgages, credit cards and investments for families and small businesses. Through the acquisition of Wachovia and organic growth, Wells Fargo has also built a very strong business banking franchise, including an investment bank that has been increasing market share. While a company that has over 80 businesses is highly unlikely to see growth in all of them at the same time, Wells Fargo is picking up market share in the majority of them, and the diversity of Wells Fargo's revenue streams is what protected the company in 2008-2009, when net credit losses for the whole industry were at record highs. There is no doubt that Wells Fargo is a far stronger bank emerging from the crisis while the competition is still playing catch up. A perfect example of this is the lucrative auto financing business, where Wells Fargo is now the industry leader, having generated a record $6.8 billion in auto originations in the first quarter. This was up 10% from a year ago and 27% sequentially.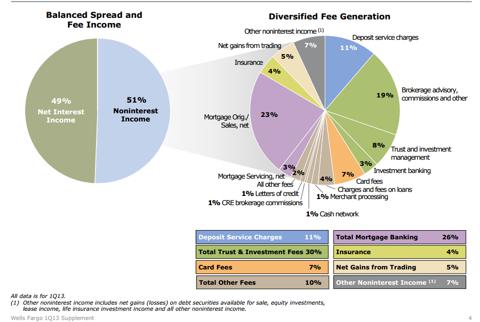 Click to enlarge
Source Wells Fargo 1st quarter 2013 Earnings Supplement
On April 12th, Wells Fargo reported another record quarter with net income up 22% from 2012, to $5.2 billion, or diluted earnings per share of $0.92. Revenue was down slightly to $21.3 billion, down from $21.6 billion a year. Pre-tax pre-provision profit (PTPP) grew 2% to $8.9 billion, highlighting the tremendous earnings power of the Wells Fargo franchise. Wells Fargo has been a consistent leader in the banking industry in terms of profitability, and in the first quarter the company posted a return on assets of 1.49% and a return on equity of 13.59%, which were up 18 and 145 basis points, respectively. The bank continues to improve its efficiency by cutting costs with non-interest expenses down $593MM to $12.4 billion, and the efficiency ratio improved to 58.3%, from 60.1%. The net interest margin declined 8 basis points to 3.48%, but the company was able to purchase $17.8 billion in federal agency mortgage-backed securities when interest rates rose during the quarter, and also retained $3.4 billion in high-quality, conforming first mortgages to help offset the re-pricing on some of the legacy investment assets. Reduced net interest margins have been a major concern for banking analysts but due to the counter-cyclical nature of Wells Fargo's earnings, low interest rates increase mortgage origination and refinancing activity. When interest rates do increase, there will be huge pent-up leverage in the net interest margin business, especially when you consider the significant increases in the overall deposits. Last year management forecasted an aggressive cost-cutting plan but because revenues grew so fast, variable costs were higher than expected, but I am happy to see that management delivered in the first quarter where revenue was down slightly. I believe this highlights the different levers that can be pulled to continue to maintain and ultimately improve long-term profitability. Expense cutting is an everyday activity for Wells Fargo, as opposed to a rationalization for past excesses as it can be argued that it has been for some of its less efficient competitors.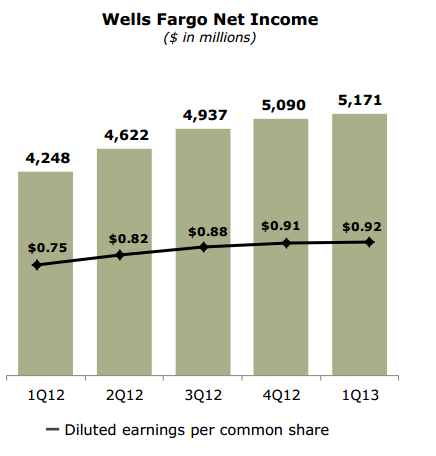 Source Wells Fargo 1st quarter 2013 Earnings Supplement
Total average loans were $798.1 billion, up $295 billion from the first quarter of 2012. Quarter-end loans and quarter-end core loans were $800 billion and $709.1 billion, respectively. Deposit growth continues to be very strong with quarter-end deposits of $939.9 billion, up $51.2 billion from the same time last year. Credit quality continues to improve with net charge-offs of $1.4 billion, which were down $976MM YoY. The net charge-off rate of .72% (annualized) was the lowest since the 2nd quarter of 2006, highlighting that we are now seeing much more normalized credit costs. Non-performing assets were $22.9 billion, down $3.8 billion YoY, and $200MM (pre-tax) was released from reserves due to the continued strength in credit performance. Wells Fargo still maintains $17.2 billion in allowance for credit losses, which is 2.15% of total loans, down from 2.19% in the 4th quarter. Mortgage originations of $109 billion were down from $125 billion in the prior quarter, and the application pipeline of $74 billion at quarter end, is down slightly from $81 billion at December 31, 2012. There is still a tremendous amount of mortgages that can be refinanced with assistance from government programs that allow refinancing despite negative equity (HARP), and I believe that the mortgage business will continue to post strong revenues and profitability over the next several years. Mortgage banking accounted for 26% of the company's fee income and only 13% of total revenue, so a slowdown in refinancing activity is far from being a cataclysmic event for the bank. Wells Fargo has a $1.9 trillion mortgage servicing portfolio, which provides an attractive fee based revenue stream and potential for margin growth, as many banks have been divesting mortgage servicing rights due to the difficult regulatory environment. There is very little analyst discussion pertaining to Wells Fargo's trust and investment business, which actually accounted for 30% of fee income in the 1st quarter, and has generated more fee income than any other category, including mortgages. I believe this is just another example of analysts focusing on short-term themes that make headlines, instead of actually analyzing a business and making actual assessments on the value to an investor.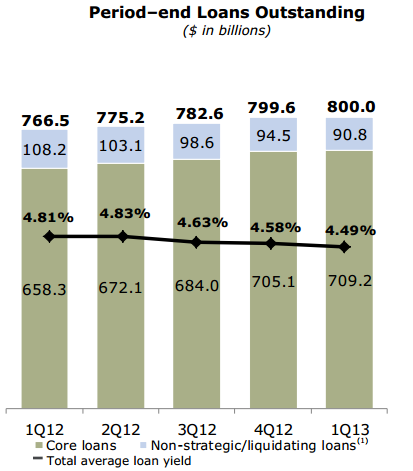 Tier 1 common equity under Basel I increased $14.1 billion from first quarter 2012 to $113.6 billion, with Tier 1 common equity ratio of 10.38% under Basel I at March 31, 2013. The company estimates its common equity ratio of 8.39% under current Basel III capital proposals. Wells Fargo generates a tremendous amount of capital and the only reason the capital ratios aren't even higher is because the company has been one of the few banks that has been able to return a meaningful amount of capital back to shareholders. The company increased the quarterly common stock dividend to $0.25 per share in the 1st quarter and also bought back 17MM shares of common stock. This isn't as attractive as it looks though because the company issued 39MM shares in the 1st quarter, which is seasonally high because of employee benefit plan issuances. The company's CCAR plan received a non-objection, paving the way for an eventual increase in the 2nd quarter dividend to $0.30 per quarter, and the company also planned on buying back more stock. At current prices, I view stock buybacks as being accretive and Wells Fargo historically has done a good job in terms of its capital allocation, especially when you consider the bonanza of an acquisition that Wachovia turned out to be.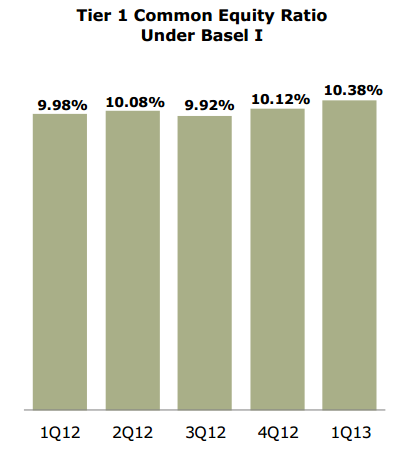 Wells Fargo ended the quarter with 5.3535 billion shares outstanding so at a recent price of $37.12, the company has a market capitalization of about $199 billion. Assuming the dividend gets increased to $0.30 a quarter, the current dividend yield would be just above 3.2%, and I'd expect annual increases moving forward. Wells Fargo's book value at the end of the quarter was $28.27 so the stock trades at about 1.31 times book value. I believe that some of the other banks such as Bank of America (NYSE:BAC) and Citigroup (NYSE:C) have more attractive risk/return dynamics at this time, but for the long-term investor, Wells Fargo should prove to be an attractive investment. The company has between $20-$25 billion in annual earnings potential through the business cycle, and I'm willing to pay 10 times earnings for a company that should be able to grow earnings per share by 10% per annum. I look at Wells Fargo as a long-term hold of an investment because I believe that it will be the best performing bank in the United States, which still is a wonderful market, for many years to come. Historically the stock has traded at a premium multiple far in excess to the current multiple, due to its exemplary performance over the years, setting the stage for appreciation through growth, and a possible improvement to the multiple as well. I'd advise ignoring simplistic and redundant short-term trading advice, while instead focusing on buying an attractive and improving business at a reasonable price.
Disclosure: I am long WFC, C, BAC. I wrote this article myself, and it expresses my own opinions. I am not receiving compensation for it (other than from Seeking Alpha). I have no business relationship with any company whose stock is mentioned in this article.