AOL Inc. (NYSE:AOL), with a market cap of $3.02B, is a global web services company with a range of brands. It provides online content, products, and services to consumers, publishers, and advertisers. Quietly, AOL has been outperforming the sizzling hot Yahoo (NASDAQ:YHOO) and more upside is expected with possible revenue growth and margin improvement.
Recent Development
In early April, AOL formed a strategic partnership with Publishing Group of America, which brings video content from PGOAs digital properties to sites on The AOL On Network. The AOL On Network will benefit from new and engaging video content closely aligned with topics that matter most to its audience. In return, PGOA will have access to content from The AOL On Network.
On April 11, 2013, AOL Networks launched its sell-side platform, MARKETPLACE by ADTECH, to offer a full-service solution to premium advertisers and publishers. As reported, MARKETPLACE attempts to set a new standard for inventory monetization and addresses basic publisher needs like brand protection and transparency, and layers on unique yield and performance insights.
Analysts' Calls and Estimates
On April 2, 2013, UBS initiated coverage on AOL with a buy rating and a price target of $44.00. Analysts expect AOL to grow revenue for the first time in 8 years and there is potential for solid margin improvement. UBS said,
"Key secular strengths include a history of shareholder-friendly capital returns and an improving margin profile, including slowing subscriber declines in Membership Group. These are offset by incomplete mobile and social offerings, as well as a lack of profitability in the company's more nascent areas, including Patch, which has shown promise as an emerging local destination."
Analysts currently have a mean target price of $41.00 for AOL, suggesting 4.62% upside potential based on the closing price of $39.19 on April 12, 2013. Analysts, on average, are estimating an EPS of $0.34 with revenue of $537.43M for the current quarter ending in March 2013. For 2013, analysts are projecting an EPS of $1.57 with revenue of $2.24B, which is 2.00% higher than 2012. AOL had 3 positive earnings surprises in the last 4 quarters and is expected to release its Q1, 2013 earnings on May 6, 2013.
AOL's revenue is expected to pick up by late 2012 and is projected to reach $6.412 per share by the end of 2013, as seen from the chart below.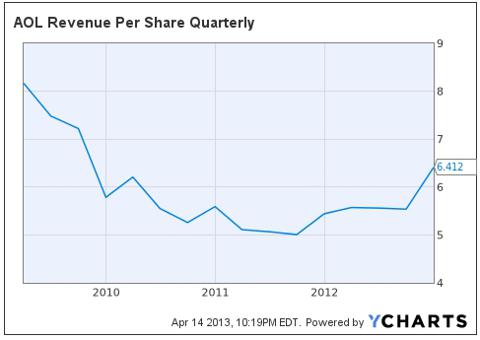 Source: YCharts.com
AOL's sales estimate is expected to increase for the next fiscal year and is expected to reach $2.315B by the end of 2014.
Source: YCharts.com
Fundamentally, AOL's key stats will be compared to its peers in the industry of Internet content and information industry, including Yahoo Inc. and IAC/InterActiveCorp (IACI), to see where AOL stands.
| | | | | |
| --- | --- | --- | --- | --- |
| | AOL | Yahoo | IAC/InterActiveCorp | Industry Average |
| Market Cap | $3.02B | $27.19B | $3.92B | N/A |
| Revenue Growth (3-Year Average) | -12.3 | -8.3 | 27.6 | N/A |
| Operating Margin, %, ttm | 54.8% | 11.4% | 11.6% | 17.0% |
| Net Margin, %, ttm | 47.8% | 79.1% | 5.7% | 18.7% |
| ROE | 48.6 | 29.1 | 9.0 | 13.6 |
| Debt/Equity | 0 | 0 | 0.4 | 0.1 |
| P/E | 3.5 | 7.5 | 24.4 | 27.5 |
| Forward P/E | 16.8 | 18.6 | 9.7 | 14.3 (S&P 500's average) |
Source: Morningstar
AOL remains weak on the revenue growth end compared to Yahoo and IACI. However, AOL's margins are higher than the industry average and generates much stronger ROE comparing to its peers. AOL also has a healthy balance sheet with a total cash of $466.60M and a total debt of $105.90M while generates a steady cash flow with an operating cash flow of $365.60M and a levered free cash flow of $1.25B. If AOL can start to increase its revenue, more upside is expected as P/E multiples expands.
Technically, AOL continues to be on the long-term uptrend since mid-August, 2012. AOL is currently trading above its 50-day and 200-day MA, as seen from the chart below.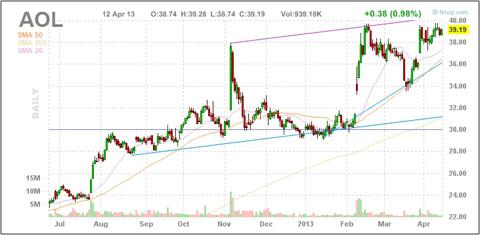 Source: Finviz.com
Bottom Line
AOL had been outperforming YHOO, IACI, and Nasdaq index with 33.15% gain YTD. If AOL can start to increase its revenue, coupled with margin improvement, much more upside is still expected. AOL also offers a cheap free cash flow with a P/FCF ratio of 10.06. For bullish investors, a credit put spread of July 20, 2013 $32/$34 put can be reviewed, which will allow investors to gain some upside credit premium or to acquire AOL shares at a price below $34 upon options expiration.
Note: Investors and traders are recommended to do their own due diligence and research before making any trading/investing decisions.
Disclosure: I have no positions in any stocks mentioned, but may initiate a long position in AOL over the next 72 hours. I wrote this article myself, and it expresses my own opinions. I am not receiving compensation for it (other than from Seeking Alpha). I have no business relationship with any company whose stock is mentioned in this article.