Utilities offer investors a level of consistency that few asset classes can. Furthermore, unlike other defensive sectors, utilities do not have to worry about maintaining brand loyalty and recognition (as is the case with consumer staple companies); nor to they have to devote a substantial percentage of their assets to research and development (as is the case with large pharmaceutical companies). While it is true that in general utility companies will not provide substantial growth, the fact that they have relatively predictable business models and large dividends makes them a cornerstone of any well-diversified portfolio.
There is nothing new here. The fact that investors have noticed these facts is evidenced in the recent strong performance of the shares of American utility companies. The following chart of the Utilities Select Sector SPDR Fund (NYSEARCA:XLU) illustrates this point.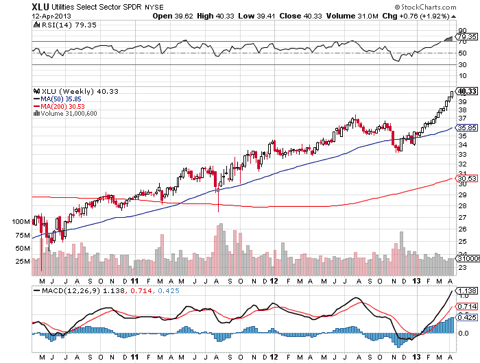 Unfortunately this strong performance has left minimal opportunities for investors. Consider the following table, which displays the valuations of some major utility companies as well as their dividend yields.
| | | |
| --- | --- | --- |
| Company | P/E Ratio | Dividend Yield |
| Duke Energy (NYSE:DUK) | 23.8 | 4.2% |
| Southern Company (NYSE:SO) | 17.9 | 4.1% |
| American Electric Power (NYSE:AEP) | 19.3 | 3.8% |
| NextEra Energy (NYSE:NEE) | 17.4 | 3.3% |
| Excelon Corporation (NYSE:EXC) | 25.8 | 5.8% |
| American Water Works Company (NYSE:AWK) | 20.1 | 2.4% |
These companies have attracted investors because of their consistent performances and their relatively high dividend yields in a world that is starved for yield. However these numbers are not the numbers that one often associates with good value, especially when the companies in question are growing slowly, if at all.
Rather than chase these companies' shares or wait endlessly for a meaningful pullback I suggest that investors look outside the United States for opportunities in utilities. One place to look is Brazil.
Why Brazil?
Brazil is one of the largest developing economies in the world. As of late its growth has been tepid, yet it supplies the world with essential commodities such as oil and iron ore, as evidenced by its (until very recent) positive trade balance: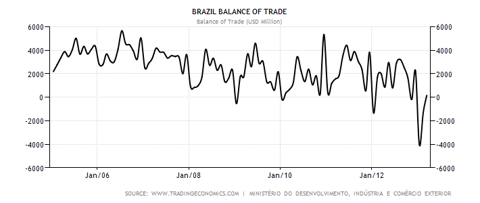 (Source: TradingEconomics.com)
These activities require the electricity and water treatment that is provided by Brazilian utility companies. Furthermore, Brazil's development has resulted in its citizens becoming wealthier, as evidenced by a growth in Brazil's GDP per capita, which since 2004 has grown at a CAGR of 3.2%: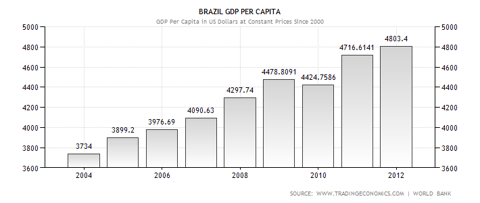 As Brazilian citizens become wealthier they will demand more electricity and water, as well as cleaner water.
Not only is Brazil growing, but the major Brazilian utilities that trade in the United States are generally cheaper than their American counterparts: they trade at lower P/E ratios and with higher dividend yields, and consequently they offer investors better opportunities. Here are a few of the larger companies that American investors should consider.
CPFL Energia S. A.
CPFL (NYSE:CPL) produces electricity for clients all over Brazil, including Sao Paulo, and Rio Grande do Sul. It is one of the most expensive Brazilian utilities with a $10.4 billion market capitalization, trading at 16.8X earnings. However its sales are growing fairly rapidly at nearly 10% per year in Real terms. Furthermore it pays a 5.2% dividend yield, which is higher than all of the American companies I list above with the exception of Excelon, which has been having its own particular problems. Since 2004 CPFL shares are up over 260%, which reflects a growing Brazilian economy and a strengthening Real, which is up over 40% against the U. S. Dollar during the same time period. Investors interested in the company's shares will be pleased to learn that they have pulled back from nearly $29 each to today's price of $21.65 over the past year, despite the fact that growth has accelerated.
Companhia Energetica Minas Gerais
Companhia Energetica Minas Gerais (NYSE:CIG) is primarily involved in the development of electric power sources and the distribution of electric power. However it is also in the telecommunications industry, which has investment characteristics similar to those of utilities (consistency and predictability, large dividend payouts...etc.). The shares have been among the worst performing of the utility companies traded in the United States with its shares trading down 39% over the past year. The company currently has a market capitalization of $10.3 billion and trades at just 6X earnings, and it has a dividend yield of nearly 5% despite the fact that it has been growing its sales at roughly 10% per year in Real terms. There is no definitive reason for this outsized underperformance and undervaluation (especially in terms of the company's P/E ratio). However given this underperformance there may be something that is not apparent from the numbers, and investors considering adding CIG to their portfolios would be wise to comb through the company's financial reports very carefully. It could be one of the best opportunities in the entire global utility sector, or it could be a black swan waiting to implode.
Companhia Paranaense de Energia
Companhia Paranaense de Energia (NYSE:ELP) is a utility conglomerate that is involved in the development of sources of electricity, water treatment, and telecommunications. Like CIG, ELP is a depressed Brazilian utility company, with the shares down from $29 each in 2011 to just $17.40 today (the shares did trade as low as $12.53 towards the end of 2012 and have since recovered). The company has a market capitalization of $4.8 billion and a P/E ratio of 13.5. Compared to its peers the company has a small dividend yield, although it is still a decent 3%. In recent years leading up to 2012 the company has been able to grow its sales at nearly 10% per year in Real terms. However in 2012 the company saw a drop in profits resulting from higher input costs. Despite the fact that this company appears to be more expensive than its peers, the problems it experienced in 2012 seem to be mostly behind them, and the shares have begun trading with significantly more bullishness than they have been over the past couple of years. Investors who believe that ELP can recover to its peak performance of 2011 and beyond will be getting these shares inexpensively.
Companhia de Saneamento Basico
Companhia de Saneamento Basico (NYSE:SBS), unlike the companies I discuss above, is primarily engaged in water and sewage treatment. The company currently has a market capitalization of $10.7 billion. It trades at a P/E ratio of 11.1, and it currently has a whopping dividend yield of 7.7%. The company has been growing its revenues at nearly 8% per year recently in Real terms, and it has shown no signs of any problems unlike ELP. This company should be especially enticing for investors given that there is a dearth of water treatment investments, yet at the same time governments, environmental groups, and some investors have realized the importance of clean water and related technologies for the future of sustainable human existence. As Brazil continues to play an essential role in the global economy, and as water's scarcity and importance become greater political and economic issues, SBS should prove to be an excellent long term investment. Unfortunately, unlike the other companies I discuss above, SBS shares are trading within 5% of their all time high. Thus while valuations are still compelling I would consider waiting for a more significant pullback before putting on a significant position.
Conclusion
Given the uncertainties in today's economy the predictability of utilities' business models and their relatively high regular distributions of dividends has made them especially appealing to investors. This has lead to valuations, especially among American utilities, that are not very compelling. Fortunately, for investors who are willing to take the risk of investing outside the United States, Brazilian utilities offer far more compelling valuations and sizable dividends, and these companies are consequently appealing to both conservative retirees as well as more aggressive investors. These companies do not come without risks, as the performance of shares of CIG and ELP have demonstrated. However Brazilian utilities should reward long-term investors who can withstand the added volatility that comes from investing in emerging market economies.
Disclosure: I have no positions in any stocks mentioned, and no plans to initiate any positions within the next 72 hours. I wrote this article myself, and it expresses my own opinions. I am not receiving compensation for it (other than from Seeking Alpha). I have no business relationship with any company whose stock is mentioned in this article.