In my mind there are three types of value investors:
Cigar-butt investors
Fair value investors
Business owners
Cigar-butt investors look for liquid-able assets selling on the cheap. This is often referred to as net-net investing, popularized by Benjamin Graham.
Fair value investors are those who buy stocks when they are trading at a discount to fair value and they sell them when they become overvalued.
Finally, business owners are the investors that treat stocks like businesses. They don't kick them around as if stocks are nothing more than tickers. Instead, they attempt to buy wonderful companies at a reasonable price, and onto the business as long as prospects remain sweet.
It's important to identify which type of investor you are. There's no need to identify your investing type by some sort of name, but every investor should have some self-awareness regarding their strategy. This way, when a stock in your portfolio appears to be overvalued, you'll know what to do.
It's ok to dabble in different strategies, but I've learned that it's very important to take note when you actually are dabbling in different strategies. For the most part, I'm in the third group.
For those of us in the third group, here are three stocks that you shouldn't sell, even if they appear to be overvalued. This doesn't mean they are buys, but business owners have absolutely no reason to sell wonderfully performing businesses.
1. Amazon - (NASDAQ:AMZN)
Amazon's valuation is monstrous. Out of curiosity, I treated CapEx as cash flow in a DCF analysis one day when I was bored, and the company interestingly turned out to be fairly valued. I felt this was an interesting approach, because when management is able to make such efficient use of CapEx, it is basically just as rewarding to the investor as cash flow. But most people won't agree with such an approach and claim that Amazon is ridiculously overvalued. There is no doubt, however, that the stock is definitely expensive.
Though this is no endorsement to buy the stock, I definitely do not believe it should be sold. Amazon is an excellent company with enormous growth prospects going forward.
In general, only 5% of overall spending is represented by online sales for retail spending. In other words, there is plenty of room for online spending to continue to increase. And Amazon, as the world leader in e-commerce, is positioned right where it needs to be to benefit from this trend.
2. Intuitive Surgical, Inc. - (NASDAQ:ISRG)
If Intuitive Surgical's revenue growth trajectory slowed to 15% (down from 20%) over the next 10 years, it would take approximately 9 years for the stock to double (the math behind it was a bit more complicated than this, but that's the jist of it). This would likely amount to an annualized return of somewhere around 8% - not so impressive.
But this does not mean that investors should sell Intuitive Surgical. In fact, the company has yet to show any signs of a slowdown. I've been following the company closely for three years now, and each year it surpasses my expectations. In fact, its revenue growth curve doesn't appear to be linear - it seems to be somewhat exponential: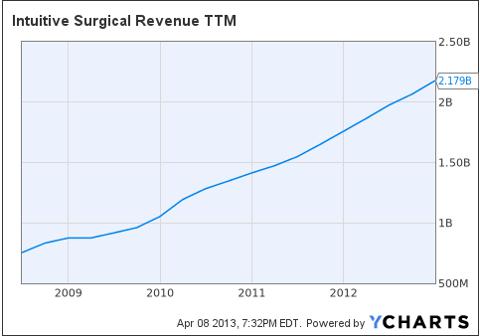 Fundamentally, Intuitive Surgical is firing on all cylinders. I wouldn't even consider selling.
3. Nike - (NYSE:NKE)
Things are looking good at Nike.
The company's net profit margin of 9.24% is significantly higher (by about 200 to 300 basis points) than both Under Armour (NYSE:UA) and Adidas. Ultimately, the company's gross margins in footwear are higher than all of its competitors - clear evidence of Nike's pricing power.
Yes, gross margins have been on a slight decline over the last years, but I see nothing in Nike's competitive landscape that points to a slowdown in earnings growth. I also don't see evidence of intrusion to the company's barriers to entry.
At 23.43 times earnings, the company is expensive. In a recent discounted cash flow valuation I did on Nike in which I used what I thought were somewhat aggressive projections, my fair value estimate came in 10% lower than today's price.
But who cares? The business is solid, growth prospects in emerging markets look good, and entrants don't seem to be gaining any significant foothold in Nike's territory.
I probably wouldn't buy Nike at today's levels, but I sure as heck wouldn't sell.
Conclusion
Straight out of the Berkshire Hathaway (NYSE:BRK.A) Owner's Manual, take it from Warren Buffett:
Charlie and I hope that you do not think of yourself as merely owning a piece of paper whose price wiggles around daily and that is a candidate for sale when some economic or political event makes you nervous. We hope you instead visualize yourself as a part owner of a business that you expect to stay with indefinitely, much as you might if you owned a farm or apartment house in partnership with members of your family.
It could be argued that Amazon, Intuitive Surgical, and Nike are each overvalued, but that doesn't mean you should sell - at least not for the business owner.
What type of value investor are you?
Disclosure: I have no positions in any stocks mentioned, and no plans to initiate any positions within the next 72 hours. I wrote this article myself, and it expresses my own opinions. I am not receiving compensation for it (other than from Seeking Alpha). I have no business relationship with any company whose stock is mentioned in this article.