VIX - Market Sentiment:
Monday saw S&P futures sharply lower after markets across the world were lower across the board. Commodities volatility has soared as gold and silver prices plunge to 2-year lows. Gold ETF (NYSEARCA:GLD) and Silver ETF (NYSEARCA:SLV) both actually broke not the 200-day moving average but the 200-week moving average currently sitting at 139.80 for the GLD. Even worse these moves have been on massive volume as liquidation appears to be continuing across the board for commodity stocks. Back on April 4th I highlighted on the sonar report (here) a 20M trade where the GLD 155 September straddle was bought costing the trader more than 21M. As I pointed out on Twitter today this trader is now sitting on more than a double as this position could be sold today for more than 42M as volatility has exploded in the metals market.
As typical with any sell-off volatility or spot VIX and futures moved violently to the upside as those short volatility literally reach for cover. This actually accelerated after reported explosions at the Boston Marathon spiked volatility even further. Volatility ETF (NYSEARCA:VXX) and 2x ETF (NYSEARCA:UVXY) performed well today as front month futures received a pop but gains were still outpaced by the UltraShort S&P ETF (NYSEARCA:SDS) calls I bought last week. For those who follow me and my trades on twitter I did take off significant short positions to lock in gains and am looking for the next setup. VXX options continue to become even more liquid as volatility again exceeded average daily volume with more than 2.5 hours left to trade. Unlike Friday's sonar (here) where put flows again picked up with calls also being net bought today call premium was almost 6x the total put premium. Calls today were bought on the ask 55% of the time or 83K contracts. Open interest currently sits at 912K in the call side so we'll have to see if call open interest increases against the current put open interest of 1.7M contracts. Buyers of the May 19 were heavy today but selling of the 23's are showing traders believe there are volatility caps at least in the near term for the VXX.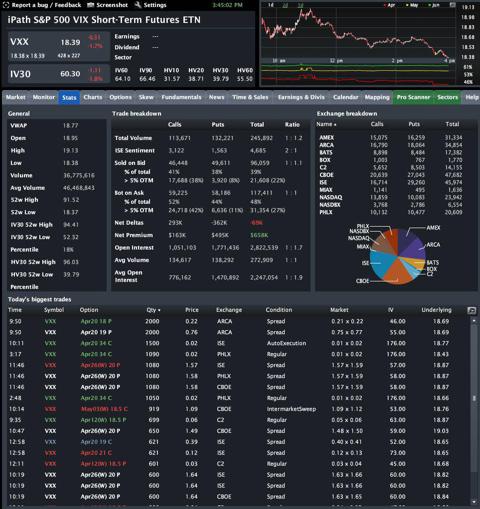 Statistics and Screenshot Provided By LiveVol
VIX futures are listed below.
Yesterday
· April VIX futures 12.90
· May VIX futures 14.30
· June VIX Futures 15.30
Today
· April VIX futures 14.73
· May VIX futures 15.03
· June VIX Futures 15.85
Options Paper:
As stated earlier the headline today was the massive sell-off in the GLD. Options activity followed this as bears looked to pile into the momentum breaking major long-term moving averages. Today in the most active GLD option day in history the sentiment was very clear. Bears believe GLD is not only headed lower but much lower with heavy buying of the September 140, 130, and even 120 put premium. This is probably a play believing the GLD drop could cause margin calls forcing yet even more selling as metals margins were increased by many brokers. Regardless GLD today alone saw more than 3.5M worth of put premium bought compared with calls being net sold to the tune of 860K. Clearly the bears are in control at this point and if you have not been short for the last 200.00 of gold price then you probably have no business shorting it down near 1350.00. I have not been in GLD for quite some time but this is strictly a no touch in my account as this is one, which will either hit a home run or rip your face off. Options activity as of the time of this writing was approaching almost 750K contracts or almost 4x average daily volume.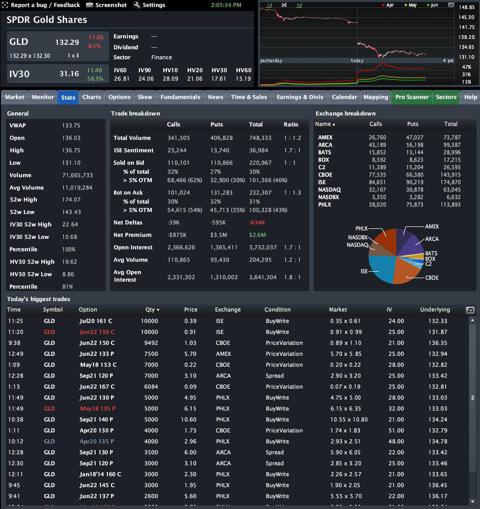 Statistics and Screenshot Provided By LiveVol
The pure definition of strange options activity was what happened in the name Watsco (NYSE:WSO) today. Specifically this reminds me of Affymax (OTCPK:AFFY), which is a name I never heard of until it popped on my radar from options put activity. WSO is a name I didn't even hear of again today until a large put print went off causing implied volatility to spike in the name. Specifically 1.5K April 75 strike puts were bought 1.5K time starting just before noon in larger blocks. The stock moved from the 81.00 level trading down to 78.40 as of the writing of this article. WSO reports earnings April 18th before the bell and this is simply a bet believing this name will do nothing short of implode after earnings. The ask of those 75 strike puts went from .40 earlier in the day to .70 with a bid of just .25 so the spreads are super wide as this name typically only trades 49 total contracts per day. Additionally some sweeps of the November 70 strike puts allowed some buyers to buy some additional protection in this name. Options saw more than 38x average daily volume with puts outnumber calls 1,750 to 1 in a very strange trading session for this not very liquid name.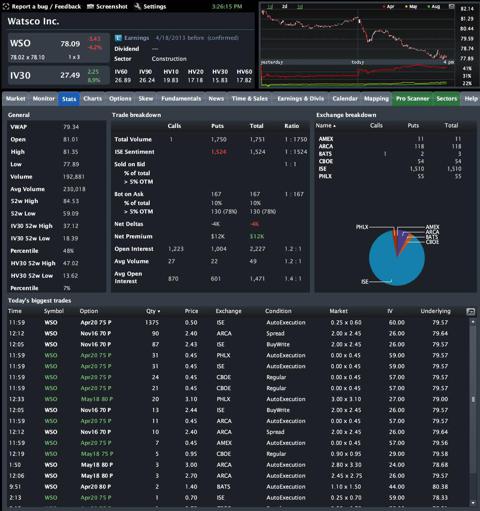 Statistics and Screenshot Provided By LiveVol
Another short position I took last week was in Electronic Arts (NASDAQ:EA) following some put activity combined with poor technicals as the name tries to hold the 17.00 VWAP level. Today it appears some bulls are bailing on the name as a seller of the June 19 strike calls came in just after noon selling the calls 20K plus times with current open interest at 28K. We'll have to check open interest tomorrow to see if this is confirmed with a reduction in open interest. Option activity has continued to be fast and furious in this name with May 7th earnings quickly approaching and volatility creeping higher as EA attempts to hold the all important 17.00 level. Options activity today saw calls net sold to the tune of 169K but unlike last week also saw puts net overall sold today. Options activity was more than 2.5x average daily volume with calls outnumbering puts 11.2 to 1 on the trading day. The puts I bought last week are up 10% and I'm looking to press this short on any green candle.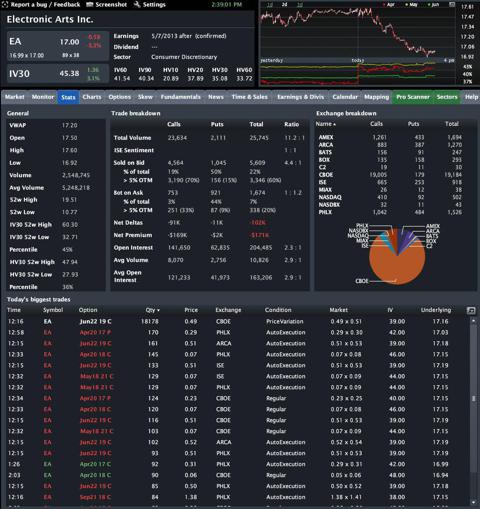 Statistics and Screenshot Provided By LiveVol
Popular ETFs and equity names with bullish / bearish paper:
Bullish Option Flows - ISE and % OTM calls bought on offer
MBIA (NYSE:MBI) 73% - 2.4K OTM calls bought (hard day to find call buyers today)
Alpha Natural (ANR) 55% - Call rolls saw 5.6K OTM calls bought
Bearish Option Flows - ISE and % OTM puts bought on offer
Sears Holdings (NASDAQ:SHLD) 80% - 10.3K OTM puts bought on offer
Ultra Petroleum (UPL) 77% - 2.5K OTM puts
General Motors (NYSE:GM) 63% - 6.7K OTM puts bought
EMC Corp. (EMC) 57% - 4.2K OTM puts bought
As always happy trading and stay hedged.
Remember equity insurance always looks expensive until you need it!
Disclosure: I am long AGNC, BA, BAX, CBB, CIM, CONE, DNDN, DRYS, HEK, IOC, LNG, NQ, TLM, and I am short ASH, BBBY, EA, HPQ, LULU, SPY
Trades Today: Closed CF, JOY, and EMR shorts. Trimmed SPY short (SDS calls), bought additional HEK common
Portfolio Exposure:
Long: 21.1%
Short: 14.8% (Down from 21%)
Cash: 64.1%
Disclaimer: The opinions in this document are for informational and educational purposes only and should not be construed as a recommendation to buy or sell the stocks mentioned or to solicit transactions or clients. Past performance of the companies discussed may not continue and the companies may not achieve the earnings growth as predicted. The information in this document is believed to be accurate, but under no circumstances should a person act upon the information contained within. I do not recommend that anyone act upon any investment information without first consulting an investment professional as to the suitability of such investments for his or her specific situation.
Disclosure: I have no positions in any stocks mentioned, and no plans to initiate any positions within the next 72 hours. I wrote this article myself, and it expresses my own opinions. I am not receiving compensation for it (other than from Seeking Alpha). I have no business relationship with any company whose stock is mentioned in this article.