To say that "serious damage" has been done to the metals complex… well, that's the understatement of the year! This is the quickest, most prevalent drop I have experienced in my career. In the words of Mohammed Ali, "float like a butterfly, sting like a bee." Consider yourself stung.
It was good while it lasted. Yet old gold longs have now given back sizable profits that were years in the making. Worse still, fresh bullish entries are now severely under water. I can almost hear the margin calls ringing.
I have two charts today -- gold and silver. The bottom has fallen out of each. Selling intensified once silver broke $26/ounce and the gold bears are now in the driver's seat, with prices under the $1,540 line in the sand. Gold's drop is the largest two-day decline since 1983. Silver prices are off almost $5/ounce, or 18%.
Again, I've been in the commodity markets for12 years and this move is the most furious, unforgiving move I've seen. And the scariest thing… it may not be over.
So… where do we go from here?
Silver: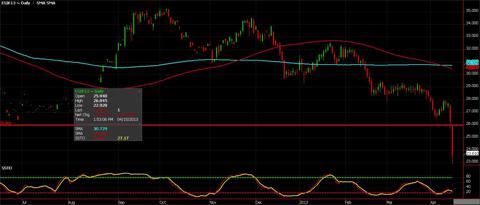 Gold: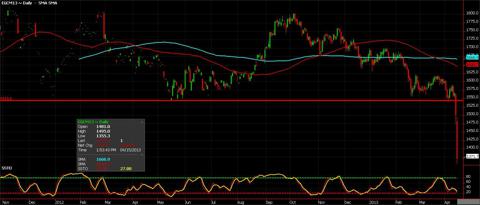 With silver now under $26, I see the next support zones as $22, followed by $18/ounce. As for gold, watch for $1,350 and then $1,250 as your next two support levels.
Metals markets have a take no prisoners attitude. Until a definitive bottom is in, I suggest staying on the sidelines or proceeding with extreme caution. Buyers trying to catch these falling knives risk getting their hands sliced to pieces. If you have deep pockets, and a very long-term investment horizon, you may consider wading in. But I'd think twice. Even brave metals traders that bought the steep 1970s correction had to be very patient before they saw a dime of profits.
"At some point the price doesn't matter... you're just forced out of positions because it's a cash thing." This comes from Kevin Davitt, a very talented metals trader with whom I speak on a daily basis.
When fear, panic, sell stops and margins calls are the movers du jour... anything and everything is sold for no other reason but to raise money for said margin calls. Fundamentals and technicals just don't matter.
The COMEX and LME are open for business tomorrow. I'd give them a rest.
But if you really must -- stay hedged, with either short positions in later months, or with options. Gold/silver buyers should look to sell calls or buy puts against long futures.
But really, maybe just let the dust settle first!
Risk Disclaimer: The opinions contained herein are for general information only and not tailored to any specific investor's needs or investment goals. Any opinions expressed in this article are as of the date indicated. Trading futures, options, and Forex involves substantial risk of loss and is not suitable for all investors. Past performance is not necessarily indicative of future results.
Disclosure: I have no positions in any stocks mentioned, and no plans to initiate any positions within the next 72 hours. I wrote this article myself, and it expresses my own opinions. I am not receiving compensation for it. I have no business relationship with any company whose stock is mentioned in this article.