The Goodyear Tire and Rubber Company (GT) yesterday reported Q1 2009 financial results (Q1 conference call transcript).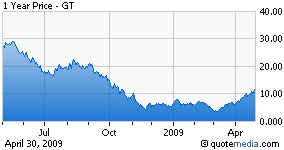 Demand for tires is down as new car sales dropped dramatically. Also, I suspect replacement tires are not selling as well as cash-strapped consumers stretch their budgets. So if sales are down, their purchases of raw materials must also be dropping. But Goodyear reports that the cost of raw materials has increased. Read this quote in a Q1 context:
"Higher raw material costs, which increased 31 percent, or approximately $332 million, more than offset improved price/mix of $161 million."
No further comment or discussion was offered in the press release. Something is seriously wrong with the pricing model on raw materials. Management needs to step up and explain this one. Yes the problem has been disclosed but not explained.