In my previous article "A fundamental view of six flags' stock price," the research indicated that Six Flags' (NYSE:SIX) stock value shouldn't be more than $32. However, currently it stays at $72 and most of its price increase occurred in the past 18 months.
What has happened? Is Six Flags really growing in a sustainable way, or is its high stock price just a result of perfect events happening at the perfect time? Reviewing the key events of this company can help investors get good insights.
In the past one year and a half, Six Flags has done a lot in three areas: Stock repurchase, dividend increase, and one-time events (please refer to the chart).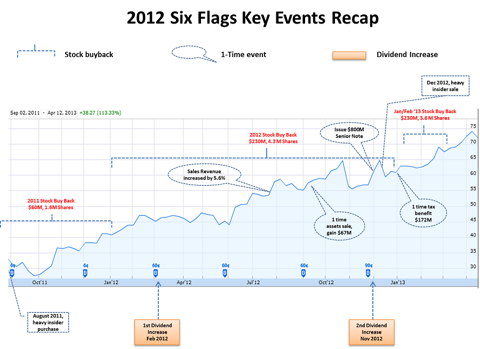 Click to enlarge
Stock buybacks: Six Flags has been accelerating stock buybacks in the past two years. During the 12 months of 2011, Six Flags only spent $60M to repurchase 1.6M stock shares. In 2012, it increased to $230M for 4.3M shares, four times as much as 2011. Now for the first two months of 2013, Six Flags already spent $230M for 3.6M shares; 16% of the total transaction volume during that period was bought back by the company! Such an aggressive repurchase plan can cause any stocks to fly.
Dividend increase: Similar to its stock buyback, the dividend increase has been very unusual. In March 2012, the dividend was increased from 6 cents to 60 cents, a 10 times hike. Then only after a few months the dividend was further increased to 90 cents! The big cash payout has made some people believe that a price target of $83.5 is attainable.
One time events: 1) Six flags sold its DCP business last fall, generating a one-time capital gain of $67M or $70M cash flow; 2) It recognized a $172M one-time tax benefit, driving its profit to historical high of $350M; 3) It issued an $800M senior note to fund its stock repurchase plan; 4) It gained a 5.6% annual increase in revenue through a strong push for season pass sales.
So far Six Flags has been able to put all these events together and make people believe that this company is fabulous. Its bankruptcy in 2010 appeared to be far away from investor's memory.
Can Six Flags' stock price be maintained at the current level or go up further? This depends on
Whether this company can take a $500M more loan to continue its stock buyback;
Whether it can maintain or increase the dividend payment
Whether there are any assets that it can sell this year to show a big capital gain;
Whether there are any accounting adjustments that it can make to double or triple the bottom line as it did last year
Whether the current season pass with unlimited free dinning will be attractive enough to drive another 5% sales increase.
Clearly, the chance is low.
Actually it does not matter, whatever Six Flags does, investors should keep the fundamental facts in mind:
Six Flags' normalized net profit is about $110M a year;
The current dividend ($3.6/share) costs $180M a year, much more than its profit;
Six Flags' long-term debt already reached $1.4B, not far away from its 2008 level;
Six Flags' financing cost has gone up from 4.0% to 5.25%;
Buying back stock at peak price can only hurt a company's financial strength;
Theme park is a well established industry and susceptible to macro economy uncertainty; and
Ironically Six Flags spent $290M buying back 5.9M shares in 2011 and 2012, but its weighted average common shares outstanding (diluted) increased from 55.3M to 55.5M.
Disclosure: I am short SIX. I wrote this article myself, and it expresses my own opinions. I am not receiving compensation for it (other than from Seeking Alpha). I have no business relationship with any company whose stock is mentioned in this article.