OPKO Health Inc. (NYSEMKT:OPK) is surrounded by various sentiments. Few facts are playing positively on the stock, for example the OPKO's 4KScore launch in 90 days, a large portfolio of products, a large number of acquisitions and Dr. Frost continuous stock buying spree. On the other hand, OPKO has a large short ratio and the insider holdings are piling up. The company's stock has experienced a 43% gain in the stock market since early 2013. These facts make investors believe that OPKO has become overvalued and it is better to keep their hands off it.
The company's new prostate cancer diagnostic test, called 4KScore, is the biggest news on board. This test has already been launched in Europe. 4KScore is expected to be launched in the U.S in about 90 days as a Laboratory Developed Test ("LDT") under FDA guidelines, which means that no additional FDA approvals will be necessary. I am not aiming to elaborate the difficulties in biopsies and how this test would aid the process. I am going to focus on the market of the test and the facts that should interest an investor.
In late 2011, the United States Preventive Services Task Force, a government advisory body, recommended against prostate cancer screening, saying that far more men were harmed by unnecessary biopsies and treatments than were saved from dying of cancer. Despite this fact, millions of men in the U.S. still get themselves diagnosed for the relevant cancer.
I will be making conservative assumptions for my analysis as the biotech companies have inherent risks that should be considered while making investments. After 4KScore's launch, we can assume that the test will be used for at least a million diagnoses. Though, I personally believe that a larger number of 4KScore tests will be conducted given the current diagnostic rates and the convenient 4KScore testing.
Opko hired outside consultants to determine the fair price for the 4KScore. The consultants arrived at a figure of $1,600 per test. Considering this price, the sales should be recorded at around $1.6 billion. As I have opted for conservative assumptions, this is the minimum figure I expect the company to record as sales in the coming years.
Given this fact, let us look at the biotech companies that are currently reporting a similar figure as sales. For comparison, I have selected Actelion Ltd. (OTCPK:ALIOF) and Alexion Pharmaceuticals, Inc. (NASDAQ:ALXN).

Comparing the market price of OPKO with the selected companies, we can see that currently OPKO's position is quite distorted. The company's earnings are negative and its sales figure is small. This fact contributed in keeping OPKO's price tremendously low. Though, this fact is expected to change. With the expected revenue of $1.6 billion, the company should be priced somewhere around the price range of the peers ($41 - $76).
Though, this outlook is conservative but will only be possible if OPKO lays down a good platform for its test. I think that the company has done a good job in that matter. Its acquisitions across the geographical boundaries will provide marketing and supply platforms for the upcoming test, even beyond the U.S.

Since 2011, the company has expanded into the emerging markets. The company will benefit from the presence in these countries due to their high population growth rates, lack of medical facilities and high disease incidence rates. In these countries, 4KScore has a large target market and it will face less regulatory. The test will generate unimaginable sales from these markets.
The current product portfolio of the company is still significant. OPKO has established a good range of products in the European market; consisting of Pharmaceutical, Nutritional and Veterinary products.


Source: JPMorgan report on OPK.
Well, it's not just me who is positive about the company's prospects. While elaborating on the success prospects of 4KScore, Cramer said:
In this country, we perform 1.2 million prostate biopsies a year, and it's possible that 750,000 of them might not be necessary.

Opko, however, has developed a new kind of test, one which uses additional markers and may be significantly more accurate than the current standard. The test is already used in Europe and could launch in the US as soon as this quarter.
In addition, Cramer sees other tailwinds. He said the company has a pipeline of rapid fire diagnostic tests that it's developing for diseases ranging from lung cancer and pancreatic cancer to tuberculosis and more. On top of that, Cramer said Opko:
...has a robust drug business, which includes a partnership with Tesaro on a drug that helps suppress nausea in chemotherapy patients.

In addition they have a number of early stage drug candidates further down the pipeline, including one for Parkinson's.
4KScore is only one the many billion dollar projects of the company (even Cramer mentioned it) and many other products are in the pipeline. Dr. Frost has been accumulating the shares of the company as he believes in its prospects. Given the track record of OPKO's CEO, I would not doubt him for stock price manipulation. He has got a long thread of success stories behind him. Since the beginning of March 2013, insider trades valued $68 million, with an average purchase price of $7.49. (I haven't included the share purchase through exercising options in the following list).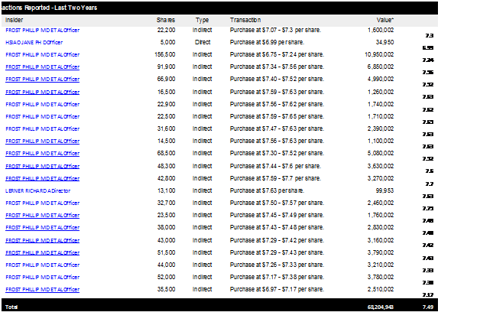 Conclusion
The prospects of Opko Health deserve a higher market price than what currently prevails in the market. Investors have kept their hands off the stock as the company has been booking losses over the past few years. This provides a great opportunity to buy this cheap, promising stock before the market incorporates its future revenue in the stock price. This stock is going to be associated with many good news in the coming months which will throw the stock price over the top. A small price hike will be followed by a "short squeeze" and OPK will become an expensive stock to hold. Before that happens, investors should avail this opportunity and buy the stock before others do.
I'll end it with a saying by Michael Berry:
OPKO Health Inc. is a company that Dr. Phillip Frost has put together over time. It's what I call a generator company. Frost is chairman of Teva Pharmaceutical Industries Ltd. (NYSE:TEVA), and owns 47% of OPKO. He is a very significant individual in the life sciences world. I don't own OPKO at this stage of the game, but at some point I may choose to.

It boggles the mind the number of different projects that OPKO has under way, and it also has many good-and interesting-products. My guess is that over time the company will spin some of these products off into separate companies, or it will joint venture them, or it will sell them to big pharma. Frost has already sold two companies with sales of around $1 billion ($1B) each. I'm guessing that is how he plans to monetize products at OPKO as well. The key thing about the company is that it has been derisked, and it's also quite liquid.
Disclosure: I have no positions in any stocks mentioned, and no plans to initiate any positions within the next 72 hours. I wrote this article myself, and it expresses my own opinions. I am not receiving compensation for it (other than from Seeking Alpha). I have no business relationship with any company whose stock is mentioned in this article.