Nvidia (NASDAQ:NVDA) held its annual investors day Thursday in Santa Clara, CA. The biggest announcement made was that they will be returning $1 billion to shareholders this fiscal year. This will come in the form of their 7.5¢ per share per quarter dividend (about $50 million total per quarter) and an aggressively expanded share repurchasing plan (including $100 million this quarter).
They were able to make this announcement the day after a dramatically worse than expected IDC report for PC sales because of the company`s huge cash position of ~$3.7 billion. They also announced that they expect the Tegra business segment to be flat for the year as they transition to the Tegra 4 family of chips.
The company also presented a breakdown of their R&D spending. What caught my eye here were the numbers for GRID and Project Shield.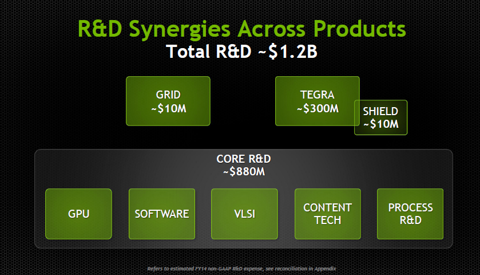 Click to enlarge
When Project Shield, a portable gaming device capable of streaming PC graphics from the owners desktop, was announced at Mobile World Congress Nvidia's stock took a hit because investors did not like Nvidia entering the dying handheld game console market. However, they revealed today that they spent only $10 million developing this product. Even if they never sell one (they will sell a few) it is not a significant loss for the company. This should alleviate some of the fears of investors who think Shield is a waste of money. If nothing else it serves as a cheap platform to show off Tegra 4's capabilities.
They also revealed that their development spending on Nvidia GRID was also just $10 million. This is very interesting because, unlike Shield, GRID is entering a rapidly growing market in cloud computing. With GRID a small or medium size business can provide their employees with the computing power of high-end workstations and the flexibility to use this power from any computer or tablet at any time. As someone with significant experience working in 3D modeling and manufacturing programs at a medium size company I can testify that this capability would be tremendously helpful. I think GRID will prove to be a great business tool and will open the door to a new market for Nvidia. And as revealed today it cost Nvidia virtually nothing to develop.
The aggressive buyback plan is a significant show of confidence from CEO Jen-Hsun Huang and the rest of the Nvidia management team. $800 million in share repurchases at a market cap of $8.09 billion at the time of writing represents ~$1.30 per share in buybacks this year alone. This should give investors confidence that shares will not collapse while PC sales and many of Nvidia`s competitors flounder. It shows that Nvidia is very confident that their new products releasing late in 2013 will generate significant cash flow.
All of this information about the buyback plan and the R&D breakdown can be found in the financial slides here.
For those looking to invest for the long term, I think Nvidia is an excellent buy at current levels ($13.09 as of writing). The company has strong long-term growth prospects in its Tegra business and its new GRID product. Meanwhile I believe they will maintain their strong lead over second place AMD (AMD) in their core GPU business and should see some recovery in the Quadro product line.
We should see significantly higher EPS at the end of each quarter this year as a result of the aggressive new buyback plan but not higher. They announced that the buyback includes $100M from the first quarter, this leaves more the $230M per quarter for the rest of the year to reach their target of $1B returned to investors this year.
Those interested in finding short-term returns should probably look somewhere else. There could be some volatility around earnings announcements to trade but other than that I would not expect any major swings in the next 6 months.
I like the confidence of Nvidia's management team in returning value to shareholders. I think shares will settle into the $13-14 range during the transition to Tegra 4. I am more bullish on Nvidia long term. I believe they will see significant growth over the next 6-12 months with the stock price reaching $18-20 as Tegra 4 is released, GRID begins to sell, and the aggressive share buyback boosts EPS. The 2.4% yielding dividend should also make the wait a little easier.
Disclosure: I am long NVDA. I wrote this article myself, and it expresses my own opinions. I am not receiving compensation for it (other than from Seeking Alpha). I have no business relationship with any company whose stock is mentioned in this article.