Viacom (NYSE:VIA) reported 1Q09 results largely in line with analyst estimates. EPS of 29 cents beat the 26 cent consensus but revenues of $2.91 billion fell a little short of the $2.97 billion estimate. Advertising trends were weak, as expected, but this still stands out as a negative particularly as Viacom's nets are far underperforming the cable network industry. For example, Viacom reported -11% ad growth, including -9% domestic, while Time Warner (NYSE:TWX) reported -2% total and slightly negative domestic ad growth.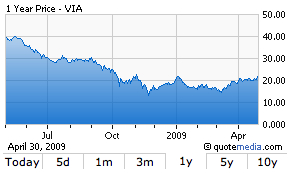 Viacom's quarter got a boost from lower than expected programming expense, up just 3% vs. a full year target of up mid to upper single digits. This served to boost margins in the Media Networks segment. I found the commentary on future programming expenses confusing but there appears to have been a one-time boost to margins from 4Q08 writedowns and 2Q09 could see a rise in the upper single digits.
One negative in the quarter was a 37% drop in ancillary revenues mostly related to slowing sales of Rock Band. Management said a tough comp and a shift from hardware to software sales was the cause. I remain concerned about the music genre in video games.
Paramount had a tough quarter as expected due to tough theatrical and DVD comps and a timing issue that brought most of the distribution and marketing expenses for Dreamworks Animations' (NASDAQ:DWA) Monsters vs. Aliens into 1Q while revenue will mostly flow in 2Q and beyond.
Viacom shares have been leaders among the major media conglomerates during the current rally as investors feel that the asset mix is good and ratings and advertising trends (among the worst in the industry for the past year) are bottoming. I do not think 1Q results or commentary on the balance of 2009 are enough to sustain the outperformance, especially following a 3% pop at the open this morning.