Often banks are valued too extensively on a relative basis than on an absolute basis. Other times, market participants or media personalities will describe them as being un-investable. I've seen many notable media pundits say a bank like Citigroup (NYSE:C) was un-investable in the low $20s, while then advocating the stock in the mid-$40s, a little over a year later. To me this is the result of many market participants not having a deeply embedded investing and valuation methodology. As deep value investors, we focus on maximizing risk-adjusted returns over the long-term with businesses that we can understand, and working in finance and studying banks extensively, we believe we are well-suited to the industry. JPMorgan (NYSE:JPM) might seem expensive on a relative basis to some of the other large banks that had further falls to recover from, but on an absolute basis the stock is still quite attractive. We believe the stock can still be bought on dips and selling long-term put options to manufacture a cheaper entry-price is certainly not a bad idea.
I've been quite puzzled by all of the talk about returning to Glass-Steagall because in my opinion it is pretty obvious that the combination of commercial banks and brokerages is beneficial. We endured the biggest financial crisis since the Great Depression, so some banks did indeed fail, but it was largely the banks without stable deposit franchises that caused the biggest issues. I believe that a pre-planned bankruptcy-like workout strategy for failing banks, that protects counterparties and secured debt holders, at the expense of equity holders and unsecured creditors, would resolve the issue of "too big to fail." If there is a collateral pool like FDIC insurance that has to make up for any shortfall in lieu of the government, then I believe that would be a very reasonable solution, but I thought TARP was a reasonably effective and profitable debtor in possession financing mechanism. I bring this up because JPMorgan epitomizes how well the combination of a consumer and investment bank can work when the company is managed well. The "London Whale" garnered a lot of headlines and embarrassment but it didn't cost the public a penny except for the bluster in Washington D.C. on the matter.
On April 13th, JPMorgan Chase reported record 1st quarter 2013 net income of $6.5 billion, or $1.59 per share, on revenue of $25.8 billion. This was up from net income of $4.9 billion or $1.19 a share, one year ago. The company posted an exceptional 17% return on tangible common equity, highlighting the robust profitability of the franchise. There was a lot of talk that the banks would be like utilities with 10% returns on equity, but despite a lackluster economic environment, JPMorgan's return on equity was a solid 13%. Strong performance was all across the board with Consumer & Community Banking deposits up 10%, mortgage originations up 37% to $52.7 billion, and credit card sales volume up 9%. The Corporate & Investment Bank maintained its #1 ranking in Global Investment Banking fees, and increased assets under custody by 8%, to $19.3 trillion.
Total loans were up 1%, with core loan growth excluding run-off up 5%. The Asset Management business had a record $31 billion of positive net long-term client flows, and assets under supervision were $2.2 trillion. The asset management business is extremely important for large banks because it offers both high margins and low capital requirements, so if you see banks making acquisitions in the near future, I'd expect them to be related to Trusts and Asset Management businesses. Loan balances in the unit were $81.3 billion, up 27%. As you can see from the tables below, JPMorgan's Consumer & Community Banking (CCB), Corporate & Investment Bank (CIB), and Asset Management (AM) businesses saw nice earnings growth, while the other businesses held up okay as well. Analysts and news commentators like to comment that reserve releases aren't real earnings, but they tend to focus on reserve increases when it works against the banks. For investors it is important to understand the overall banking cycle, as opposed to fixating on short-term issues, which tend to overly simplify banks as businesses.






JPMorgan intends on increasing its 2nd quarter common stock dividend to $0.38 per share from the current $0.30 per share. In addition, the company repurchased $2.6 billion of common stock in the 1st quarter, and is authorized to repurchase an additional $6 billion of common equity through the 1st quarter of 2014. JPMorgan generates a huge amount of capital on a quarterly basis and despite being one of the leaders in returning capital to shareholders, the company has attained a Basel I Tier 1 common ratio of 10.2%, and it estimates its Basel III Tier 1 common ratio to be 8.9%, up from 8.7% sequentially. The company expects to meet the Basel III Tier 1 common target of 9.5% by the end of this year. Liquidity is still exceptionally high with a buffer of about $413 billion. Many of the banks are maintaining very high liquidity to reduce duration risks, so when rates do eventually go up, there will be ample investment opportunities, which will improve the investment income materially. In the 2nd quarter, JPMorgan intends on buying back $5 billion of high-cost trust preferred securities (TRUPS) which will have an initial cost, but ultimately will result in lower interest costs over time.
Credit quality has improved dramatically and consistently, while improvements in the housing market should continue to benefit the banks. In the 1st quarter, the company benefited from a $650MM pretax reserve release from the Real Estate Portfolios business, and another $500MM benefit from a release in the Card Service business. Combined, these resulted in $713MM in net income and $0.18 of earnings per share. The company took a charge on its mortgage servicing rights, which are negatively impacted by increasing home price values, but clearly rising home prices would be a net positive for the company. Reserves are still strong as shown below, and I'd expect further reserve releases, albeit at a slower rate. 30+ day delinquencies declined by 14% and severities are improving with the increase in housing values.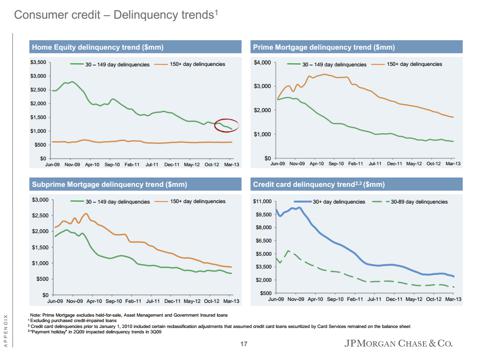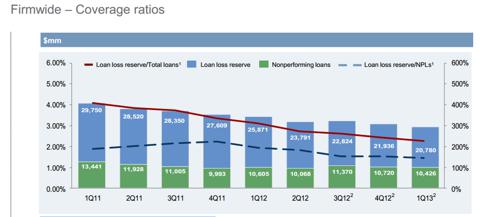 JPMorgan under the leadership of Jamie Dimon has been extremely focused on serving its customers and growing the relationships. Keep in mind that before the BankOne merger, JPMorgan was certainly not known as being one of the best operated banks in the world. In 2011, when concerns about Europe reached their nadir, Dimon emphasized that it was important to continue to serve its European clients in bad times as well as in good. Aside from the "London Whale" JPMorgan has a rich history of hedging itself for risks and I don't see the trading loss for such a huge enterprise as being quite as big of a deal as the media has made it out to be, but clearly Dimon should have understood the gravity of the situation more quickly than he did based on his public comments during the time. He acknowledges that and I very much enjoyed his recent shareholder letter, and if I were a banker I would want that type of strong and self-accountable CEO to navigate this difficult regulatory and political environment. Total net exposure for JPMorgan to peripheral Europe is a manageable $12.3 billion, and with the need of European competitors to retrench on their home turf to clean up their balance sheets, I actually wouldn't mind JPMorgan being even more aggressive to pick up market share.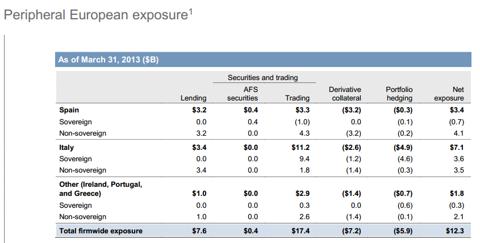 JPMorgan ended the 1st quarter with 3.847 billion diluted shares outstanding, so at a recent price of $48.37, the market capitalization is roughly $186 billion. Book value rose to $52.02 from $47.48 one year ago, while tangible book grew to $39.54 from $34.79. When you consider that we are about a year away from the "London Whale" disaster, investors should get a better feel for how rapidly JPMorgan is compounding the intrinsic value of the firm. I believe that JPMorgan is capable of generating a 15% average return on equity over the course of an economic cycle, which would put normalized earnings power at around $7.80. Keep in mind that the company is growing book value while still distributing capital to shareholders, so I believe normalized earnings can certainly continue to grow beyond that. This return on equity estimate may be in contrast to what some analysts believe is possible, but I believe that we are in an artificially low interest rate environment that will not last forever, and will set the stage for significant enhancement in net interest margins. Combine that with an eventual increase in loan demand and you can get to a 15% return on equity, especially when you consider that costs can go quite a bit lower. The large banks have picked up so much market share in terms of deposits and other businesses that I believe that their earnings power coming out of the crisis is much greater than what many market participants realize, largely due to the low interest rates, which are masking the hidden additional earnings potential.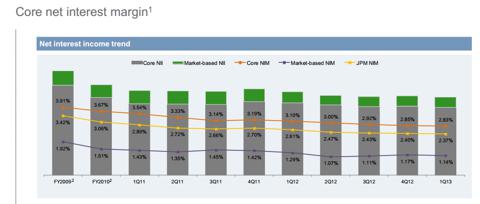 Even if we assume that JPMorgan only earns a 13% return on equity, earnings would come in at around $6.76, and if the company can reduce the share count, there is upside beyond that. Paying just over 7 times earnings for the best global banking franchise in the world makes a lot of sense to me, and if an investor wants to lower their price even further, selling puts in addition to owning the stock might be a good idea. Currently, the $50 2015 puts are going for about $8.40, which would have a breakeven price of $41.60 at expiration. If the stock trades at over $50 at expiration the return on maximum risk would be about 20% or 11.3% annualized. I believe that is an attractive risk/reward scenario for investors that are looking to increase their exposure to JPMorgan.
Disclosure: I am long JPM, C. I wrote this article myself, and it expresses my own opinions. I am not receiving compensation for it (other than from Seeking Alpha). I have no business relationship with any company whose stock is mentioned in this article.