The oil and gas business is a cyclical one, there is no doubt about that. The long-term trend may be one way or another, but even within a long-term trend there are lots of ups and downs.
This has to be a business where a contrarian is very well equipped to succeed. A contrarian would be buying assets at the bottom of the cycle and selling them at the top.
I don't think there is much doubt about where natural gas is in its cycle. And it isn't near a top. We have been bouncing along a bottom for five years.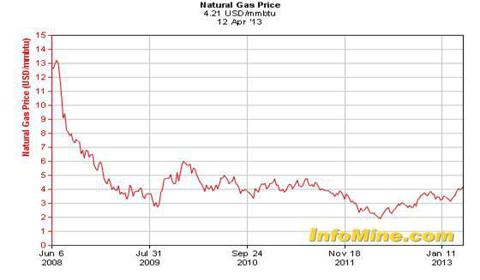 Prices have been in the tank for the last five years as the unconventional gas boom has kept the North American market in a state of oversupply. Forced drilling to hold leases has kept a lid on a chance for a recovery.
There does however appear to be some fairly near-term hope for a recovery in natural gas prices. Chesapeake Energy (NYSE:CHK) the largest independent producer of natural gas in North America is a great indicator for what is happening in the entire industry.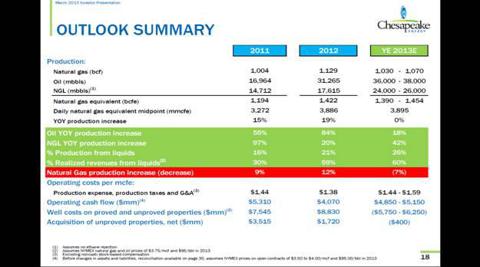 For 2013 Chesapeake, for the first time since the 1990s, is projecting a decrease in natural gas production. Chesapeake is expecting a 7% decrease in natural gas production in 2013 as the company has moved almost all of its drilling capital spending towards oil and liquids.
The slide below shows that only 14% of CHK's capital spending will be directed a dry gas wells in 2013.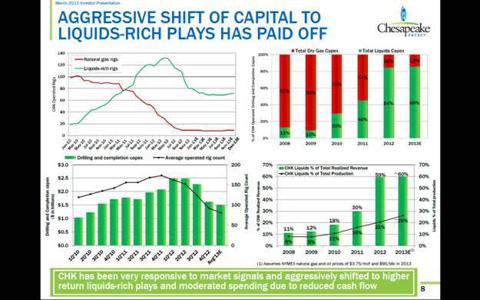 This re-direction of capital by Chesapeake is what is happening across the industry. Everyone who can drill an oil well instead of a gas well is doing so.
That means production for the entire industry is likely to decrease which means that natural gas prices are going to start getting better.
Suncor (NYSE:SU) Sells All Conventional Natural Gas Assets
This massive laying down of natural gas rigs across the industry makes Suncor's announcement today seem ill timed:
CALGARY, ALBERTA--(Marketwired - April 15, 2013) - Suncor Energy today announced it has reached an agreement to sell the conventional portion of its natural gas business in Western Canada for $1 billion to a newly established partnership between Centrica plc (LSE: CNA) and Qatar Petroleum International. Estimated production from this business in 2013 is approximately 42,000 boe/d (90% gas).

The sale includes properties situated across multiple regions in Alberta, northeast British Columbia and southern Saskatchewan. Excluded are the majority of Suncor's unconventional natural gas properties in the Montney region of British Columbia and the company's Wilson Creek, Alberta unconventional oil assets.
The proceeds of $1 billion for 42,000 barrels of oil equivalent per day equates to $23,809 per flowing barrel. That likely isn't a bad price in the current environment, but that is my point.
Why sell natural gas assets now? Why not wait? Couldn't a much better price for assets like these be not too far off in the future?
Not only are we at what appears to be at least a modest improvement in natural gas prices over the next couple of years it is also pretty common knowledge that it is a "buyers market" for oil and gas assets in Canada.
The low natural gas prices over the past few years, especially this summer have left many producers with very stretched balance sheets. Many of these companies have asset packages up for sale and attracting premium bids right now is highly unlikely.
Why Suncor would want to sell into this "buyers market" when it doesn't have to seems strange to me.
I don't question the price received and I understand natural gas isn't ever going to be a major focus for Suncor, but it just seems to me that you don't sell assets into a depressed market.
I have however seen plenty of positive responses to the sale with hopes that Suncor will use the proceeds to buy back shares or increase its dividend. I'm all for that, but can't help but wonder if 18 months from now those conventional assets might have allowed for even more cash that could have gone to shareholders.
Or maybe I'm just optimistic natural gas prices are finally headed higher.
Disclosure: I have no positions in any stocks mentioned, and no plans to initiate any positions within the next 72 hours. I wrote this article myself, and it expresses my own opinions. I am not receiving compensation for it (other than from Seeking Alpha). I have no business relationship with any company whose stock is mentioned in this article.