In my latest piece I argued that not only lack of quality innovation but also failure to deliver certain advertised, promised or understood services for which shoppers bought the products in the first place may be some key sources of company reputation loss.
Two recent events can be used to explain why investors turned their backs on Apple (NASDAQ:AAPL) and Boeing (NYSE:BA) for such sort of complication: The new Apple maps application and the Boeing 787 Dreamliner battery fire. Let me start referring to the new Apple maps application included in the iPhone5 released back in September. I have already dealt with this issue in previous contributions. In them, I simply said that if Apple thought that its shares would continue growing no matter what, it was definitely wrong and that, in this context, the new maps app was a real embarrassment for the now second-most valued company in the world.
A report published just a few days after the release of iPhone5 summarized the situation as follows:
"As everyone now knows, iOS6's developers replaced Google's Maps application with Apple's proprietary mapping utility, developed through company acquisitions and with help from TomTom. Initial reviews noted the lack of integrated transit directions (a default in Google's Maps), location inaccuracies, missing landmark information, and imperfect (even melted!) 3-D views."
But if this was annoying to most Apple followers, the way the whole thing was handled by management was even more difficult to swallow. In a letter sent to customers, Apple´s CEO did in fact concede that they "fell short on [their] commitment". But then he offered no plausible immediate solution to the problem:
"While we're improving Maps, you can try alternatives by downloading map apps from the App Store like Bing, MapQuest and Waze, or use Google or Nokia maps by going to their websites and creating an icon on your home screen to their web app."
What was indeed astonishing was that he did not say when the problem will be definitely solved leading many people to wonder why this new technology was released to begin with.
This directs our attention to another issue discussed by the report I referred to earlier: Outsourcing. As is well known, Apple owes a great deal of its success to this modality of producing. But the world has become much tougher today when it comes to launching new high/tech products into the market. Why? Because there is simply a growing number of rival technologies out there now; many more than in the days of Steve Jobs.
So it seems like Apple - just as other big companies in the U.S. and elsewhere - has begun to reconsider outsourcing innovation. While at first everyone pointed to TomTom, the software firm from The Netherlands, as the main cause of the Apple maps problem, as of today we can be certain that this firm has been engaged only in a global agreement with Apple since June 2012 and that what indeed happened was an overestimation of Apple´s strengths to bringing an otherwise outsourced function in-house.
This explains why in his statement to the public, Apple´s CEO was not able to offer a prompt solution to the problem. It then followed a series of rumors as to how convenient would be for Apple to acquire TomTom. This option was apparently discarded by management after realizing that the Dutch enterprise was not one of those small start-up companies Apple is used to buy from time to time. All of this occurred mostly between September and December 2012.
In January 2013 the market couldn't wait and Apple's shares stumbled. Even though a recent commentator has argued that "life has settled in" for Apple as far as the maps issue is concerned, and as an HBR blogger sustains, the corporation acquired in March a $20 million company with a technology that "allow(s) your smart-phone to pinpoint its location (and the location of your friends) in real-time to 2.5m accuracy using only ambient WiFi signals that are already present in buildings", many doubts persist as to whether Apple will be able to overcome one of the most difficult circumstances it has faced in the last five years or so. But, while things are sorted out, what can Apple learn from this experience?
At first glance, this situation was not very different from what other big companies such as General Electric (NYSE:GE) or General Motors (NYSE:GM) are experiencing nowadays. As a recent blog indicates, GE has just "found that the company was losing key skills by outsourcing IT skills and it is now hiring 1,100 IT engineers for a centre in Michigan" and GM now thinks that "by outsourcing IT activities the firm was focusing on keeping things the way they were rather than trying new ways of working" so that it is "bringing IT work back in-house to increase flexibility, speed and innovation." Apple was therefore doing just what it needed to do.
However, there is a difference: time. While GE and GM seem to have enough time to gradually re-shore their main innovation activities, Apple cannot have that luxury. Why? Because, unlike GE and GM, Apple lives in a high-tech world characterized by being highly competitive, a world in which the notion of innovation as a way of living reaches its maximum objectivity. This gives Apple very little time to maneuver. So here Apple failed on two accounts. First, it promised to bring a new product it couldn't finally deliver. Second, it didn't realize on time it wasn't prepared both in terms of human resource skills and R&D to face the challenge of developing in-house the new Apple maps.
This shouldn't be surprising considering the fact that - as I have shown in a previous article - Apple spends very little money on R&D which of course has a negative impact on its innovativeness. In fact, as the Reuters' 2012 State of Innovation of the World shows, last year Samsung, Apple's archrival, obtained almost 3.5 times more patents on mobile telephony than Apple. This takes us to update the figures I included in my latest SA work where I compared Apple and Samsung's share prices growth in two time periods: 6 months and 5 years. In Figures 1 and 2 I show the results. Figure 1 confirms the gap between Apple and Samsung but it's not so widening, while in Figure 2 we can no longer maintain that "Samsung started to run the electronics market once again." What happened?
Figure 1
The gap between Apple and Samsung (April 2012 - April 2013)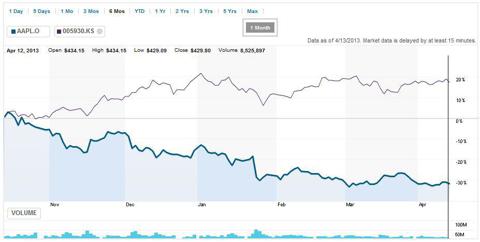 Source: Reuters.
Figure 2
Apple Vs. Samsung (April 2008 - April 2013)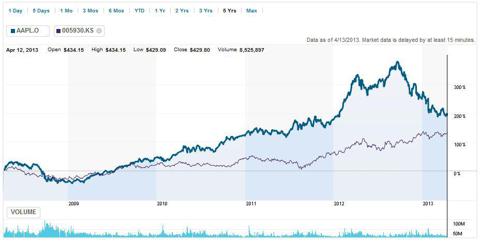 Source: Reuters.
For reasons I will not discuss in this contribution, apparently Samsung didn't/couldn't take advantage of Apple's collapse in January, probably leaving to other players in the market to gain out of that. In Figure 3 I compare Apple and Samsung's share prices growth since the beginning of the year where we can see what happened: Samsung's share prices actually fell (as well). As limited as it might be, in view of our impossibility to provide an explanation as to what went wrong with Samsung during the last three months or so, the first most important investment implication of this article is that, based on its recent performance, the South Korean electronics conglomerate does not appear to be a strong option in the very short run (1-3 months) but remains the best choice in the medium and long term, and that, despite its recent crisis, not all is lost for Apple since it may still be an option in the medium and long term if it changes significantly its business strategy and starts investing heavily in R&D.
In this connection, there are at least two things we need to analyze in a future piece. For one thing, we need to take a closer look at other Samsung and Apple´s main competitors today both in the global smart-phone-market (e.g. Huawei - China, Sony (NYSE:SNE) - Japan and ZTE (OTCPK:ZTCOY) - China) and in the US smart-phone market (e.g. HTC (OTC:HTCCY), Motorola (NASDAQ:GOOG), BlackBerry (NASDAQ:BBRY), LG and Nokia (NYSE:NOK)). In addition, this analysis could perhaps be extended to looking at the market in terms of the different platforms (or operating systems) used by companies (i.e. Android OS, Apple iPhone, RIM Blackberry, Windows Mobile, Windows 7, Symbian and Palm/Web0S), both in the world and in the U.S.
For another, it will be wise to see what takes place once Samsung launches its Galaxy S4 model by the end of April and how Apple and the other players of the game react to this move.
Figure 3
Apple Vs. Samsung (January - April 2013)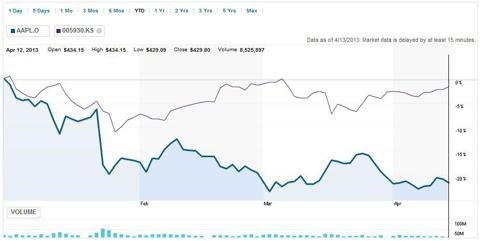 Source: Reuters.
Disclosure: I have no positions in any stocks mentioned, and no plans to initiate any positions within the next 72 hours. I wrote this article myself, and it expresses my own opinions. I am not receiving compensation for it (other than from Seeking Alpha). I have no business relationship with any company whose stock is mentioned in this article.