Let´s now turn to Boeing (NYSE:BA). This company has probably taken the outsourcing issue to the limit. As a recent article published in The Economist states, after this company "outsourced 70% of the development and production work on its new 787 Dreamliner to around 50 suppliers, it suffered huge delays because its outsourcing partners failed to produce parts on time." That being the case, the Li-ion battery fire was but one of the problems faced by Boeing in the course of development of its highly publicized 787 Dreamliner. But why has the battery issue been the subject of so many comments, speculations and complaints? I suggest two reasons for this sort of interest.
First, following a recent article on The New Yorker, because in the 787 Dreamliner, the "braking, pressurization, and air-conditioning systems are run not by hydraulics but by electricity from lithium-ion batteries", this revolutionary aircraft ends up using "twenty per cent less fuel than its peers, and so is cheaper to run". This means that the batteries do make a difference which explains why they are at the heart of Boeing's innovation.
Second, the fact that those batteries are Li-ion ones implies that they may open the way for other potential applications of such advanced energy storage systems in commercial airplanes. Here I´m talking about commercial electric airplanes, of course. Just a few days before the battery fire incident, it was known that Boeing has been developing "a hybrid propulsion system, using both jet fuel and batteries, a greater wingspan and open-rotor engines" which "plugs in at the airport, charges its batteries up, and flies its mission." Beware also that as far back as mid-2011, EADS, the parent company of Airbus (OTCPK:EADSF), Boeing´s main competitor, had already "showcased an all-electric propulsion system for a commercial airliner that could be ready to fly in just 20 years."
Of course, it is one thing to announce plans to go electric in two decades and quite another to already introduce a radical (albeit small) innovation into the market which can be thought of as a step forward towards electrification in the aircraft industry. In other words, prior to the fire battery problem, technologically speaking, Airbus was clearly lagging behind Boeing and appears to have seen the American company setback as a window of opportunity to get a larger share of the market. In Figure 4 we can see what happened over the last 12 months. Since the end of April 2012 until the beginning of January 2013, Boeing was leading the market. After the fire incident everything began to change.
Figure 4
Boeing Vs. EADS (April 2012 - April 2013)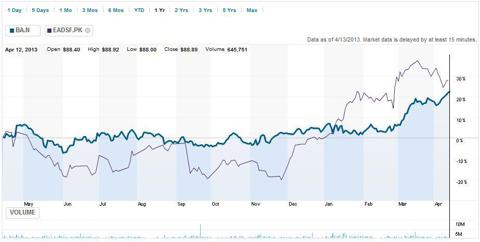 Source: Reuters.
This explains why as early as February 15, 2013, without even knowing the results of the investigation ordered by the U.S. Federal Aviation Administration (NYSEARCA:FAA), Airbus announced it was dropping lithium-ion batteries from its A350 model - the European response to the American lightweight 787 Dreamliner- to enter service in the second half of next year.
Contrary to EADS' s presumption, though, Boeing seems to be now on track to finding a way out of a crisis that cost the American airplane manufacturer a great deal. As a recent Reuters report states,
"Friday's test flight concludes testing after little more than three weeks, and moves the Dreamliner closer to resuming passenger flights, restarting jet deliveries, and stemming millions of dollars in losses that have piled up at airlines and Boeing since the jet was grounded more than two months ago.
The end of testing also turns attention from Boeing Co to regulators in the United States, Japan and Europe, who must decide whether the fix for the high-tech plane's lithium-ion batteries is safe."
Chances are regulators will pronounce positively much sooner than expected, although there are also some voices talking about a middle-way solution: A permit renewal to fly with restrictions, which may be catastrophic for Boeing.
Regardless of what the final solution might be for Boeing, different groups of critics have jumped to more complicated conclusions insofar as the future of lithium-ion batteries in commercial air transportation is concerned. One of them has wondered whether the innovation went too far while even suggesting to dispense with Li-ion batteries altogether and substitute them with obsolete nickel-cadmium ones. As it has turned out, this suggestion appears to have been the source of inspiration for Airbus' decision to drop Li-ion batteries from its A350 model.
Another group of critics have argued that lithium batteries may be necessarily unsafe: "But lithium batteries are more likely to short circuit and start a fire than other batteries if they are damaged, if there is a manufacturing flaw or if they are exposed to excessive heat."
What those critics don´t say though is that in general Li-ion batteries have worked well in such important applications as electric cars (To my knowledge neither Tesla nor Nissan has thus far had any problems with their completely electric vehicles insofar as their Li-ion batteries is concerned) and that perhaps the battery fire incident may have had to do with something else. Here are two possibilities: the chemistry of the battery and the company that produced it.
Just a few weeks after the battery fire, a counter-critic argued that lithium-manganese batteries, the kind of batteries used by GM´s Volt (NYSE:GM) and Nissan´s Leaf (OTCPK:NSANF), may be safer than lithium-cobalt batteries, the type of lithium cell chemistry used in the 787 Dreamliner. That author then turned her attention to the design of the battery arguing that Tesla, for example, "properly engineered its lithium-cobalt-oxide battery" (for use in both luxury automobiles and space rockets) whereas "Boeing evidently doesn´t have that engineering". So the chemistry of the battery does not suffice to explain why Boeing's lithium-ion batteries failed. This leads us to the second possibility: the company in charge of manufacturing the Dreamliner's Li-ion battery.
To begin with, a recent New York Times article has raised the question of whether GS Yuasa was chosen to design and manufacture the 787 batteries solely on the criteria of "price, quality and delivery" or "whether other political and commercial interests played a role". Back in 2011 I had already placed some doubts as to the future of GS Yuasa as main supplier of Mitsubishi's electric cars. But Mitsubishi itself has been very conservative on its introduction of these kinds of vehicles into the market. What does that mean?
A few days after the battery fire incident, a friend of mine asked me if Boeing's battery problems would have any spillover impacts on the lithium market. My response was: As far as I can tell, no real spillover impacts can be foreseen from the Boeing issue because it's circumscribed to specific technical problems of an advanced energy storage company (Yuasa) that's not precisely on the technological edge in that dynamic and highly competitive field. In retrospect, I've been thinking that perhaps Boeing could have avoided its current problems by first looking at the stock market.
In Figure 5 we can see the evolution of GS Yuasa's share prices over the last 5 years. It shows a clear downward trend since the mid 2009. In a previous article I argued that innovation pays off and that the market either rewards or penalizes companies depending on how innovative they are. Hence GS Yuasa was probably not the best choice for Boeing to develop such a revolutionary innovation.
Under these circumstances, it doesn't seem reasonable to have second thoughts about using lithium-ion, look to enhance previous technologies or to leap ahead, based exclusively on the battery fire incident, as a recent Reuters report suggests. Lastly, I wonder whether the above-mentioned critics are part of what I have called resistance to change in the process of adoption of lithium-ion batteries for electric cars which could now be extended (why not?) to commercial electric air transportation as well.
Figure 5
Yuasa (2008 - 2013)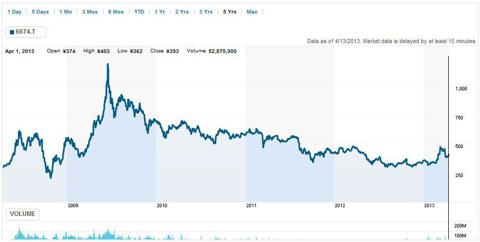 Source: Reuters.
Finally, a few words on outsourcing innovation in regard to Apple and Boeing are in order. To begin with, outsourcing innovation was not part of the maps problem in the case of Apple because what really happened there was an overestimation of its capacity to develop an otherwise outsourced function in-house. Apple's decision not to outsource the maps app has proven to be a bad decision considering its lack of human resources and R&D.
The case of Boeing is a completely different story. By outsourcing a crucial innovation of the Dreamliner, through GS Yuasa, Boeing put its whole business at great risk, mainly because the Li-ion battery supplier was apparently not chosen on the basis of competence.
Overall, however, the two case studies imply that outsourcing innovation should not be necessarily demonized and that, if properly managed, may in fact remain an option to solve specific problems of today's high-tech companies.
(See Part I).
Disclosure: I have no positions in any stocks mentioned, and no plans to initiate any positions within the next 72 hours. I wrote this article myself, and it expresses my own opinions. I am not receiving compensation for it (other than from Seeking Alpha). I have no business relationship with any company whose stock is mentioned in this article.