Over the last few weeks I explained my framework for analyzing the S&P 500 (NYSEARCA:SPY) and the broader market. I have been examining the four catalysts of the summer slump last year: jobs, Federal Reserve policy, Europe and S&P 500 earnings. Specifically, I am waiting for earnings from certain key sectors to give clues about the market's next big move. Although the S&P 500 was recently at new highs with a relatively high P/E multiple, I was not picking up major red flags from these indicators. However, the performance of the S&P 500 and other asset classes on Monday caused me to adopt a more cautious approach and reduce my exposure. In this article I will discuss the reasons for my caution. Corporate earnings are still my key indicator and it is too early to tell how Q1 results will play out. Until I get more data I am cautious, not bearish.
Framework For Analyzing The Market
I outlined my framework for analyzing the market in a number of articles, including:
S&P 500
On Monday the S&P 500 was still above the trendline that I discussed in my last article, but it looks like it is going to be tested.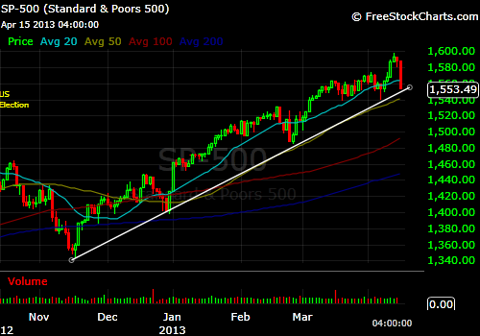 Click to enlarge
(Source: FreeStockCharts.com)
Key Sectors
My "roadmap" for earnings season focused on the performance of a few key sectors: banks, technology, metals/mining/materials and homebuilders.
Three big banks reported results already: JPMorgan (NYSE:JPM), Wells Fargo (NYSE:WFC) and Citigroup (NYSE:C). Their earnings were good enough, but not stellar and the stocks moved little on the news (but had been up big previously).
All sectors sold off Monday, but the selling was especially strong in the materials space. Homebuilders were also relatively weak. Although it is too early to judge earnings, the price action in these sectors is discouraging. Specifically, I had mentioned the $38 level in the XLB ETF as being an important level for earnings season. Today, the XLB ETF clearly closed below it.
The following are the charts for the Materials Select Sector SPDR® Fund (NYSEARCA:XLB), iShares U.S. Home Construction ETF (NYSEARCA:ITB), the PowerShares QQQ™ (NASDAQ:QQQ) and the Financial Select Sector SPDR ETF (NYSEARCA:XLF).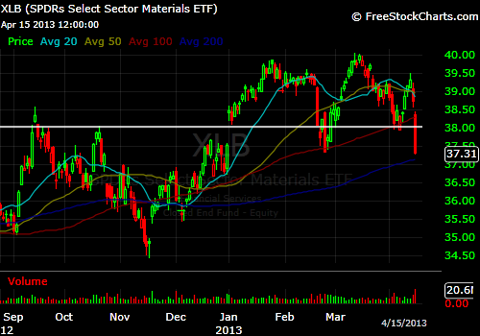 Click to enlarge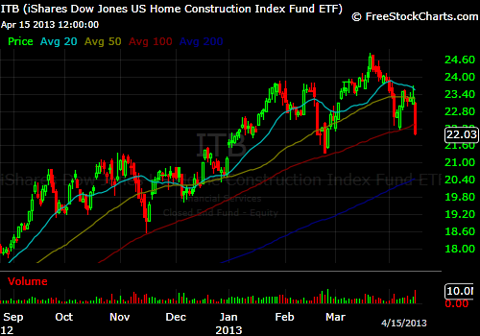 Click to enlarge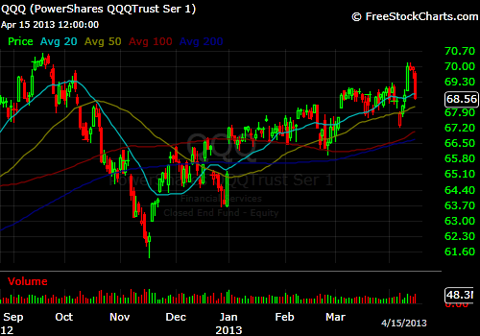 Click to enlarge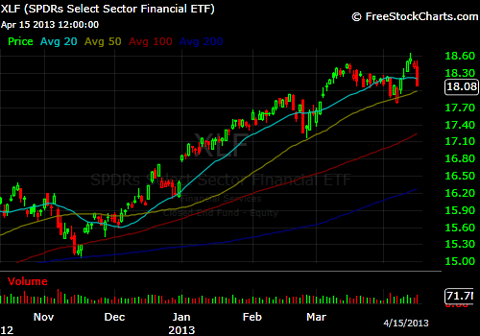 Click to enlarge
(Source: FreeStockCharts.com)
Gold
I rarely discuss gold (NYSEARCA:GLD) and almost never trade it. Even now I don't care too much about its price, but I do care about its impact on other sectors.
The gold selloff is going to cause major loses for some investors and it seemed to drag down other commodity markets (though many had been weak already).
Furthermore, the CME is raising margin requirements, which could lead to more selling:
"Margins to trade benchmark Comex 100-troy ounce gold futures will be increased by 19%, CME said in a notice emailed late Monday. The margin to trade silver will increase 18%, palladium will increase 14% and platinum will increase 19%. Natural-gas futures will increase 5.6%." (Source: MarketWatch)
I had a few natural gas stocks and the drop in gold gave investors a reason to sell off the space (as well as other metals and commodities).
When I sold my natural gas positions today I didn't know of the new CME margin requirements, but the fact that all the commodity markets were moving together was a red flag.
I prefer to be on the sidelines when I see markets moving together, margin requirements going up and some investors sitting on big losses (see: Paulson Gold Bet Loses Almost $1 Billion).
Small Caps
The Russell 2000 (NYSEARCA:IWM) was down 3.78% today. Since the Russell 2000 is home to small caps, it is often seen as a risk gauge for the market. The following is the chart for the iShares Russell 2000 ETF :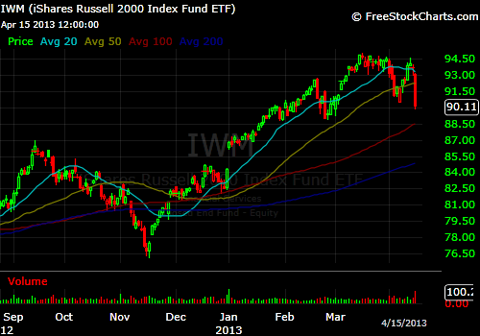 Click to enlarge
(Source: FreeStockCharts.com)
The Russell 2000 was leading the S&P 500 for most 2013, but has now fallen behind. Here is a comparison of the two: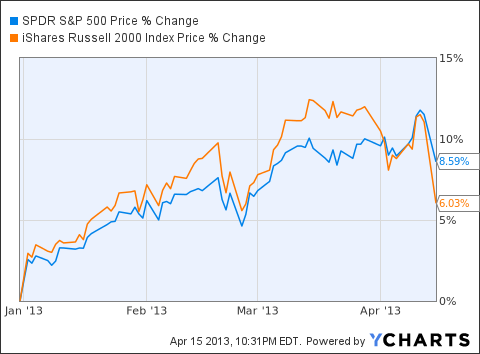 The sharp move lower today may be a warning sign for more losses for both the Russell 2000 and the S&P 500.
Reducing Exposure And Moving To The Sidelines
My main indicators, especially Q1 earnings, are not showing red flags, but I don't want to ignore the price action, especially the weakness in the sectors that I am focusing on now. Therefore, I am more cautious and reduced exposure.
Large funds do not have the luxury of quickly moving to the sidelines, but that is one of the advantages of being a small investor. I can move to the sidelines and get back in quickly, usually at minimal cost. This is one form of insurance.
Although my exposure to the market is down, I am not bearish. I am not looking to short the market. Instead I am building my watchlists and waiting for opportunities. I can quickly increase my exposure when I need to.
My key indicator continues to be Q1 earnings. The plunge in the price of gold and some weak numbers out of China may cause short term turbulence for the S&P 500, but what makes headlines on any one day is often soon forgotten.
Disclaimer:
The opinions expressed above should not be construed as investment advice. This article is not tailored to specific investment objectives. Reliance on this information for the purpose of buying the securities to which this information relates may expose a person to significant risk. The information contained in this article is not intended to make any offer, inducement, invitation or commitment to purchase, subscribe to, provide or sell any securities, service or product or to provide any recommendations on which one should rely for financial, securities, investment or other advice or to take any decision. Readers are encouraged to seek individual advice from their personal, financial, legal and other advisers before making any investment or financial decisions or purchasing any financial, securities or investment related service or product.
Information provided, whether charts or any other statements regarding market, real estate or other financial information, is obtained from sources which we and our suppliers believe reliable, but we do not warrant or guarantee the timeliness or accuracy of this information. Nothing in this article should be interpreted to state or imply that past results are an indication of future performance.
THERE ARE NO WARRANTIES EXPRESSED OR IMPLIED AS TO ACCURACY, TIMELINESS, COMPLETENESS, OR RESULTS OBTAINED FROM ANY INFORMATION IN THIS ARTICLE OR ANY LINKED WEBSITE.
Disclosure: I have no positions in any stocks mentioned, but may initiate a long position in C, JPM, WFC over the next 72 hours. I wrote this article myself, and it expresses my own opinions. I am not receiving compensation for it (other than from Seeking Alpha). I have no business relationship with any company whose stock is mentioned in this article.
Additional disclosure: I may trade any of the securities mentioned in this article at any time, including in the next 72 hours.