Halcon Resources' (NYSE:HK) stock price action yesterday may have left some investors scratching their heads. HK shares ended the April 15, 2013 trading session - clearly a very difficult one for the market - down almost 16%, one of the steepest declines in the entire energy sector. After all, did not the company just unveil strong drilling results in a new exciting Eagle Ford oil play in East Texas where Halcon holds 50,000 recently leased acres and is optimistic about gaining an even larger position? Do not the 100%+ returns now expected in the South Louisiana Wilcox play sound outstanding and does not the fact that the play was moved to the first position in the corporate presentation highlight greater materiality (a new core area?) of the Wilcox to the company? Did not the preliminary "color" on the important Utica test well, that is currently flowing back, sound positive (or at least did not convey a major disappointment)?
So what was it exactly that the market did not like, all of a sudden, about the stock to drive the share price down so fast and so furiously? Building a theory about a specific intraday stock price move is more often than not an unproductive exercise. Few considerations, however, spring to mind that may help to rationalize the price move.
Public float is thin. Halcon has an enterprise value of a mid-cap company ($5.1 billion), but a public float of a small-cap (~$1.2 billion). More than half of the company's shares outstanding are restricted. The unrestricted public float consists of only ~187 million shares. As a result, "fast money" funds who often prefer mid-capitalization stocks (as opposed to illiquid small-caps or slow moving large-caps) are likely to have a higher-than average presence in stocks such as Halcon (the company is an oil pure play with a unique and dynamic growth profile). Involvement by high turnover funds becomes particularly significant at a time when overall market has gained upward momentum (a "crowded long"). On a high-volatility day, when such funds typically are forced to reduce size of their books, even a minor liquidation can mop up all available "natural" liquidity in the stock in a matter of minutes. Hence, wide, high-beta price moves.
Financial leverage is high. Halcon's total debt of $2.4 billion is essentially equal to the company's $2.3 billion PV-10% value of reserves (which is the least risky set of the company's assets). One could think of the company's equity value as a reflection of the remaining unproven reserves and exploration properties. Value of those assets, naturally, is highly sensitive to the direction of oil price and other market factors. No surprise, exploration assets devalue quickly on a day when the market sells off (such acreage may never be drilled). Halcon's credit ratios are also stretched as the company has issued high-coupon debt and cash flows are weak due to the early-life nature of many of the company's assets, which exacerbates sensitivity to market factors.
Very heavy exposure to exploration. Few assets in Halcon's portfolio can be considered true "development" assets. On the other hand, the weight in the portfolio of early-life assets is high. Assuming a deteriorating market environment, should Halcon be forced to monetize some of its undeveloped acreage, price received may not be very high.
More specifically to yesterday's price move, some of the elements in the company's press release and the presentation at the conference might have raised potential concerns among investors.
While the new Eagle Ford play unveiled by Halcon looks impressive and exciting on a standalone basis, in the context of the company's projected outspending in 2013 and resources being thinly spread across half a dozen early-life plays, the news of another significant initiative and outlook for additional, possibly not inexpensive, lease acquisitions and "science" work could be perceived as an increased execution risk and cash flow drain.
Halcon's comments yesterday with regard to delineation well results in the Woodbine play also could not go unnoticed. Specifically, the company's press release stated:
The combination of full scale pad drilling and underperforming wells drilled to define the edge of the field negatively impacted production by approximately 1,000 Boe/d in the first quarter of 2013.
For reference, Halcon's total production in the Woodbine operating area during Q4 2012 was 2,807 Boe/d. Therefore, the 1,000 Boe/d underperformance appears material to total projected volume from the play. The news may be perceived as consequential by the market, given that Halcon has always presented Woodbine as one of its two most important operating areas. Under the initial budget this year, $490 million of the total $1.2 billion was to be directed to Woodbine. The reduced Q1 production estimate for the Woodbine coincides with a reduction in the rig count and budget in favor of the new Eagle Ford play just a dozen miles to the west.
Adding to the Woodbine comment was reduced guidance for the Bakken production volumes during Q1 2013:
Continued flaring of approximately 6 million cubic feet per day of natural gas, inclement winter weather and the implementation of batch drilling negatively impacted first quarter 2013 production by approximately 1,500 Boe/d.
Adding together incremental reductions in the Woodbine and Bakken volumes, total company-wide production is being guided down by 2,500 Boe/d, which again is material to the company's overall volumes (which were 25,300 during Q4 2012).
Are these announcements and comments worth a 16% down move? Probably not, at least on a more normal day, although the data point from the Woodbine is somewhat worrisome. Moreover, I would view the East Texas Eagle Ford announcement as a positive for the stock given the strong average IPs demonstrated by the initial wells.
Halcon Unveils New East Texas Eagle Ford Shale Play
Halcon's new East Texas Eagle Ford Shale play, which the company refers to as El Halcón, is now Halcon's fourth core area. The play is a "cousin" of the South Texas Eagle Ford (in general, the Eagle Ford extends alongside the bigger part of Texas and Louisiana Gulf Coast). According to the company, this new play extends across several counties in East Texas.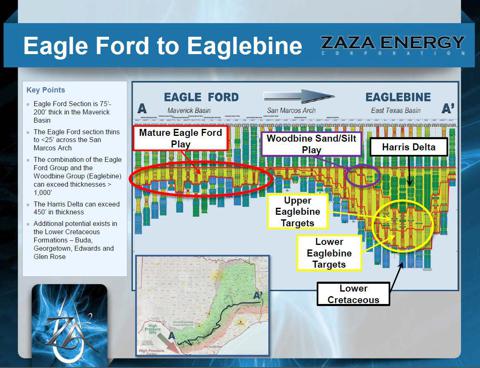 (Click to enlarge) (Source: ZaZa Energy Summer 2012 Investor Presentation)
Halcón is targeting 150,000 net acres in the play and currently has in excess of 50,000 net acres leased or under contract.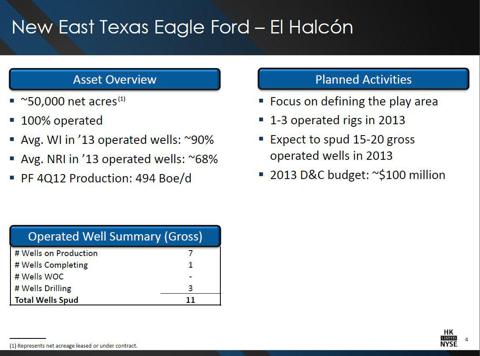 (Click to enlarge) (Source: Halcon Resources April 15, 2013 Investor Presentation)
Halcon unveiled very impressive first drilling results in the play. The company has seven wells producing, one well being completed and three wells being drilled in this play. The average initial and 30 day rates for the producing wells have been 859 Boe/d (94% oil) and 694 Boe/d (94% oil), respectively. These seven Eagle Ford wells have an average effective lateral length of 5,632 feet and were completed with an average of 28 frac stages. Expectations are to spud 15 to 20 wells in the play in 2013 by operating 1 to 3 rigs while spending approximately $100 million. Halcón's early stage estimates for reserves per well are 350,000 to 400,000 barrels of oil equivalent with development costs of $7 million to $8 million.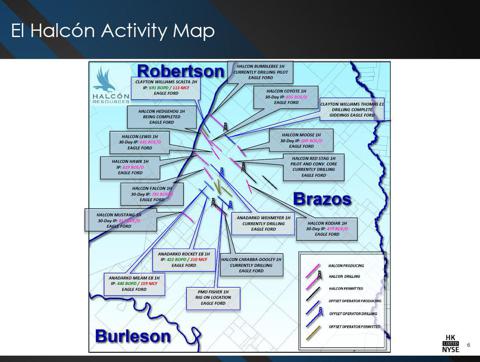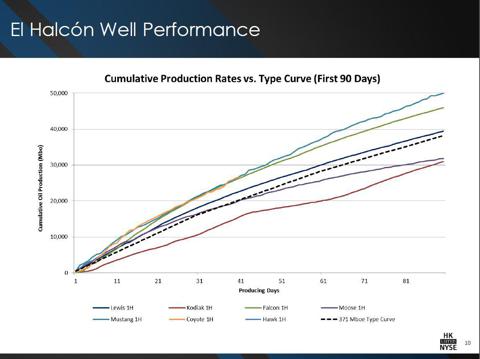 (Click to enlarge) (Source: Halcon Resources April 15, 2013 Investor Presentation)
In its presentation, Halcon emphasized very strong economics in the play already at this early stage.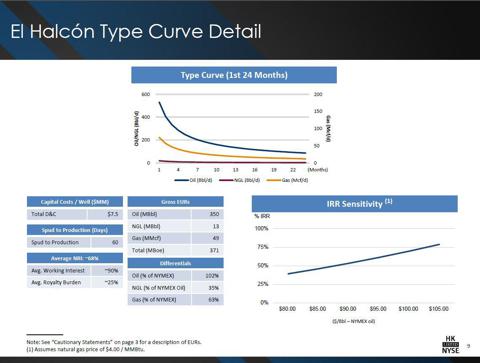 (Click to enlarge) (Source: Halcon Resources April 15, 2013 Investor Presentation)
In conclusion…
Halcon's management has done an impressive job building out several significant operating areas in a very short period of time. It is critical however that the company be able to convert these high quality prospects into highly profitable developments. Well productivity and economics in the more developed areas, such as the Woodbine, is certainly a metric to watch.
Disclaimer: This article is not an investment recommendation. Any analysis presented herein is illustrative in nature, limited in scope, based on an incomplete set of information, and has limitations to its accuracy. This article is not meant to be relied upon for investment decisions. Please consult a qualified investment advisor. The information upon which this material is based was obtained from sources believed to be reliable, but has not been independently verified. Therefore, the author cannot guarantee its accuracy. Any opinions or estimates constitute the author's best judgment as of the date of publication, and are subject to change without notice.
Disclosure: I have no positions in any stocks mentioned, and no plans to initiate any positions within the next 72 hours. I wrote this article myself, and it expresses my own opinions. I am not receiving compensation for it (other than from Seeking Alpha). I have no business relationship with any company whose stock is mentioned in this article.