We previously analyzed and evaluated LPL Financial (NASDAQ:LPLA) in August when we saw that the company was generating sluggish results due to its breakneck pace of acquisition growth. At least the company has not announced any acquisitions since its July acquisition of Veritat. LPL Financial's stock has benefitted from the recent run-up in the stock market as its shares have generated a total return of 16% since our August report, which compares to the 13.65% achieved by the S&P 500 and 22.9% achieved by the S&P Financial Select SPDR (NYSEARCA:XLF) during this time period. We were surprised that the company has only grown its revenue by 35% over the last five years even with the benefit of acquiring seven different brokerage firms. LPL spent $331 in cash, stock and other contingent consideration in order to acquire these seven firms and this represents about 7% of its outstanding combined equity and debt capitalization.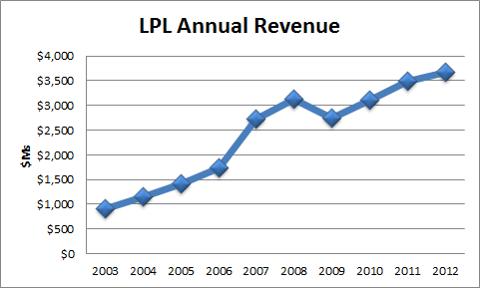 Source: LPL's 2007-2012 Annual Reports
LPL Financial is the largest independent broker/dealer firm in the US. It targets independent brokers as well as brokers at FDIC insured depository institutions like banks, savings associations and credit unions. It serves 13,300 financial advisors and also supports 4,500 financial advisors affiliated with insurance companies with customized clearing, advisory platforms and technology solutions. LPL's ostensible focus is to provide its advisors with the front-, middle- and back-office support they need to serve the large and growing market for independent investment advice, particularly in the mass affluent market. Because LPL has managed to avoid the negative scandals that major brokerage have managed to run into every now and then, we can see why LPL has been able to recruit a significant number of brokers away from larger brokerage firms. The company's executive headquarters is in our hometown of Boston, MA and it has major operations in Charlotte and San Diego. LPL has around 2,900 employees at its three operations hubs supporting its wide network of brokers and advisors.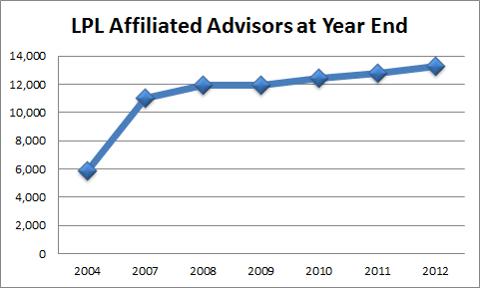 Source: LPL's 2007-2012 Annual Reports
LPL declared a special dividend of $2 per share during the quarter. We're not surprised considering that the private equity firms Hellman & Friedman LLC and Texas Pacific Group (which led the 2005 acquisition of LPL) still own 43% of the company's shares, though this was down from the 60% ownership stake that those firms held in 2012. The good news was that LPL repurchased 6.8M shares for $199M in 2012 but the bad news was that it issued 5.2M shares to its employees for $90.3M during the year. LPL's management said that $87M remains authorized for share repurchases and it will continue to buy back shares when it believes its share price does not reflect the long-term earnings power of LPL. We don't quite agree with that statement. Over the last couple of years, LPL has spent $288M in gross repurchases to buyback 9.4M of gross shares outstanding yet has turned around and received $176M from the issue of 7M new shares to its employees through employee compensation programs.
We believe that LPL's management is most likely to buy back shares in order to enable its private equity shareowners to cash out of their stake and to offset the issuance of stock to its employees. LPL also made a number of new executive hires during the year. We previously touched upon the five key executives that LPL hired in Q2 2012 and LPL recently hired Victor Fetter as Chief Information Officer and Managing Director and Donie Lochan as Executive Vice President to lead its existing technology team to further differentiate its technology platform in the marketplace. LPL also announced that its CFO Robert Moore will be President and COO of LPL while its current President/COO Esther Stearns will become CEO of a new LPL subsidiary. LPL anticipates incurring $70M-$75M in charges through 2014 due to repositioning labor and reducing layers of management. Ultimately, it seeks to achieve $30M-$35M of full year run rate savings by 2015.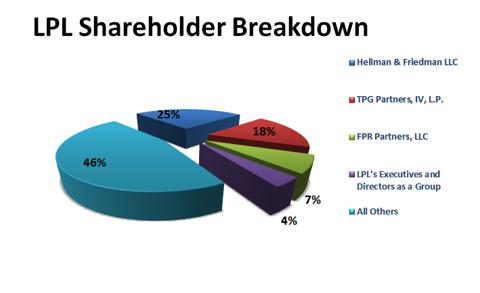 Source: LPL's 2013 Proxy Statement
We're thinking that LPL Financial may be starting to spread itself a little too thin in its quest for growth. According to Montana's Deputy Securities Commissioner Lynne Egan, "LPL is on our radar screen more than any other firm." Last fall, Ms. Egan brought a case against LPL, accusing it of failing to supervise a broker. She said her office is preparing to bring another case against the company, involving multiple brokers. In the last year and a half, state regulators in Illinois, Massachusetts, Montana, Oregon and Pennsylvania have penalized LPL for failing to oversee its brokers properly. In our home state of Massachusetts, LPL reached a $2.5M settlement with the Massachusetts Securities Division within the Secretary of State's Office involving brokers who improperly sold complicated real estate investment trusts, or non-traded REITs, to unsophisticated investors. According to Sanford C. Bernstein analyst Brad Hintz, the scattered nature of LPL's offices was an Achilles' heel that exposed the company to lawsuits and regulatory risks. In response, LPL has had to increase its compliance budget by 5% last year and by 11% this year.
The good news is that LPL Financial's revenue was able to show solid 13.9% year-over-year growth in Q4 2012 versus Q4 2011. We attribute this to the additional contribution from its two 2012 acquisitions, easier year-over-year comparisons versus the prior year and because of strong capital market performance in the first three quarters of 2012 which carried over into Q4 2012. We were disappointed that LPL's operating expenses increased by 16.1% during this period, primarily because of a 69% jump in its general and administrative expenses. shine is starting to fade in our opinion. Despite the benefit to Q2 2012 results that came from closing the Fortigent acquisition in Q2 as well as a full quarter of contribution from the Concord acquisition, LPL only grew its revenues by 1.55% in Q2 2012 versus the prior year levels.
Operating expenses outpaced revenue growth on a dollar basis and a percentage basis year-over year and registered an increase of nearly $27M (3.34%). Even with a $3.3M decrease in its non-operating interest expenses due to lower cost of financing its senior secured credit facilities, LPL's Q4 2012 EPS still declined by 2.9% versus the prior year's EPS. LPL's Q4 2012 adjusted EPS increased by 13.6% year-over-year versus Q4 2011 when certain non-recurring acquisition and integrated related expenses are excluded from its reported results. Although LPL's adjusted EPS has increased from $1.09 in 2008 to $2.03 in 2012, it would be nice if LPL Financial's financial results did not have such a wide GAAP gap.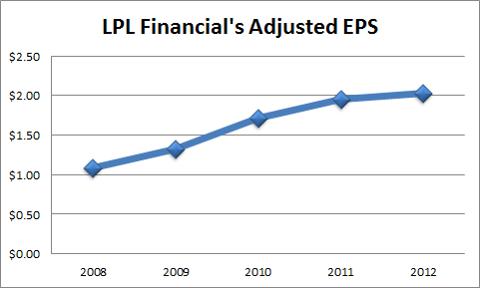 Source: LPL's 2012 Annual Report
We can still see incremental growth in its operating metrics. The company increased its affiliated advisors by 5205 in Q4 2012 versus the end of Q4 2011. The good news is that LPL grew its Advisory and Brokerage assets by $43B (13%) versus the prior year's level and this was primarily driven by a $20.5B (or 20.2% YoY) growth in Advisory AUMs. LPL's Client Account Balances devoted to Insured Cash grew by $1.9B (13.2%) and Money Market vehicles grew by $0.4B (5%). However, we have seen a number of high profile brokers defect away from LPL and set up independent registered investment advisory firms.
Normally we applaud when a company grows its revenue by 35% over a 5-year period (2007-2012) while only increasing its employees by 11% during that same period. However, due to the service-oriented nature of the business as well as specialized knowledge associated with its independent research offerings, we believe that management needs to make sure that it isn't cutting muscle as well as fat. Based on its most recent earnings call, we were concerned that the company would react to the pedestrian profit growth achieved in 2012 by taking it out on its employees in the form of excessive staff reductions, reduced compensation and increased workload.
In conclusion, we still admire LPL Financial however we feel that it needs to cut back on its growth by acquisition. While each individual broker-dealer acquired by LPL may be small relative to its market capitalization, collectively the consideration paid for the acquisitions have represented over 7% of its combined equity and debt capitalization as of April 2nd. The acquisition of a 60% minority interest in LPL as well as its acquisition spree over the last decade has resulted in Goodwill, debt financing costs and intangible assets representing over 47.5% of its assets and more than 166% of its book value. We believe that its acquisition spree as well as the perpetual need to integrate these acquisitions is serving to distract the company from its full potential for performance.
Disclosure: I am long LPLA. I wrote this article myself, and it expresses my own opinions. I am not receiving compensation for it (other than from Seeking Alpha). I have no business relationship with any company whose stock is mentioned in this article.
Additional disclosure: This article was written by an analyst at Saibus Research. Saibus Research has not received compensation directly or indirectly for expressing the recommendation in this article. We have no business relationship with any company whose stock is mentioned in this article. Under no circumstances must this report be considered an offer to buy, sell, subscribe for or trade securities or other instruments.