The share price of Walgreen (WAG) has risen by 48% over the past 12 months and just achieved its 52-week high at $49.50 recently. Instead of selling at the high, I believe the stock's valuation continues to be reasonable at this level and there should be more room for a price upside. There are four reasons backing my view:
1. Walgreen share valuation remains attractive based on the company's solid financial performance relative to that of its primary industry peers. According to the chart shown below, Walgreen's 2-year consensus revenue, EBITDA, and EPS CAGR estimates are considerably above the averages for the peer group. On the profit side, Walgreen continues to outperform the comps as the company's various margins are markedly above par. However, the firm's ROE and ROIC metrics are below the group averages, though the gap is only marginal. In terms of leverage and liquidity, Walgreen carries a lower debt load and has a higher free cash flow margin. Due to the stronger profitability and lower leverage, the firm is able to maintain a healthy interest coverage ratio. Both Walgreen's current and quick ratios are slightly above par, reflecting a healthy balance sheet condition.

Click to enlarge
The stock's current price multiples at 8.5x forward EBITDA and 14.0x forward EPS (next 12 months) are on average fairly in line with the same peer-average trading multiples. Given Walgreen's superior financial performance in almost every aspect, I believe the stock's fair value should command a modest premium over the peer-average level. After accounting for Walgreen's better 5-year EPS growth estimate, the stock's PEG ratio of 1.1x is 14% below the peer average at 1.3x, indicating that Walgreen shares are still somewhat undervalued on a relative basis even after the significant price appreciation (see chart above).
2. Walgreen's forward P/E multiple is still trading below the same multiple of S&P 500 Index, which is at 14.6x now. In my view, the below-market valuation should warrant a buy provided that 1) Walgreen's 5-year earnings growth estimate of 12.9% is substantially above the average estimate of 8.2% for the S&P 500 companies; 2) The company offers an industry-leading margin performance and has been able to sustain a stable margin trend over the past 10 years (see chart below); 3) Walgreen's dividend yield at 2.3% is comparable to the average yield for the S&P 500 Index, and the company has grown its dividend three times since 2010 by 27%, 29% and 22%, consecutively; and 4) Walgreen also has a buyback plan in place, which is supportive to the share price.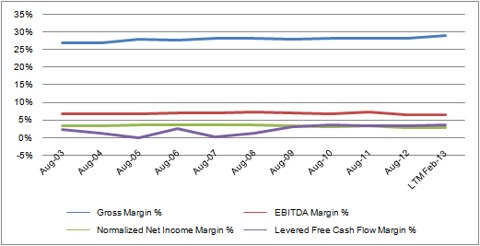 Click to enlarge
3. Although the share price has appreciated by 48% over the past 12 months, the rise in stock valuation is much less significant. Walgreen's forward P/E and 5-year PEG multiples have only expanded by 14% and 8%, respectively, over the same period (see charts below).

Click to enlarge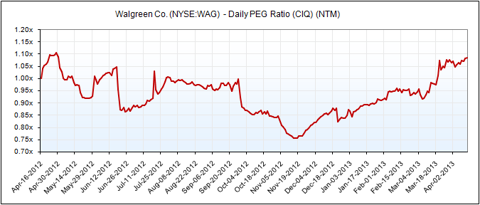 Click to enlarge
As the multiple expansion is accompanied by upward revisions for consensus revenue, EBITDA, and EPS estimates as well as modest increase in analysts' average 5-year EPS growth estimate, the valuations still seem reasonable at the current level (see charts below).

Click to enlarge

Click to enlarge

Click to enlarge

Click to enlarge
4. The growth prospects for Walgreen remain robust. In a JP Morgan research note dated April 10, Lisa Gill commented on her growth expectations, which appear to be fair (sourced from Thomson One, Equity Research):
Our rating on Walgreen is Overweight. Shares have performed well over the past few months, driven by the new ESRX agreement, an easing comp story, and increased visibility around Alliance Boots. However, we believe that positive momentum should continue, based on the new accretive relationship with ABC (a positive upside surprise), coupled with the ongoing benefit from Alliance Boots synergies and increased prescription volume related to healthcare reform beginning in 2014. From an overall strategic standpoint, we view the company's efforts to transform the global pharmaceutical supply chain through the Alliance Boots and AmerisourceBergen relationships very favorably, and cite potential benefits from procurement synergies, cross-selling products and sharing best practices.
Despite the above bullish factors, the current share price is only a dollar away from sell-side's average 1-year price target of $48.95, which is based on 23 analyst estimates as compiled by Thomson One. As such, to limit the risk, I would recommend selling out-of-money put options to either collect an upfront premium or get an opportunity to acquire the shares at a lower valuation if the options were exercised.
All charts are created by the author except for the consensus estimate tables, which are sourced from S&P Capital IQ, and all financial data used in the article and the charts is sourced from S&P Capital IQ unless otherwise specified.
Disclosure: I have no positions in any stocks mentioned, but may initiate a long position in WAG over the next 72 hours. I wrote this article myself, and it expresses my own opinions. I am not receiving compensation for it (other than from Seeking Alpha). I have no business relationship with any company whose stock is mentioned in this article.