Before we get started, I'd like to take a moment to congratulate my fellow Seeking Alpha contributors James A. Kostohryz, George Kesarios, Robert Wagner, et al. for following their instincts and walking against the wind on gold. Kudos, guys. Speaking of gold, the holiday formerly known as May Day Golden Week (Chinese: 黄金周) is coming to Hong Kong, and with it H7N9.
The Hong Kong Trigger
The week-long holidays on May Day and National Day began in 2000, as a measure to increase and encourage holiday spending. The resulting holidays are called "Golden Weeks," and have become peak seasons for travel and tourism.
Although the holiday only lasts three days (from April 29 to May 1 in 2013), the tourist peak will last from April 26 to May 4. With Case 61 being asymptomatic and an unknown "delta" (the number of undiagnosed low-pathogenic infections vs. the number of laboratory confirmed cases, see below), it's highly likely that H7N9 infected tourists will bypass the body heat screening procedures currently in place at the various checkpoints into and out of Hong Kong. The result will be a huge influx of over 1 million tourists from the mainland to the island.
According to The Standard:
Former Hong Kong Medical Association president Gabriel Choi Kin believes it is highly likely cases will be reported in the territory, particularly when travelers flood across the border during the holiday.

'It is possible that some visitors will report their infection in Hong Kong,' Choi said.

Infectious diseases specialist Thomas So Man-kit said chances are the virus will head south to Hong Kong, particularly as mainlanders arrive from Shanghai and other regions on aircraft or high-speed trains within hours.

'The SAR health authorities might not be able to detect visitors having the H7N9 flu symptoms immediately at border checkpoints if the virus is still in the incubation period,' So said. (emphasis added)

What's the big deal about Hong Kong? The Asian flu pandemic, the Hong Kong Flu pandemic, the SARS pandemic, and the swine flu pandemic -- in 1957, 1968, 2003, and 2009, respectively -- all spread from Hong Kong to the rest of the world. Hong Kong's universities are a particular item of interest, as they essentially act as a megaphone (amplifier) for influenza.
Fig. 1: Demonstration of temporo-spatial clusters of all cases, student cases and non-student cases using SaTScan™, with analyses made separately in the three regions of Hong Kong Island, Kowloon Peninsula, and the New Territories:
Click to enlarge image.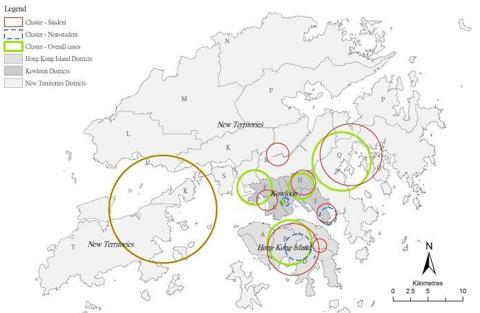 As I pointed out in my previous article:
If the virus reaches the college campuses in Hong Kong, it's almost a statistical certainty that it will leave the island.
Peak Fear
Most people don't realize it, but prior to the 1980s it was considered immoral to trade a disease. I believe such scruples to be misplaced. Poverty is rarely ennobling. It just limits your options. Moreover, it should be obvious by now to any seasoned investor that the markets trade on two human emotions: fear and greed, and fear trumps greed every time.
And fear is what's on tap here. The Chinese poultry industry lost at least 10 billion yuan ($1.6 billion) in the week after the H7N9 bird flu virus began infecting humans. That's $1.6 billion a week, every week, until normal consumption resumes. Maybe the USDA is correct, and consumption patterns will reset themselves by May 1. Then again, maybe they won't.
Delta
One cause for concern is what's known within the epidemiological community as "delta." A virus' delta (Δ, lowercase δ) indicates the average number of infectious cases vs. laboratory cases. Δ is the reason why the media routinely underestimates the virulence of a flu epidemic/pandemic by relying exclusively on "confirmed" cases. Investors who roll their eyes at the impact of swine flu in 2009 might think twice if they knew that the CDC supplied Δ for H1N1 was 25. Assuming a similar ratio for H7N9 (Shanghai 2013), the number of infectious cases rises from 60 to 1,500.
If even one-tenth of the usually lethal pneumonia cases reported in January-February that failed to respond to antibiotics were due to misdiagnosis, that number rises to 3,000 cases. Add to that the false-negative ratio for H1N1 (it is estimated that 40% of the people screened for H1N1 returned a false-negative and were subsequently sent home, after which they continued to infect others), and it's easy to understand why epidemiologists believe that April will mark a tipping point in terms of containment.
What does this mean for investors? Well, let's suppose H7N9/Shanghai 2013 spreads from Hong Kong to Taiwan, Indonesia, Japan, Europe, Africa, and North and South America. Every time "Shanghai" hits a new flock, we can expect at least a temporary dive in that country's chicken sales. In an epidemic, such losses would be tolerable. Unfortunately, the poultry industry is largely populated by multinational companies like Yum Brands (NYSE:YUM) and McDonald's (NYSE:MCD), which suggests that even if the hit to chicken consumption is local, the damage to these companies will be cumulative.
Clorox
One of my favorite influenza trades is to buy Clorox (NYSE:CLX) at the end of the North American flu season (mid- to late February) and sell CLX at the beginning of the next (early November). This strategy presents a number of advantages, namely that it tends to mitigate the inherent risk of doubling down on any one flu season. The following table illustrates the results of the off-season Clorox strategy.
| | | |
| --- | --- | --- |
| Year | Flu Type/Classification | Clorox (% change year over year, with dividends reinvested) |
| 1985 | Influenza B, H3N2 | +42.5% |
| 1989 | Shanghai A | +29.40% |
| 1993 ("The Silent Epidemic") | Beijing A | +18.20% |
| 1995 | A/Beijing/H1N1 | +21.00% |
| 1996 | H3N2 | +22.90% |
| 1997 | A/Fujian (H3N2) | +15.30% |
| 2000 | H3N2 | +16.50% |
| 2003 | H3N2 | +12.00% |
| 2004 | A (H3N2) | +14.40% |
| 2009 (Swine Flu) | H1N1 | +19.10% |
Disclosure: I am long CLX. I wrote this article myself, and it expresses my own opinions. I am not receiving compensation for it (other than from Seeking Alpha). I have no business relationship with any company whose stock is mentioned in this article.