It's hard to think of another company so woven into the fabric of Americana as McDonald's (NYSE:MCD). McDonald's Corporation was founded in 1940, and at the end of 2012 it boasted over 34,450 restaurants in 119 countries. In the last 70 years, the U.S. has seen economic busts and booms, wars, and various levels of political strife. Through the good times and the bad, McDonald's has endured.
Over the years McDonald's has been continuously increasing its global footprint. It manages its operations as three distinct geographic segments - the U.S. segment, which represents 32% of total revenues, Europe, which represents 39% of revenues, and Asia/Pacific, Middle East, and Africa (APMEA), which represents 23%. (The other 6% of revenues come from various countries and areas, like Canada and Latin America, that don't fall into major segments.)
In the European segment, the U.K., France, and Germany account for 51% of revenues. In the APMEA segment, China, Australia, and Japan contribute 56% to the top line.
McDonald's is well-diversified around the globe in the way that an astute investor is diversified across industries. A slowing recovery in China or a natural disaster in some other region may have an impact on revenues, but in the long term would be no cause for alarm. On the other hand, persistent global economic headwinds do have an impact on McDonald's financial performance. The company states in its 2012 Annual Report that it is currently experiencing "challenging economies and a relatively flat or declining Informal Eating Out segment in most markets."
Performance
The chart below shows that after an impressive revenue and earnings run in 2010-2011, McDonald's results were positive in 2012, but increases were less pronounced.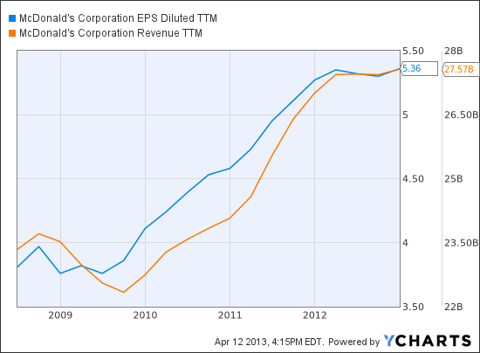 Click to enlarge
For 2012, operating income increased only 1% on a 2% increase in revenues. Comparable restaurant sales grew 3.1% and guest counts rose 1.6%.
Nothing in this story so far is screaming "Buy." It looks like the economic doldrums of the U.S., Europe, and Asia may be weighing this company down like ice on the wings. But investors in McDonald's aren't usually looking for a meteoric rise in the stock. They buy it for...
The Dividend
Sometimes I scratch my head when I see a company that's borrowing money while it is paying dividends and/or repurchasing its own stock. If it needs cash to grow the business, why is it throwing cash at investors? With McDonald's, however, paying a dividend is not just something you do if you have some surplus capital at the end of the year. It's long-term corporate policy. The company has paid dividends on common stock for 37 consecutive years through 2012 and has increased the dividend amount at least once every year.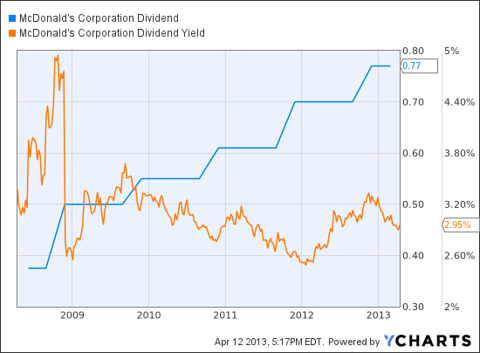 Click to enlarge
You see that over the past few years the dividend yield has been solidly pegged around the 2.5-3.5% range (and higher before that). With flat or slightly increased earnings AND a steady decrease in shares outstanding due to share repurchases (28.1 million shares for $2.6 billion in 2012), the company is able to provide its investors with the stair-stepping increase in quarterly dividends per share that you see in the chart above.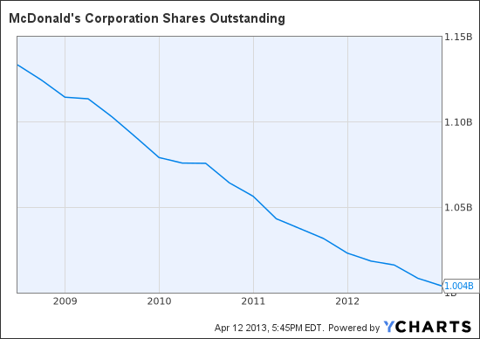 Click to enlarge
The Valuation
McDonald's has a relatively modest PE ratio of 19. You can see in the chart below that this compares favorably with some of its competitors in the fast food and casual dining industries (CMG, PNRA, SBUX, YUM).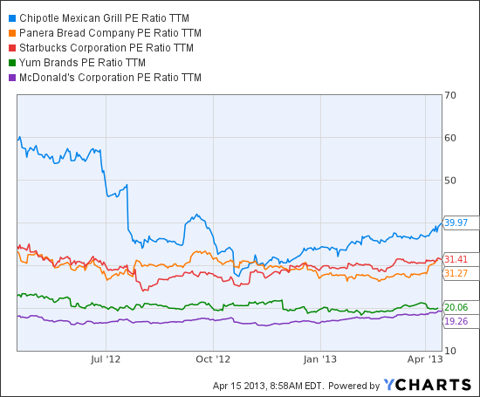 Click to enlarge
Given this valuation, I think it's interesting to note that McDonald's has a PEG ratio of 1.9. This relatively steep PEG ratio along with the modest PE ratio is telling us something that is consistent with everything else we've discussed so far - measured growth. Don't expect this stock to take off in the near future. If you're looking for a rocket, this isn't your ride.
Summary
McDonald's isn't a rising star, but it's a solid performer. In 1990 it was trading (split-adjusted) at around $10, in 2000 it was around $40, and now it's trading through the $100 level. Across the decades, growth has been relatively steady, with one notable correction, when the stock fell over 50% from 2000-2003, but then recovered and went on to new highs following the Great Recession.
The story here is what McDonald's does with its cash at the end of the year. It gives it back to investors. It has paid dividends every year for almost four decades. And it buys back its stock, steadily decreasing the number of shares outstanding, resulting in better "per share" performance.
It's a good stock and a good company. You get steady performance, a dividend, and the economic diversification that comes with investing in a global giant. Would you like fries with that?
Disclosure: I have no positions in any stocks mentioned, and no plans to initiate any positions within the next 72 hours. I wrote this article myself, and it expresses my own opinions. I am not receiving compensation for it (other than from Seeking Alpha). I have no business relationship with any company whose stock is mentioned in this article.