We previously analyzed Argan, Inc (NYSEMKT:AGX), and while there were elements of Argan's business that we liked, there were also elements that we didn't like. We liked that the company had a very liquid balance sheet. We were able to determine this because Argan had $175M of cash as of Q4 2012 versus no debt; Argan's cash represented nearly 75% of its asset base and 90% of its market capitalization. Argan's business model also enables it to utilize an asset-light environment, as it has $59.6M in assets other than cash versus $115.56M in non-interest bearing working capital liabilities. We also like that it is trading at a cheap price relative to its TTM earnings (8.96), and we can see that it is relatively cheaper than the S&P 500 (TTM PE of 15.6). Argan has paid out two special dividends over the last two years and could easily support paying a recurring annual dividend of $1/share based on its cash holdings and EPS.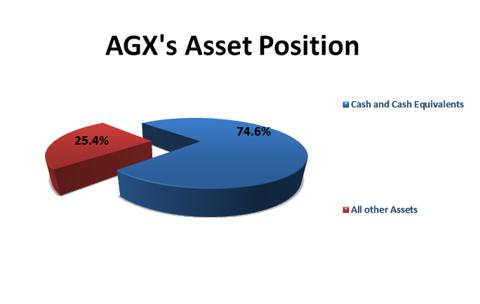 Source: Argan's Q4 2012 Report
However, we were displeased to see that AGX's revenue growth rates have come back down to earth as it makes progress towards the completion of its power systems contracts and broadband internet network contract. The biggest concern that we saw was that its $57.8M revenue in Q4 2012 was approximately equal to the $56M decline in its backlog of future revenue generation during the quarter. AGX's backlog was $236M in Q3 2012 and $180M in Q4 2012, and this represented a decline from $415M in Q4 2011. Of the $278.6M in revenue that AGX earned in 2012, $235M was from previously awarded contracts that have been moving towards completion. While we are pleased to see that the company is making progress towards completing these contracts and recognizing the revenue and profits from them, we were hoping that the pipeline of business backlog would be replenished.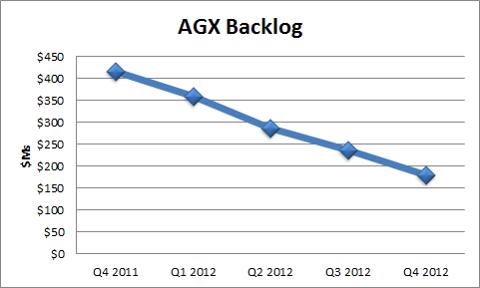 Source: Argan's Last Four Financial Reports
On April 1, 2013, Argan announced that Moxie Liberty LLC, for which Gemma has been providing cash funding for the development of a 825 MW power plant, had entered into an agreement to be sold to an investor subject to the investor consummating permanent financing for the construction of the project. Should the third party investor consummate the Moxie Liberty purchase, Gemma would design and build the power plant under an EPC agreement. Gemma is also providing working capital to Moxie Patriot LLC for the development of an additional 825 MW power plant. The market spiked when news of this transaction was announced, but has given up its recent gains. Trading in AGX has been volatile, although this can be attributed to the fact that it is a small cap company, it announced this recent transaction and because investors were displeased at its recent quarterly performance. AGX was also chosen to design and construct two natural-gas fired power plants in the Marcellus Shale region of Pennsylvania, and we expect AGX to execute EPC contracts for these projects during the year ending January 31, 2014.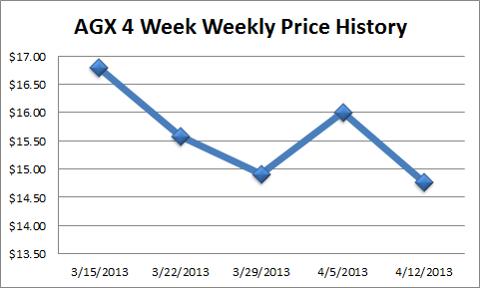 Source: Morningstar Direct
We were surprised to see AGX's costs decline in Q4 2012 versus Q4 2011, even though its revenue showed incremental growth. Argan's gross margin rocketed upward by 73% due to the combination of an 8.375% year-over-year decline in costs of services and 3.44% increase in revenues. As the company did not generate any new contracts and it was working on fulfilling the contracts that it had already won, Argan used up $13M in operating cash flows and CapEx in order to make progress towards completing these contracts and earning their revenues from them. Although the company earned $5.86M in Q4 2012, it used up $17.55M in the form of increased investments in working capital as well as $1.335M in CapEx.
However, AGX still generated $24.3M in free cash flows for FY 2012, which was slightly higher than the $22.1M in net income from continuing operations during the period. The company has ~$29M in current assets other than cash and $115.56M in non-interest-bearing liabilities as of Q4 2012. As AGX's FY 2011 free cash flows of $79.5M were well ahead of its $7.4M in FY 2011 net income, we would expect AFX's FY 2013 net income to exceed its free cash flows, unless it wins new contracts and is able to maintain its current level of "billings in excess of costs and estimated earnings".
Valuation
At first glance, we were interested in AGX because its cash holdings of $175M as of Q4 2012 were comparable to its $206.5M market cap as of April 12, 2013. AGX has no bonded debt, however it does have $115.56M in total liabilities. The good news is that its total non-interest bearing asset base of $59.6M is less than its $115.56M in non-interest liabilities and that its business model allows it to have a very liquid balance sheet with a sizable stash of cash. The bad news is that the company's net shareholders' equity base of $119.1M is less than the $175M in cash holdings, so an investor cannot simply buy the company in an attempt to seize an arbitrage situation of buying the company, paying off creditors, selling off the assets and walking away with a risk-free profit, because AGX is trading at 1.73X its book value and 2.1X its tangible book value.
As AGX has declined by 10% since we first started following it March, and it is less than 20% above its 52 week lows, we are keeping our eyes on it. We think that AGX's quick release of its 2012 Annual Report on 10-K helped stabilize its share price recently, because people can see AGX's comprehensive financial results and position rather than only part of the picture when it released its Q4 2012 earnings report on 8-K. We like that, even though it is a small-cap firm, it has a very low PE ratio (8.96X). Although it has a liquid balance sheet in order to enable it to survive a weak economic environment, we are concerned that a macroeconomic slowdown could hinder its ability to win new power plant design and construction contracts.
Conclusion
In conclusion, we believe that Argan is more of a short-term special situation asset play than a long-term holding. We believe that the value associated with Argan is if an activist investor can get the company to engage in short-term moves designed to enhance shareholder value, such as a special dividend, an increased annual dividend or a share repurchase program. Argan's ability to generate revenues, profits and cash flows is heavily dependent on its GPS subsidiary's ability to land long-term contracts to design and build power plants. We like that it is relatively cheap and has a very liquid financial position, however, it has to deal with economic uncertainty causing potential headwinds for its flagship subsidiary's services.
Disclosure: I have no positions in any stocks mentioned, and no plans to initiate any positions within the next 72 hours. I wrote this article myself, and it expresses my own opinions. I am not receiving compensation for it (other than from Seeking Alpha). I have no business relationship with any company whose stock is mentioned in this article.
Disclaimer: This article was written by an analyst at Saibus Research. Saibus Research has not received compensation directly or indirectly for expressing the recommendation in this article. We have no business relationship with any company whose stock is mentioned in this article. Under no circumstances must this report be considered an offer to buy, sell, subscribe for or trade securities or other instruments.