Equity Residential (NYSE:EQR) is the largest publicly-traded multi-family real estate investment trust REIT in the U.S. The REIT was founded by billionaire Sam Zell (check out other billionaire managed REITs), with a portfolio consisting of 152,821 units spread out over 529 properties in 24 states and the District of Columbia.
Equity Residential is well positioned to capitalize on the current housing trend in the U.S. The real catalyst will be the fact that rental rates will remain elevated, as well as increase over the interim; the REIT appears to be an impressive growth and income story, paying a 2.71% dividend yield.
REIT overview
Its top markets include New York, Boston, Washington D.C., Seattle, San Francisco and Los Angeles. The REIT divides its properties in three categories:
Garden-style properties consist of two or three floors
Mid-rise and high-rise properties are more than three floors high
Ranch properties are single-storied.
The garden-style and mid-rise/high-rise apartments typically feature amenities like clubhouses, swimming pools, and laundry facilities.
Industry tailwinds
With the "American Dream" on hold, the primary living arrangement has changed, going from owning to renting. The demand for apartment rentals has been strong because of this and looks to continue over the interim.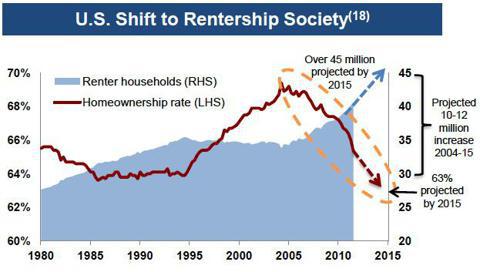 Standard & Poor's expects rental rates for owners of apartment buildings to rise 4% to 5% in 2013, with low U.S. home ownership keeping average occupancy levels at over 95%. Another positive is that many of Equity Residential's key properties are also located in markets with high barriers to entry.
Where we've been, where we're going
Equity is one of the best-positioned REITs from a growth perspective. The company has beat earnings each quarter of the last year and has the highest expected 5-year EPS growth rate of the five REITs listed. From 2007 to 2012, Equity Residential managed to grow FFO from $2.39 to $2.76. The 2013 estimated FFO is expected to come in at $2.90.
The company also plans to maintain a ratio of consolidated debt to total market capitalization of less than 50%, and at the end of 2012 the ratio stood at 31%. Acquisitions will continue to play a key role in Equity Residential's future. In 2012, the REIT snatched up nine properties with 1,896 units at a combined purchase price of $906.3 million. As well, organic growth will play its part, with six projects under development at the and of 2012.
The big acquisition of late is Equity Residential's agreement to purchase 60% of the assets of Archstone Enterprises for $9.4 billion. The pending purchase will increase Equity's concentration the urban markets of the Northeast and California.
Hedge fund activity among comps
Equity Residential, the apartment REIT we focus on above, owns and operates multifamily apartments.
Equity Residential had the most hedge fund interest going into 2013, with a total of 21 hedge funds long the stock, a change of 5% from the third quarter. In looking at the hedge funds owning the stock, AEW Capital has the most valuable position in the REIT with a $245 million position in the stock, making up 6.5% of its 13F portfolio. That makes Equity Residential the real estate focused investment hedge fund's second largest holding (check out all of AEW's stock picks).
Apartment Investment and Management (NYSE:AIV) is another self-administered and self-managed real estate investment trust REIT engaged in the operation of a portfolio of apartment properties.
Heading into 2013, there were a total of 12 hedge funds long the stock, a decrease 14% from the previous quarter, with a few billionaires having a small portion of their portfolio invested in the company, including Ken Griffin, Jim Simons and Israel Englander (check out how hedge funds are trading AIV).
BRE Properties (NYSE:BRE) focuses on the development of multifamily apartment communities in metropolitan markets within the State of California, and the Seattle region.
BRE was tied with AIV with 12 long the stock, a big increase of 71% from the third quarter. With the increase, the top hedge fund owner is JHL Capital with 12.8% of its total 13F portfolio.
UDR (NYSE:UDR) is a self administered real estate investment trust (REIT) owning and operating multifamily apartment communities throughout the U.S.
At the end of the fourth quarter, a total of 9 of the hedge funds were long UDR with the top fund being Pine River Capital, having only a $21.9 million position in the stock, comprising a mere 0.4% of its 13F portfolio.
Home Properties (NYSE:HME) owns and operates apartment communities with a regional focus, primarily in selected Northeast and Mid-Atlantic regions of the U.S.
Going into 2013, there were only eight hedge funds long the stock, which happened to be a 33% increase from the previous quarter. The top hedge fund owner is billionaire Jim Simons of Renaissance Technologies with other notable investors being Two Sigma Advisors and AQR Capital Management (check out Simons' cheap stocks).
Valuation
Although you won't get rich on Equity Residential's dividend payment alone, it's the growth opportunities that make this stock a compelling "income and growth" story. Equity Residential pays a relatively low dividend yield at 2.76%, but its funds from operations payout is only 57%. Some of the other major apartment REITs have FFO payouts of nearly 70%, including UDR at 68% and BRE Properties at 67%. If Equity Residential managed to boost its payout to 67% and its dividend yield would be 3.2%.
Analysts expect the company to grow FFO by an annualized 8% over the next five years. Based on its current price to FFO ratio of 21 times, and applying that multiple (no multiple expansion) to analysts' 2014 expected EPS of $3.26 suggests annualized upside of 10.5%, coupled with the dividend yield means an annual return of 13.25%.
Thesis / Recommendation
Equity Residential has an impressively diverse portfolio of properties located in what appears to be some of the best markets in the U.S. The REIT is also looking to expand its portfolio and increase its exposure to in the upscale renting market. The continuous acquisition spree involves upfront capital that might be a drag on profitability and cash flow available for dividends. Even so, it still pays a solid 2.7% dividend yield and although the income is low, I think the growth story makes up for it.
Disclosure: I have no positions in any stocks mentioned, and no plans to initiate any positions within the next 72 hours. I wrote this article myself, and it expresses my own opinions. I am not receiving compensation for it (other than from Seeking Alpha). I have no business relationship with any company whose stock is mentioned in this article.