There's an earnings report for Intel (NASDAQ:INTC) coming up after the close, and rather than regurgitate the same old rhetoric about how PC sales are bad so the company's shares are doomed, I'd like to make a few observations that could potentially be meaningful to investors.
Analysts Expect EPS To Be Down In Q2 From Q1 Levels
I took a look at the consensus analyst estimates and saw the following (also forgive the 4/15 earnings date - Yahoo Finance is off here):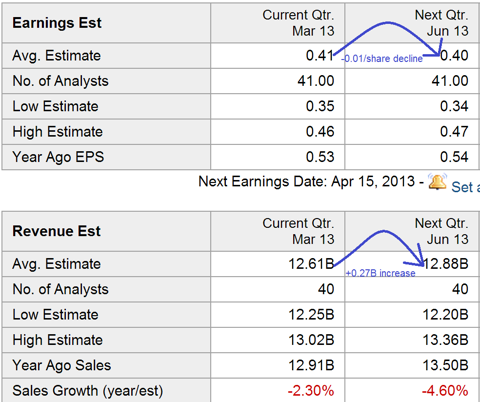 Click to enlarge
So, analysts expect EPS to be down a tad, but revenues will be up. Interesting. Basically, what this says to me is that analysts do not expect the reduced excess capacity charges in Q2 to offset the increased 14nm startup costs. I believe there is some room for an upside surprise here, at least on gross margin guidance, should the excess capacity charges not be as bad as what is apparently expected.
Q1 Results ... PC Slump Primarily In Low ASP Segments
The decline in PC shipments Y/Y during Q1 2013 as forecasted by Gartner and IDC are probably very adversely affected by the continued death of the netbook. This means that while PC unit sales were down almost horrifically, the systems that got eaten up by tablets are probably the ones at the very low end. Think netbooks (which have been rapidly decaying and feature cheap processors) and entry level notebooks with Pentium/Celeron processors. The majority of the unit decline is likely to be in the $30 - $60 processor segments, which means that a richer mix of "Core" based products (especially in the popular hybrid PCs like the Lenovo Yoga and Microsoft (NASDAQ:MSFT) Surface Pro) helps to soften the overall Y/Y revenue blow relative to the raw unit declines predicted.
In short: since Intel didn't warn, it seems likely that things aren't as bad as they "seem" on the ground. This is one likely explanation for just why that may be.
Server Chips Still Doing Well
While PC sales may be slumping, the cloud continues to boom. Intel sells the majority of the chips required for cloud computing today, and I believe that growth from these segments should help to offset the Y/Y decline in PC/netbook chip sales. Remember, Intel guided for a double-digit revenue increase in data-center group for 2013, so since Q1 was guided down Y/Y from 2012, it seems that in the absence of a pre-announcement, the data-center group chip sales may have, as Intel expected, picked up the slack.
Conclusion
So, we'll see how it goes. I don't have a crystal ball, so anything could happen. But my guess is that we come right in line with the midpoint on revenues, maybe a slight upside surprise on gross margins (Intel has played it very conservative on margins), and a Q2 that is entirely dependent on how much inventory OEMs are willing to build ahead of the PCs-with-Haswell launch. I expect that, too, to come in line with analyst estimates on revenues, with perhaps again an upside surprise on margins.
In any case, nobody should expecting miracles here. The growth story doesn't kick in until the second half of 2013 when Intel launches its flurry of new data-center and client products, so investors are still going to be skeptical for another quarter before the real action could happen.
Disclosure: I am long INTC. I wrote this article myself, and it expresses my own opinions. I am not receiving compensation for it (other than from Seeking Alpha). I have no business relationship with any company whose stock is mentioned in this article.
Additional disclosure: I am short ARMH, and just to be crystal clear, I am long INTC.