April 12th was a historical date for India-based and once glorious Infosys Technologies (NASDAQ:INFY). The company kicked off the reporting season for this quarter by stating its revenue may rise only 6%-10% this fiscal year, a number much lower than the Bloomberg consensus (12.7%).
The consequences were dramatic: Infosys shares dropped almost 21%, the most since April 2003, causing the Sensex Index to drop about 300 points (1.6%).
In this article, we try to answer the following question: at about $41.00 per share, is Infosys cheap enough to be considered a sound long term investment?
First, we need to identified what went wrong. We identified 4 reasons for the decline:
Endogenous reasons
1) A fierce competition against Tata Consulting Services (NYSE:TCS), Wipro (NYSE:WIT), Cognizant (NASDAQ:CTSH), HCL Tech and Accenture (NYSE:ACN) in the offshore technology industry reduced the ability of Infosys to charge a price premium.
Infosys failed to recognize that the price elasticity in the demand for offshore technology was increasing. They decided to keep charging an elevated premium for their services; even when there were clear signals that offshore technological services were becoming commodities as early as in 2010.
Many praised Infosys for its abnormal margins. Indeed, Infosys had operating margins of between 28-35%, whereas competitors like IBM (NYSE:IBM) and Accenture had much lower margins. However, this was achieved because they used a fixed billing rate, and they would stick to it, regardless of the client profile or his budget constraints.
By 2011, not even high margins were able to hide the opportunity costs of losing potential clients. That same year, main opponent TCS managed to surpass Infosys in market share.
2) Opportunity loss in 2012
Knowing that they were losing market share quickly, Infosys should have changed its pricing strategy: reduce price premium in order to attract new customers, while retaining their traditional clients. However, the firm kept charging elevated fees.
They were also too conservative: even though so far they have accumulated as much as $4 billion of surplus cash, they did not make any strategic acquisition in the past years (apart from McCamish Solutions in 2009), while TCS and HCL were extremely active in the M&A field.
2011 and 2012 were unique opportunities for revival. Not only did the global economy start to recover gradually, but Indian inflation also caused the main cost base of Infosys and its competitors to depreciate: labour costs. Yet, Infosys kept charging a premium, while TCS and Cognizant did not.
Exogenous reasons
3) Strong exposure to foreign currency fluctuations, which were adverse to the firm in 2012 Q4: Infosys cost base is in Indian rupees; but due to its 700 consultants and 42 partners worldwide, it earns its revenue in various currencies.
4) Seasonality: The "official" reason for the decline. The demand for offshore technology is cyclical: About a third of Infosys projects are related to financial services. This segment has experienced a contraction in the past 8 months.
From now on
We believe that stock price will continue decreasing in the next days because there were absolutely no positive indicators in the announcement made on April 12th.
There is also a lot of uncertainty: no earnings guidance was given this time. However, we also believe that in the long term Infosys will recover. This is due to the following reasons:
1) First of all, the Infosys business model is not dead.
They boast more than 775 active and loyal customers, as they built strong relationships with top management at these firms for years. This is the main asset of the company. These are clients that relied on Infosys even in times of high uncertainty and recession (2007-2008).
The second most important asset of Infosys is its culture: to be in a constant search for new methodologies to improve efficiency. Just like they developed the global delivery model in the early 90s, they are now proposing new engagement models for achieving lower risk and higher cost optimization.
2) A strong balance sheet.
No debts. Even better, a cash cushion of $4.1 billion, ready to be used in acquisitions and aggressive growth, if needed.
3) A consistent and strong ability to generate free cash flows.
Due to its high margins, Infosys generates strong and consistent free cash flows, which represent as much as 20% of total revenues. We believe that even if margins are reduced, the strong upward trend will prevail.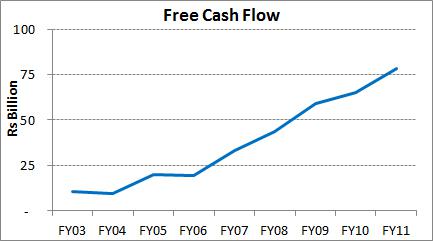 3) If Infosys sacrifices some premium pricing in exchange of new clients, stock will rise.
After all, the main reason why Infosys lost the price war in the offshore technology arena is because they simply chose not to fight.
But as the "commoditization" trend in offshore technology continues strengthening, we believe that the time has come for Infosys to reduce its price premium.
After stock plummeted 20%, management became under heavy pressure to reduce the traditional premium in order to gain more clients. Sure, this will cause operating margins to contract in the middle run. However, in the long run, Infosys will manage to recover competitive advantage and regain market share by increasing its client base.
Final Remarks
Rating: Buy
Consider buying at: $36
Disclosure: I have no positions in any stocks mentioned, and no plans to initiate any positions within the next 72 hours. I wrote this article myself, and it expresses my own opinions. I am not receiving compensation for it (other than from Seeking Alpha). I have no business relationship with any company whose stock is mentioned in this article.