By: Todd McDonald, Analyst
Overview
eBay (NASDAQ:EBAY) is scheduled to report 1Q2013 earnings after the closing bell on Wednesday, April 17. The numbers are typically released at 4:15 p.m. EST and will be followed by a conference call at 5:00 p.m. EST.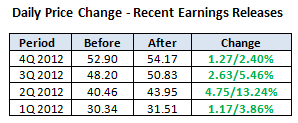 Outliers And Strategy
Back in January, eBay gave the following guidance for 1Q2013
Non-GAAP Earnings Per Share (EPS) expected to be in the range of $0.60 and $0.62. The Street estimate is $0.62. eBay has beat on Non-GAAP Earnings Per Share each of the last eight quarters.
Revenues are forecast in the range of $3.65 bln to $3.75 bln. The consensus is $3.77 bln.
With 1Q2013 results potentially priced in, much of the focus will center on the outlook for 2Q2013.
The current consensus for Non-GAAP EPS for the 2Q2013 period is $0.66, with a range of $0.57 to $0.68.
The consensus for revenues in the 2Q2013 period is $3.95 bln, with a range of $3.82 bln to $4.10 bln.
Any adjustments to the outlook for FY2013 could also have consequences for eBay shares. Back in January, eBay said it expects net revenues in the range of $16 bln to $16.5 bln and Earnings Per Share in the range of $2.70 to $2.75.
eBay is seen posting solid results for 2Q2013, thanks to ongoing strength in the PayPal business and its expanding leadership position in mobile payments, along with a pickup in the Marketplace segment.
eBay recently hit a 52-week high of $58.04 and is up more than 60% in the last year. eBay is now trading at 5.28x sales and 28.8x P/E, implying the bar is set high going into the release.
Implied Volatility: Over the past eight quarters, eBay earnings have caused an average absolute move of 4.70% one day after earnings dissemination. Using options premiums, traders are expecting an absolute move of approximately 5.3%.
Recent News
04/02: According to a post on StreetInsider.com, UBS initiated coverage on eBay with a Buy rating and a price target of $64. The firm cites a solid risk-reward, a strong Marketplaces segment, and innovation in the payments space.
04/01: Topeka Capital raised its price target on eBay from $54 to $65, moving its rating from Hold to Buy, according to a post on StreetInsider.com. The firm cited management's ability to meet laid out targets, which at the present time call for a doubling of the payments business in three years.
03/28: eBay issued a press release announcing its three-year growth plan. The company believes that by 2015, they will facilitate approximately $300 bln in commerce, up from $175 bln in 2012. The firm also expects revenues to increase over 50% by 2015.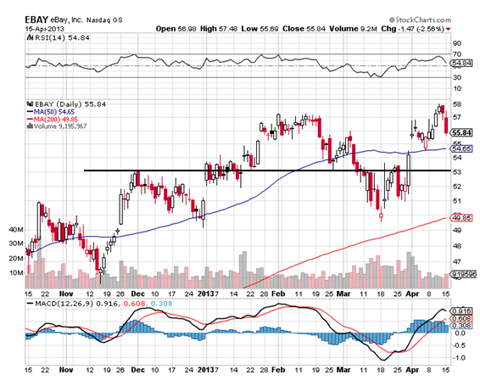 Technical Review
eBay shares are up approximately 56% over the past 12 months, thanks to consistent upside earnings surprises. There continues to be solid momentum, with shares trading well above (~12%) the 200-day SMA. If earnings surprise to the upside, look for initial resistance at the most recent highs near $58, followed by the all-time highs of $59.21. If results disappoint, the first area of support is the 50-day SMA near $54.65, which also corresponds to the highs of the day from the overnight gap on 03/28. There is also further downside risk to the $53 area (Chart courtesy of StockCharts.com).
Summary
Expectations for eBay's 1Q2013 release are high, with the company well positioned to take advantage of the evolving payments space and an aggressive three-year growth plan. With the recent advance, and the steady earnings beats, any missteps can have severe consequences for eBay. Focus on the company's guidance for 2Q2013 for a confirmation signal.
DISCLAIMER: By using this report, you acknowledge that Selerity, Inc. is in no way liable for losses or gains arising out of commentary, analysis and or data in this report. Your investment decisions and recommendations are made entirely at your discretion. Selerity does not own securities in companies that they write about, is not an investment adviser, and the content contained herein is not an endorsement to buy or sell any securities. No content published as part of this report constitutes a recommendation that any particular investment, security, portfolio of securities, transaction or investment strategy is suitable for any specific person.
Disclosure: I have no positions in any stocks mentioned, and no plans to initiate any positions within the next 72 hours. I wrote this article myself, and it expresses my own opinions. I am not receiving compensation for it (other than from Seeking Alpha). I have no business relationship with any company whose stock is mentioned in this article.