"To reminisce with my old friends, a chance to share some memories, and play our songs again." - Ricky Nelson
I have been continuing to note in my various writings and tweets that intermarket trend disconnects are quite substantial now as the deflation pulse beats ever-faster. Monday's aggressive sell-off in gold (NYSEARCA:GLD) and other commodities (NYSEARCA:DBC) seems to indicate that there is some major fragility underneath the market's surface. Whether the honey badger stock market will care on an absolute basis remains to be seen, but the fact is that the deflation trade is working as our ATAC models used for managing our mutual fund and separate accounts show for now.
This goes beyond gold. There is some very serious intermarket deterioration under way in those stocks most sensitive to domestic growth expectations, i.e. small-caps. Take a look below at the price ratio of the Russell 2000 ETF (NYSEARCA:IWM) relative to the S&P 500 (NYSEARCA:SPY). As a reminder, a rising price ratio means the numerator/IWM is outperforming (up more/down less) the denominator/SPY.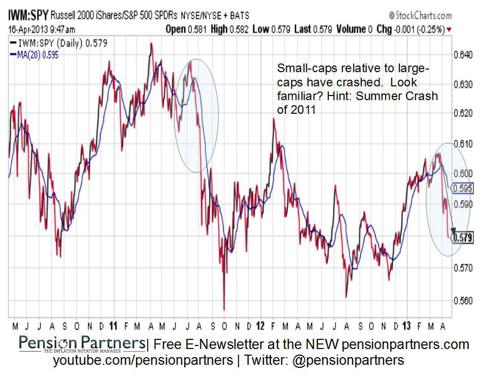 Click to enlargeSince the start of the second quarter, a ratio crash has occurred in the relationship of small-caps to large-caps. Because small-cap companies are more sensitive to domestic revenue expectations than more global large-caps, the weakness does seem to be indicative of a sharp re-pricing of the domestic economic reflation story. The sharpness of the decline is reminiscent of July 2011 just before the Summer Crash of 2011 took place.
Does this imply a crash will happen? Maybe, maybe not. The difference this time around is hyper active central banks all around the world pumping money. I have stated before that I believe a Spring Sync will take place whereby either the cyclical trade comes back with a vengeance, or stocks do fall as a lagged response to the deflation message nearly every other asset class is saying is happening now from an expectations standpoint. I would caution, however, on aggressive high beta bets either way given the price ratio above, until at least some stabilization and leadership returns.
Disclosure: I have no positions in any stocks mentioned, and no plans to initiate any positions within the next 72 hours. I wrote this article myself, and it expresses my own opinions. I am not receiving compensation for it (other than from Seeking Alpha). I have no business relationship with any company whose stock is mentioned in this article.
Additional disclosure: This writing is for informational purposes only and does not constitute an offer to sell, a solicitation to buy, or a recommendation regarding any securities transaction, or as an offer to provide advisory or other services by Pension Partners, LLC in any jurisdiction in which such offer, solicitation, purchase or sale would be unlawful under the securities laws of such jurisdiction. The information contained in this writing should not be construed as financial or investment advice on any subject matter. Pension Partners, LLC expressly disclaims all liability in respect to actions taken based on any or all of the information on this writing.