The price of a barrel of Brent crude oil fell below $100 for the first time in nine months today, a drop trend that started Monday.
Brent Crude Oil at 99.83$ on Tuesday morning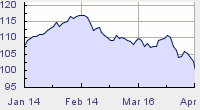 Source: Oil-Price.net
As a matter of fact, the Brent crude oil contract on London's ICE futures exchange was down 80 cents at $99.83 a barrel in the morning, extended its bear-market descent of more than 20% from its 2011 all-time high. Following the same trend, the light, sweet crude contract on the New York Mercantile Exchange was trading 22 cents lower at $88.49 a barrel.
Furthermore, it is interesting to see that in the past two years, the price of Brent has followed a similar pattern of peaking in the spring, falling into early summer, then rebounding as demand increased later in the year. In the short-term, risks remain. Investors have been very careful by underwhelming economic growth data from the world's two largest oil consumers, China and the U.S., and in the possibility of high inventories affecting the industry and expecting further falls.
In the longer-term, rising U.S. oil production and slowing demand growth could mean further pressure on crude. In the chart below, future global demand for energy should continue to drive a strong need for oil, nonetheless.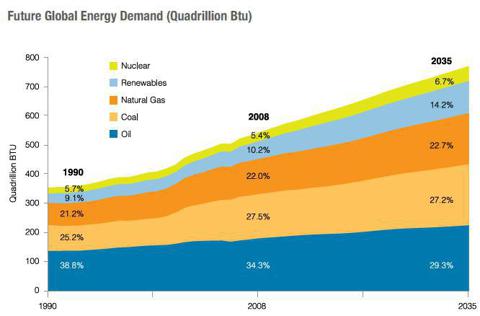 Click to enlarge
(Click to enlarge)
Source: EIA, Annual Energy Outlook 2011
In fact, several indicators are in motion saying that global demand for energy and production of oil and gas in the U.S. could bring the country into its deliverance day to foreign energy. See my article on the subject, Deliverance Day: The New Middle-East Of America By 2020?
According to analysts, prices may have to fall again before any rebound occurs. For now, the price of Brent crude appears too speculative to see clearly where the price could stop falling. However, even with the increasing short-term risk, the downfall shouldn't go too deep.
"The sell-off is long overdue and is a reflection of weakness in the market that everyone had been perceiving" said Edward Morse, global head of commodities research at Citigroup.
I believe that the economic situation in Europe doesn't help and can be partly associated with the drop of the barrel of Brent below $100. A sustained break below that price level is likely to cause concern among the OPEC organization, particularly those in the Middle East where that level is seen as the minimum needed to sustain its economies.
Does the rising oil supplies are increasing at rates in excess of global demand growth for oil? That remains to be seen but the fact remains: if the oil inventory, particularly in the U.S., is higher than what the market is asking for, this could create a great downfall in oil prices in the short term.
Is the Brent crude oil downfall jeopardizing major oil projects like TransCanada's (NYSE:TRP) Keystone XL approval? Hard to tell. As a matter of fact, the project is expected to inject a major boost in an anemic economy while it should create substantial jobs in the U.S.
I believe that this morning's downfall in Brent crude prices shouldn't jeopardize the U.S. oil industry in the long-term but some bumps on the road are expected. Oil producers will obviously need to seek hedging as protection in the short term and close some costly wells in the meantime. However, only time will tell if major projects like Keystone XL will be a casualty of the current supplies surplus on behalf of a disguised reason to approve the environmentalists' rebuttal on this contested project.
Disclosure: I have no positions in any stocks mentioned, and no plans to initiate any positions within the next 72 hours. I wrote this article myself, and it expresses my own opinions. I am not receiving compensation for it (other than from Seeking Alpha). I have no business relationship with any company whose stock is mentioned in this article.