By: Brendan Gilmartin, VP Research & Content
Bank of America (NYSE:BAC) is scheduled to report 1Q 2013 earnings before the bell on Wednesday, April 17. The results are typically released at 7:00 a.m. EST with a conference call scheduled to follow at 8:30 a.m. Bank of America is a Dow component with broad market influence and therefore could have a heavy impact on the index futures and other key market gauges. Note that Bank of America is the last of the major banking institutions to report earnings for the recent quarter.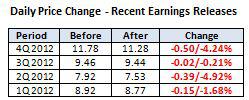 Outliers & Strategy
Bank of America is expected to post EPS of $0.22 in the 1Q 2013 period (range is $0.18 to $0.27). Revenues are seen rising 5.10% y/y to $23.41 bln (Source: Yahoo! Finance).
Revenues: Revenues are the next critical measure after EPS.
At a recent $12.08, Bank of America shares are still trading at a steep discount to Tangible Book Value of $13.36 (12/31/2012).
Recent News
04/10: According to a report on Barron's Online, bullish investors are buying call options in Bank of America at strikes above the current price and selling puts at comparable levels. The options are currently pricing in a 3.8% move off earnings when the company reports earnings on Wednesday.
04/08: Evercore Partners raised the price target on Bank of America from $13.00 to $14.00 ahead of the 1Q earnings release, according to a post on StreetInsider.com. Analyst Andrew Marquardt reportedly expects 1Q EPS of $0.22, with stronger fees offset by increased expenses and credit costs. The firm also maintained an Overweight rating.
03/18: Renowned Banking Analyst Meredith Whitney told CNBC she sees 20% upside in Bank of America shares.
03/14: Bank of America authorized the repurchase of up to $5.0 billion of common stock after the Federal Reserve said that it did not object to the company's capital plan. The company is maintaining the $0.01 quarterly dividend.
Technical Review
Bank of America shares recently broke out to the highest level since May, 2011. Over the past few weeks, however, the shares backed off the 52-week high of $12.94 (03/19/13), holding support at the 50-Day SMSA near $12.00. In the event of a positive earnings surprise, look for initial resistance at the aforementioned high of $12.94. Support is at $11.75 on a weak earnings release, with downside risk to $11.00. (Chart courtesy of StockCharts.com)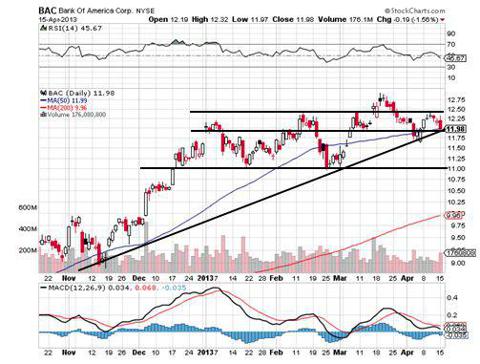 Summary
Bank of America shares have been on quite a run, mirroring the advance in other names in the banking space, thanks to improved credit quality, a pickup in mortgage lending, and a stronger capital markets backdrop. A series of settlements related to its activities at the height of the mortgage crisis also removes some major overhangs for Bank of America. Against this backdrop, however, the bar remains high for earnings and any missteps could trigger a sizeable retreat in the equity price.
Disclosure: I have no positions in any stocks mentioned, and no plans to initiate any positions within the next 72 hours. I wrote this article myself, and it expresses my own opinions. I am not receiving compensation for it (other than from Seeking Alpha). I have no business relationship with any company whose stock is mentioned in this article.