Back on April 2, 2009, I wrote about Carlisle (NYSE:
CSL
) (click
here
for reference) as a stock to watch. On Thursday a buy signal prompted me to buy Carlisle at $22.30. Let me illustrate my point based on the chart.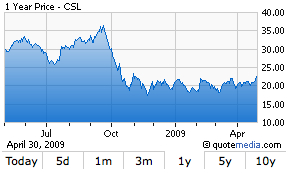 Back on November 2008, Carlisle made a low of $16.48. Since then, the stock has made a higher-low ($16.48 --> $17.79 --> $17.76 (call it flat) --> $18.88) and higher-high ($21.85 --> $21.96 --> $22.68) and thus established an upward trend. As an added bonus, while Carlisle traded in a range of $18 to $22, a rising trend in Accumulation/Distribution was making its way higher, signaling a possible accumulation of shares by investors. A bullish sign.
As I stated previously, I would buy above $22 and thus a position was established Thursday. Because it is much higher than the 52 week low and the Dow Jones Industrial average is hitting an inflection point (approaching 150 days moving average), I will be keeping a tight stop of hard break below $22 resistance.
Disclosure: long CSL