Anyone who has studied IBD founder Bill O'Neil's CANSLIM methodology knows the "N" stands for new product, new management or new conditions. With that in mind, I submit Procera Networks, Inc. (NYSEMKT:PKT) for your consideration.
Procera Networks operates in the Deep Packet Inspection (DPI) segment of sophisticated networks, meaning the Internet, telecom/mobile broadband networks and the like. Deep Packet Inspection enables advanced functionality on complex networks, including data-mining, eavesdropping, censorship and security - such as searching for viruses, spam and network intrusions.
Procera's newest product, the PL 10000, is a fully-scalable solution for Tier 1 broadband networks which currently has four times the capacity of its nearest competitor. As a result, the PL 10000 has been enthusiastically received by broadband network companies and universities since its introduction in May of 2008.
For the fiscal year of 2008, Procera was selected by two Tier 1 providers while initiating trials with 15 other Tier 1 providers. Additionally, the company added over 200 new customers all over the world. Revenues for the year jumped 387% over FY2007 and are slated to grow 140% in 2009 and 66% in 2010. Procera is also expected to turn profitable in FY2009, with earnings estimates for $0.05 a share, and $0.15 in 2010 – 300% growth in year-over year EPS.
On April 13, 2009, Procera announced that it would be outsourcing its operations and logistic functions which will allow the company to reduce its workforce by 25% yet not incur any material costs. Moving forward, these cost-cutting efforts should help streamline the company and improve gross margins over the next few quarters.
A look at Procera's 1-year chart reveals that the market has begun to notice Procera's growth potential as well. The stock has been basing nicely for past 6-months, moving from $0.70 to around $1.00 on big volume in April.
click to enlarge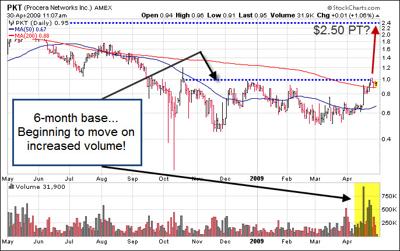 Click to enlarge
Source: StockCharts.com
If Procera can deliver on its numbers, it would not be unreasonable to attach a $2.50 price target (PT) to the stock. With estimates for $0.15 EPS in 2010, a $2.50 PT would give it a cheap 17x forward PE. Keep in mind that Procera is in one of the hottest groups in the Tech sector, right now - the Telecom Equipment group.
As the rally continues, money flows should migrate to some of the lower tier names, like Procera, that are currently less extended.The move would also correlate well, technically, to the $2.40 high, made in May of 2008.
Disclosure: I currently own positions in PKT for my accounts and the accounts I manage.