The media in the United States loves a good influenza scare, and so do investors of many biopharmas that specialize in influenza treatments and vaccinations. It is key to remember that while many people see these scares as a media blitz for ratings, the dangers are very real.
Influenza typically spreads around the world in seasonal epidemics resulting in, on average, about three to five million yearly cases of severe illness, and about 250,000 to 500,000 yearly deaths. Every so often a new strain appears and these seasonal epidemics transform into a pandemic. The most famous and lethal influenza pandemic was the Spanish flu pandemic of 1918 and it was one of three to happen in the 20th century. While the exact numbers are unknown, it is estimated that anywhere from 50-100 million people may have died, putting it on par with the bubonic plague.
The latest scare has surrounded a new subtype of the avian flu dubbed H7N9 which has claimed an estimated 47 people as of April 13th. Unlike the H5N1 bird flu that raised concerns starting in 2003, H7N9 does not seem to make birds very sick or sick at all, which makes tracking the movement of the virus and containing it extremely difficult.
With the upcoming developments in the biopharma sector creating new ways to treat and prevent these ever changing strains of influenza this latest outbreak seems like the perfect time to highlight some opportunities for advancement in both patient care and the potential for investors interested in this sector.
BioCryst Pharmaceuticals, Inc (NASDAQ:BCRX)
BioCryst Pharmaceuticals produces an anti-viral influenza treatment called Peramivir which is already approved for use in Japan and Korea; two countries very close to the epicenter of the H7N9 development. It is also the most advanced candidate in U.S. FDA trials in this article.
Peramivir falls under a class of anti-virals called neuraminidase inhibitors which function by blocking an enzyme that is thought to be critical to the spread of influenza within the infected person. These neuraminidase inhibitors are currently preferred for treatment of influenza infections as they are less toxic and possibly more effective than other anti-virals, and have been widely used following a 2009 release by the World Health Organization recommending that persons in high risk groups, including pregnant women, children under two, and persons with respiratory problems, begin taking antivirals as soon as they start experiencing flu symptoms.
Currently the only options for patients with influenza in the United States are oral or inhaled formulations of these neuraminidase inhibitors: Tamiflu (Oseltamivir) a capsule developed by Gilead sciences (NASDAQ:GILD), and Relenza (Zanamivir) an oral inhalation form produced by GlaxoSmithKline (NYSE:GSK). Peramivir is a unique treatment option as it is being developed for administration intravenously giving it the benefit of being rapidly delivered to the sites of infection.
On April 1st BioCryst announced that it received a preliminary comment letter from the U.S. Food & Drug Administration that outlines a pathway by which BioCryst could file a New Drug Application (NDA) seeking regulatory approval permavir. The letter was sent in response to questions BioCryst submitted to the FDA in advance of an upcoming Type C regulatory meeting regarding i.v. peramivir. The FDA also suggested the Company request a pre-NDA meeting to reach agreement on a complete NDA submission and to address review issues identified in its preliminary comment letter.
The combination of the FDA NDA pathway, and the latest news from the H7N9 outbreak have contributed to a significant gain of 58% since April 1st

While a 58% run up may seem significant, I feel this stock is still extremely undervalued for several reasons:
Peramivir is already approved for use in Japan and Korea and may see a large increase in revenue depending on the severity of the H7N9 outbreak. This is exceptionally possible considering these countries proximity to China.
Seeing as how it has passed approval for two other countries of which usage data has been gathered in support, it seems like this drug has significant potential for approval in the United States.
In trend with many Biopharmas, there should be a run up to submission of the NDA to the FDA, and onwards. This is extremely likely as the FDA is laying out a pathway for a successful submission
Combine these three reasons with the upcoming media frenzy, and you have potential for a rather large gain.
Inovio Pharmaceuticals (NYSEMKT:INO)
Anyone who has read my previous articles knows that I absolutely love this company, and the potential prospects it holds. With a staff made up of ex-Merck (NYSE:MRK) employees who had a hand in many successful vaccines, they have been pioneering a new form of vaccination that uses DNA to create an immune response, instead of a weakened form of a virus. These DNA vaccine have shown best in class immune response in trials so far, and a significantly safe profile, especially when put side by side with live attenuated vaccines.
Inovios key product, Syncon, is a universal vaccine for influenza strains that could be a major development, as current vaccinations can only target single strains.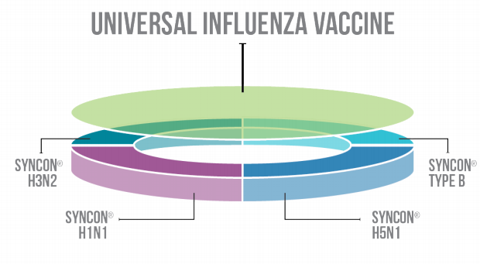 Comprised of several different components, phase I clinical trials so far have shown that this Syncon vaccine protected against all 6 unmatched H5N1 strains tested, and against all 9 unmatched H1N1 strains tested. It also showed significant improvement in efficacy in the elderly , with an increase of infection preventing antibodies by 100% in this population.

Having gained 13% since April 3rd, and currently trading at $0.58, I see almost endless potential for Inovio for several reasons:
A universal Influenza vaccine would be nothing short of monumental, similar to the eradication of smallpox
The increased efficacy in the elderly is a large factor, as they are one of the most at risk groups with influenza.
Inovio has an extensive pipeline in place for treatments/vaccines of HIV/Hep C/Cervical Dysplasia/Leukemia/Malara/etc...
They have a significant amount of partnerships including Merck, HIV Vaccine Trial Network, U.S. Military HIV Research Program, US Department of Homeland Security, National Cancer Institute, and even Bill and Melinda Gates.
Update: 4/16/2013 : In a new release today Inovio stated "Inovio and Affiliates of the United States are preparing a DNA vaccine canidate for the H7N9 Flu in the event of a national emergency."
I like Inovio as an investment in this sector as it has a large pipeline and significant backing to fall back on even if the Syncon vaccine doesn't make it to approval. If Phase II trials for Syncon look good this investment could pay out big. Investors must keep in mind however, that this is definitely a long position.
Novavax (NASDAQ:NVAX)
Novavax is a clinical-stage biopharmaceutical company creating novel vaccines to address a broad range of infectious diseases worldwide,and is in advanced development of VLP vaccines against both seasonal and pandemic influenza. Their technology uses virus-like particles (NYSE:VLP) and recombinant protein micelle vaccines to attempt to initiate an immune response to the viruses, and have been successful so far..
Novavax produced a VLP vaccine against the 2009 H1N1 pandemic "swine flu" influenza. In a clinical trial of more than 4,000 subjects in Mexico - where the pandemic was first recognized, the H1N1 VLP vaccine was well tolerated and immunogenic even at the lowest dose tested of five micrograms and after one immunization.
With 11 current influenza trials in progress, Novavax is very involved in this market. And recent speculation has stated that it is possible the company will be called on to develop a vaccine for the H7N9 strain currently developing in China.

Having gained 8% since April 3rd, and currently trading at $2.57, I see a strong candidate in Novavax for several reasons:
They have been heavily involved in the influenza market for some time, and currently have 11 trials in progress
Their vaccine for H1N1 "swine flu" showed excellent results
They have potential to be selected to specifically target this new H7N9 variant
Watch this stock carefully, as with their heavy involvement in the influenza industry they just might be the next big play.
Conclusion

Hopefully I have been able to present some concise but informative views on several small cap players in this market, giving you the tools to expand your knowledge and make an intelligent investing decision.
It needs to be emphasized, however, that just like the influenza virus, this market is ever changing, and if you plan on investing you will undoubtedly have to monitor both the industry, as well as the ever changing variations of the virus itself quite closely. Dedicate your time though, and you just might find a substantial profit.
Growth Plays
For those of you who are interested in investing in this outbreak, but are focused on steady growth plays with less risk/reward, let me make a few brief suggestions for further research:
Vaccines:
Sanofi (NYSE:SNY) manufactures Fluzone, and MedImmune (MEDI) manufactures FluMist. Both of these companies have a consistent hand in the influenza vaccination market, and both vaccines are FDA approved for the 2012/2013 flu season. These have already seen significant sales figures as these are the vaccination of choice used by the U.S. Government for it's employees. In September 2012 over 2 Million vaccinations alone were ordered for the U.S. Military.
Treatments:
As previously discussed in this article, neuraminidase inhibitors play a strong role in first line treatment when influenza symptoms present. My recommendation here would be Roche (OTCQX:RHHBY) who have a strong hand in the sales of Tamiflu. Just recently it was released that The U.S. Flu season has pushed sales of the Tamiflu antiviral medicine up by 84 percent, giving Roche a 5.1% 1st quarter gain this year.
Disclosure: I am long INO, BCRX. I wrote this article myself, and it expresses my own opinions. I am not receiving compensation for it (other than from Seeking Alpha). I have no business relationship with any company whose stock is mentioned in this article.