On Friday, April 12, Ford Motor Company (NYSE:F) declared a $0.10/share quarterly dividend, which was in line with the company's previous distribution. In the wake of Ford's recent dividend announcement I wanted to examine two of the sales-related catalysts behind my decision to consider a long-term position in this viable income play.
Shares of F, which currently possess a market cap of $50.88 billion, a P/E ratio of 9.12, a forward P/E ratio of 7.75, a very impressive PEG ratio of 0.87, and a yield of 3.09% ($0.40) settled at $12.95/share on Monday. One of the things to point out for growth investors is the fact that shares of the company are actually 1.89% lower since January 1st of this year.
In my opinion, there are two near-term sales-related catalysts to consider when it comes to Ford Motor Company, and they are the company's 65% increase in year-over-year Chinese-based sales and its 5.7% increase in its sales generated during the month of March 2013.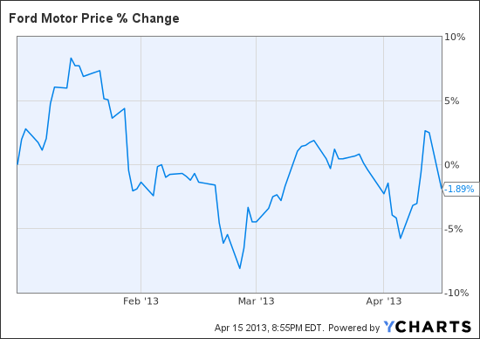 Chinese Driven Sales Growth: On April 9th it was announced that Ford had increased sales in China by 65% Y/Y in March to 81,387 units as new releases and a strong showing from the Ford Focus helped to boost results.
According to Jim Farley, Ford's Executive Vice President for Sales and Marketing, who recently noted that "The company's global products are resonating with consumers - especially in the best-selling, most competitive segments - with their unique combination of fuel-efficiency, high quality, rich content and fun-to-drive personalities. Through our 'One Ford' global initiative, we're able to bring economies of scale and fantastic value to customers all around the world".
The strengthening of Ford's foothold on the Chinese market is going to be dependent on the following set of variables over the next several years. I strongly believe that if the auto maker wants to obtain its 6% market share goal, as it noted on April 15th, it will need to enhance such features as fuel-efficiency and affordability on some its newer models such as the Kuga, EcoSport and Mondeo.
5.7% Pop in March U.S. Sales: Driven by an all-time sales record for its Fusion-based model, March U.S. sales rose 5.7% to 236,160 vehicles, beating out analysts' estimates which had called for a fairly modest 4.4% gain. The auto maker's Ford Fusion model led March sales of 30,284 vehicles to set an all-time record.
According to Ken Czubay Ford's Vice President, U.S. Marketing, Sales and Service who recently commented on Ford's U.S.-based sales performance, "Customers are buying our all-new Fusion and Escape in record numbers, and we are working harder than ever to keep pace with demand for these fuel-efficient vehicles".
In my opinion there are two reasons why the Ford Focus (Price: $16,000-$24,000 & Fuel-Efficiency: 26 City/36 Highway) and Ford Escape (Price: $22,400-$32,100 & Fuel-Efficiency: 22 City/31 Highway) have contributed so nicely to the company's rise in U.S.-based sales, fuel-efficiency and affordability.
Conclusion:I think Ford Motor Company has the right idea in terms of fuel efficiency and affordability when it comes to both U.S. and International sales (most notably China). If Ford can continue to improve on the fuel-efficiency of not only its Ford Focus model, but its Fusion and Escape models I see no reason why this U.S.-based auto maker can't be a viable growth and income play at current levels.
Disclosure: I am long F. I wrote this article myself, and it expresses my own opinions. I am not receiving compensation for it (other than from Seeking Alpha). I have no business relationship with any company whose stock is mentioned in this article.