The common perception throughout the markets is that the products made by Apple Inc. (NASDAQ:AAPL) are enduring a decline in unit sales, and that their products are losing market share to the Android platform. However, the facts, at least in the US, point to the contrary, such as how iOS gained 3.9% in US smartphone market share compared to a loss of 2% market share for Android from November to February, and the fact that 85% of new smartphone users in the U.S. chose an iPhone in the same time period.
While the undeniable fact remains that Apple's EPS growth has stalled, there is one company that is strategically positioned as the most prominent benefactor from this heavily increasing volume of unit sales at Apple stemming from products such as the iPad mini. Cirrus Logic (NASDAQ:CRUS) creates customized solutions for Apple from scratch based on Apple's specifications. Considering Apple products derive a large part of their value from the audio aspect of Apple's business, such as iTunes, and considering that Apple revolutionized the music industry with the iPod, the audio components of Apple products are extremely important, and this area of their business is largely how they differentiate themselves from competitors. Most other phone manufacturers, for instance, purchase a generic audio codec that suppliers have already built and have in stock. Apple engineers work closely with Cirrus Logic to develop specifications for customized, innovative solutions that satisfy Apple's high standards. Apple uses these products to further their own innovation, as they have an in-depth understanding of the Cirrus Logic products they have helped build, and as a result invent further methods of incorporating these products into their devices more efficiently. These products take anywhere from 12-18 months to build, and are in every Apple product with audio capabilities.
There has been a steady increase in the number of Cirrus Logic supplied components contained within iPhones and iPads over the past year. Cirrus Logic receives $3.25+ in revenue for each iPhone 5 compared to $1.45 for each iPhone 4 or 4S. They receive more than $3 in revenue for each iPad mini or iPad 4th Generation, which has grown from $1.50 received for each iPad 3rd Generation or iPad 2. The following chart from Cirrus Logic's investor presentation demonstrate this explosion in revenue from new products.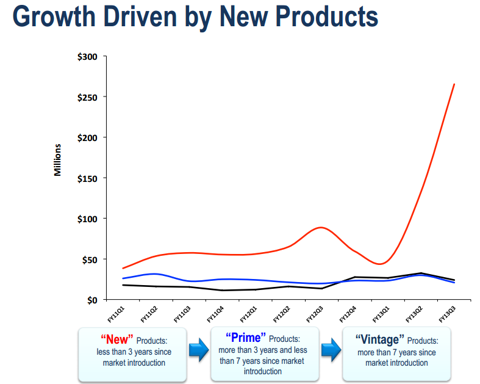 Even in the scenario where Apple uses the same Cirrus Logic content for future iterations, or even if iPhone sales unit growth becomes stagnant, will see a huge revenue increase. Consider the fact that Apple sold 27.4 million iPhone 5 units and 17.4 million iPhone 4S units in the January 2013 quarter. When Apple introduces a new iteration of the iPhone, which in all likelihood will have similar components and form factor to the iPhone 5, the price of the iPhone 5 will be reduced to match the current price of the iPhone 4S (starting at $99.) Taking into account that 36.4% of Q1 2013 iPhone sales came from the mid-priced iPhone model, which will soon be the iPhone 5 instead of the 4S, and that CRUS receives 124% more revenue from the iPhone 5 than from the iPhone 4S, this in itself represents a (1.24*.364) = 45% increase in iPhone revenue, though this figure may vary from quarter to quarter. Since a similar phenomenon will occur with the iPad and iPad mini, we can be sure about Cirrus Logic's short-term earnings growth potential, especially since analysts on average estimate 162% earnings growth for the March quarter, and 257% earnings for the June quarter equating to an EPS of 3.77 after the June quarter results are released. This results in tripling year over year earnings for the trailing 12 months when comparing the June 2013 yearly EPS results to 2012. Keep in mind that Cirrus Logic has beaten analyst estimates in each of the past four quarters, and that the company announced a share repurchase program on November 20, 2012 of $200 million of the company's common stock, or about 14% of their current market cap. Fewer floating shares will help to boost earnings per share numbers as well. The fundamentals of CRUS remain extremely strong currently, and into the foreseeable future.
However, it is apparent that analysts are not including impending product launches into their forecast, evident from their predicted sequential decline in earnings from the March quarter to the June quarter. This is where we see an extreme upside for the stock, as it can be deduced from a recent explosion in hiring at Foxconn's Zhengzhou plant, Apple's prominent iPhone manufacturing plant that production has already begun for a new product release. The Wall Street Journal quoted a Zhengzhou-based Foxconn executive in saying "We have been very busy recently as we will start mass-producing the new iPhone soon." We see huge upside potential for Cirrus Logic's June quarter guidance that will be released in their April earnings report, as they may have also begun production for this new product. Analysts have not included into their estimates Cirrus Logic's earnings potential from new products, or from this waterfall effect achieved from a combination of new Apple products emerging, and reduced priced Apple products with double the Cirrus Logic content being sold at a continued high volume alongside them. Not to mention the possibility of a lower-priced iPhone for emerging markets to tap into the potential of China Mobile's 700 million person subscriber base, along with the potential of affordable iPhone sales in Japan, Brazil, Russia, and India. This could be part of the reason why Goldman Sachs estimates Apple selling 175 million iPhones in 2013 and 241 million in 2014, increases of 38.2% and 90.4% respectively from 126.6 million in 2012.
The only remaining issue for CRUS stock is valuation and market sentiment. Psychology and momentum play a huge part in the stock market, and explain the company's overwhelming undervaluation. This highly negative sentiment can be mainly attributed to the recent flood of negative sentiment surrounding Apple. However, this falling share price coincided with a 38.98% increase in the rate of iPhone unit sales and 59.8% in the rate of iPad unit sales when comparing Apple's December 2013 quarter to their 2012 December quarter by taking into account that Q1 2013 had 13 weeks compared to 14 weeks in Q1 2012. Does CRUS deserve a P/E ratio dropping from 35.6 to 9.1 in the period of about 6 months, in the same time period where its EPS has almost doubled? Analyst estimates render a P/E ratio of 6.45 and 5.5, after the April and July earnings reports, respectively. Obviously CRUS is being punished by declining Apple profit margins relating to an increase in product volume, factors that should be seen as positive instead of negative. These factors are the same factors that are partly responsible for Cirrus Logic's explosive earnings growth. The problem stems from the fact that the valuations of Apple and Cirrus Logic are almost identical, while their financial situations differ completely. Sooner or later, perception will catch up with reality, and the market will realize that the two companies are entirely different animals. While Apple's EPS is taking a hit from increasing volume of sales leading to lower profit from each device, Cirrus Logic's EPS is soaring. However, both share the same extremely low P/E of about 10, and share almost identical stock price movements over the past 6 months. These market enigmas tend to sort themselves out in the long term, as the stock price tends to catch up to fundamentals. Even if Cirrus Logic continues to be valued like Apple with a P/E of 10 despite explosive earnings growth, their estimated trailing 12-month earnings after their July earnings report of 3.77 would equate to a stock price of $37.7, almost double what it is today. At this point, the risk/reward profile is favorable as there is limited downside, and an explosive upside from here on out.
Disclosure: I am long CRUS, ISS, IGTE, TSM, ANIK, CBPO. I wrote this article myself, and it expresses my own opinions. I am not receiving compensation for it (other than from Seeking Alpha). I have no business relationship with any company whose stock is mentioned in this article.