Despite its relatively small size and narrow focus, Lufkin Industries' (NASDAQ:LUFK) products are iconic within the oil and gas industry. Glance at virtually any photo of a West Texas oilfield, and you'll likely see at least one gracefully oscillation Lufkin pump jack. For the most part, the oilfield's a pretty practical place; but there has always been something sublime about that particular image.
An Opportunistic Move
With its announcement last week that it will purchase Lufkin for $3.3 billion, a rich 38% premium over the previous trading-day's closing price, General Electric (NYSE:GE) obviously sees something inspiring in the image as well.
Lufkin's stock, one of the stronger performers in the sector over the last five years, underperformed its broader peer group in 2012. Management's uncharacteristic stumble in executing expansion plans, combined with an unwelcome slowdown in North America, led to the disappointment in investor ranks.
The company also lost a little of its luster with customers beginning in 2011. This was evidenced by a noticeable decline in EnergyPoint's ratings for the company.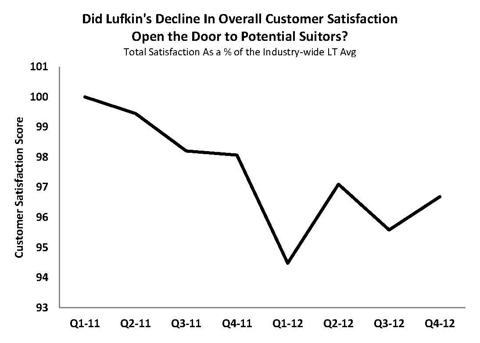 To some extent, GE's bid was aided by an overly-ambitious agenda within Lufkin. At the same time the company was acquiring and integrating multiple acquisitions, it was also attempting to bring additional capacity on line with a new production facility in Romania.
Financial results suffered during this period, as did the company's stock price. Both arguably opened the door to potential suitors.
Notwithstanding the above, we doubt additional bidders will emerge to drive the stock price up beyond GE's offer of $88.50 per share.
Closing the Loop
So what might be expected from a combined GE - Lufkin?
GE already has a presence in the artificial lift space via its 2011 acquisition of Wood Group's ESP unit, which manufactures downhole electrical submersible pumps (ESPs). So, with its purchase of Lufkin, the company essentially closes the loop in terms of its portfolio of offerings in the artificial lift space.
Although Lufkin has an array of artificial lift product offerings -- including gas lift, plunger lift, hydraulic lift, and progressive cavity pumps -- it's the company's position in rod-lift systems, which are in high demand for their application in oil shale fields, that likely represents much of the romance for GE.
The shale oil story is just getting under way in North American, and most projections suggest Lufkin has plenty of room to grow despite the fact that rod-lift systems' share of all artificial lift sales has increased by over 50% in the last two years.
Interestingly, numerous suppliers in the space experienced product availability issues in early 2012 as demand spiked. The good news is that GE's balance sheet and manufacturing know-how should provide Lufkin with increased resources to respond to outsize long-term demand growth.
Lufkin's growing portfolio of automation-related products and services also holds potential for significant growth. Automation certainly has been eyed by Lufkin management, as the company purchased three automation-related companies just within the last couple of years. The company is also developing capabilities organically, with plans to roll out new intelligent-well and measurement systems in the near term.
We also note that Lufkin's industrial gears and engineering bearings unit represents, somewhat fortuitously, a very good fit with GE's other energy-related business units.
The Risks
As we have written about before, M&A in the oilfield always has its risks. And we believe the biggest risk to the success of the GE-Lufkin merger will be in how Lufkin's customers respond.
Although there are a number of factors that have contributed to Lufkin's traditionally strong reputation and success in the market place, its small-company feel and attention to customer needs and service has driven much of the company's success over the years. It will arguably be a challenge for GE to maintain Lufkin's touch given GE's size and typical approach to running its spread of businesses.
Unfortunately, should customers get the impression that Lufkin has moved from being a responsive, nimble specialty supplier to just another division of a lumbering multi-industry giant, we'd expect Lufkin's competitors to eventually benefit.
While it's difficult to say which would gain the most in such a scenario, the short list includes Baker Hughes (NYSE:BHI), Schlumberger (NYSE:SLB) and Weatherford (NYSE:WFT). With their recent entry into the space, Halliburton (NYSE:HAL) and Cameron International (NYSE:CAM) could benefit as well.
To Integrate or Not?
It will also be interesting to see the extent to which GE seeks to integrate Lufkin with Wood Group ESP. The two companies certainly know each other as competitors, but there are distinct differences in their product lines.
Lufkin's pump/rod-oriented systems lie in a particularly nice sweet spot. Its systems offer relatively low operating costs, excellent total-system efficiency, high run-times, limited sensitivity to downhole temperatures, and compelling ROIs for low-volume wells.
The company's systems also are easily monitored and lend themselves to automation. And pump speed can be easily adjusted over the life of a well, reducing the need for on-site intervention. All of this adds up to strong customer appeal for Lufkin's flagship product line.
ESPs are generally more effective for wells with higher flow rates and for deeper applications. Unfortunately, ESPs carry a reputation for higher fail rates, both mechanical and electrical, and higher intervention costs.
ESPs also require proper sizing on the front end and include the risk of sub-optimal performance in those cases when sizing is off. ESPs therefore fit with a more narrow set of well applications as a result.
The Bottom Line
The case for GE moving toward greater integration between Lufkin and Wood Group ESP is pretty straight forward.
In combination, their product lines cover a broader swath of what customers might need in the way of artificial lift applications. By creating an organization in which the two units collaborate rather than compete, GE will likely capture greater customer mind share. The opportunity in a combined GE-Lufkin will therefore not be as much about cross-selling as it will be about offering a broader selection of artificial-lift products.
For GE, both the challenge and the risk will be more cultural than operational. Notwithstanding the decline in the company's overall customer satisfaction ratings in EnergyPoint's surveys, ratings for its actual products remain strong (i.e., the decline in its overall customer satisfaction was driven more by availability and delivery-related issues than product quality).
Lufkin's traditional customer base clearly values the company's single-minded focus and expertise. Should GE move forward with a heavy-handed integration of the company, we believe it runs the risk of disappointing Lufkin's loyal customer base. In this case, the deal's success will then hinge entirely on segment growth and any cost-savings that can be realized.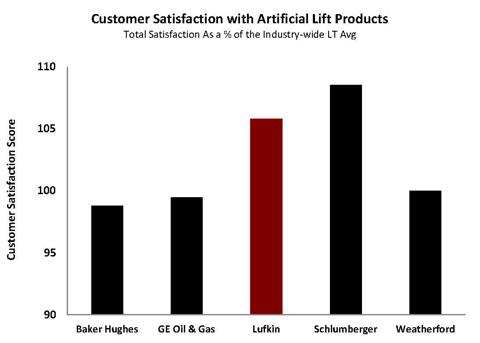 Disclosure: I have no positions in any stocks mentioned, and no plans to initiate any positions within the next 72 hours.
Business relationship disclosure: My firm, EnergyPoint Research, does and/or seeks to provide for-fee data subscriptions to oil and gas industry participants and stakeholders, including companies covered in its posts, reports, articles and surveys.