First Solar, Inc. (NASDAQ:FSLR) saw a significant jump in its stock price yesterday after the company released earnings that were significantly above expected levels. The consensus expectations were for earnings of $1.51 but FSLR came in 30% above these levels with a $1.99 EPS level. This puts earnings 23% higher than the level seen in the first quarter and an astounding 249% above the first quarter of 2008.
Revenue was $418.2 million which was just a bit lower than the fourth quarter, but 112% above last year's first quarter. But the most impressive metric was gross margin, which hit a record of 56.3%. This came as quite a surprise as the expectation was for declining sales prices for solar products which were supposed to pressure margins. While sales prices did in fact decline, the company was able to cut costs which more than made up for pricing pressure. In fact, First Solar is known for being the low-cost solar producer and reported manufacturing costs of $0.93 per watt in the first quarter.
While many companies in the industry are struggling to keep an adequate capital base, FSLR is on sound financial footing. Cash levels were at $625 million at the end of the quarter in addition to $172 million in marketable securities. This compares to a long-term debt level of just $195 million. So while the company could pay off its debt immediately, management is holding cash to increase the flexibility should other more profitable opportunities come up. One use of that cash could be to acquire a smaller competitor or two who is struggling financially but has attractive manufacturing facilities.
Management did not issue any surprises in regards to forward guidance. But Raymond James analyst Pavel Molchanov noted that there was a bit less of the overly cautious undertones during the first quarter conference call than were heard after the year end call. The industry still faces a good bit of oversupply, and it is difficult to predict what kind of large scale stimulus initiatives will drive demand. We have heard good news out of China and the US so far this year, but the actual implementation of these plans still leaves some questions.
Still, First Solar should continue to be a strong player in the industry with its strong capital base, and passionate pursuit of lowering production costs. The ZachStocks Growth Model has a strong position in the company which was showing a 20% gain prior to yesterday's stock run-up. Raymond James has increased their price target on the company to $215 which is 42% above Wednesday's close. The target is based on a PE of 25 compared to the 2010 estimate of $8.70 in earnings.
Even given the sharp move in the stock yesterday, I still believe First Solar offers a strong opportunity for investors. The stock has built a solid base and the company is well ahead of its competition due to its financial stability and low cost production. If government stimulus kicks in from multiple countries, we could see even more of a rise in the industry. Other attractive opportunities include LDK Solar (NYSE:LDK), and ReneSola Ltd. (NYSE:SOL).
The recovery in solar stocks has taken much longer than I anticipated and may still face some challenges, but for now the picture appears to be clearing. Many of the stocks are trading for incredibly low multiples and have potential for exceptional gains as investors put aside their fear and price stocks based on growth prospects.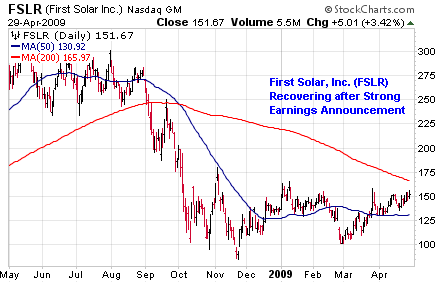 Disclosure: Author has a long position in FSLR and LDK in the ZachStocks Growth Model and a personal options position in LDK.