Welcome to the finale of my telecom face-off series between AT&T (NYSE:T), Verizon (NYSE:VZ), Rogers Communications Inc (NYSE:RCI), BCE Inc (NYSE:BCE) and TELUS (NYSE:TU). In this article, I will present a scorecard to pull everything together to determine which stock I will include within my dividend growth portfolio based on the metrics that I have analyzed in this series:
Valuation, Debt, and Growth Metrics (click here)
Dividend Metrics and Dividend Sustainability(click here)
Business Metrics (CHURN, EV/Sales, EV/EBITDA, Subscriber Growth, EV/Subscriber, ARPU) (click here)
Foreword
First and foremost in Part 3 of this series I mentioned that I was going to present some insider trading analysis. However, when I went to collect the data, I could easily find the information for T and VZ from Yahoo Finance and Gurufocus.com however, the information for RCI, BCE and TU is not readily available. So making such a comparison will not benefit this analysis. I did publish however what I found in Table 1. It becomes apparent that there has been very little insider buying and much more insider selling in both T and VZ.

Source: Gurufocus.com, Yahoo Finance
METHODOLOGY
So, here is the final assessment. The scorecard results are presented below in Table 2. A note to readers is that the data has not been updated to reflect current values, so some of the information is a month old. Each contender will be evaluated based on how it ranked for each metric. Here is how the scoring will take place:
Score of 5 = Contender ranked 1st for the metric
Score of 4 = Contender ranked 2nd for the metric
Score of 3 = Contender ranked 3rd for the metric
Score of 2 = Contender ranked 4th for the metric
Score of 1 = Contender ranked 5th for the metric
All scores will be compiled at the end and the contender with the highest score represents in my opinion the best company to include in the dividend growth portfolio. Contenders who tie or have the same result will both receive the ranking score. For e.g. if VZ and BCE are tied for 2nd on a certain metric, they will both receive a score of 4. The score of 3 will be eliminated for that metric. The highest possible score is 160.
Results
Here are the results for the telecom face-off.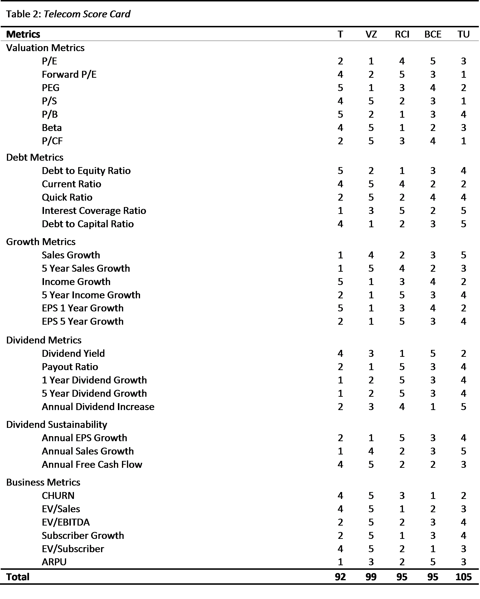 Click to enlarge
Analysis

The totals are in, and according to this analysis TU scored the highest out of all the contenders, followed by VZ, RCI and BCE, which tied and lastly T. Table three is a breakdown of the total scores for each section:

Click to enlarge
Those highlighted in red show which contender had the highest score. We can see that T had the best valuation metrics, VZ had the best business metrics, RCI had the best growth and dividend metrics, and TU had the best debt and dividend sustainability metrics. When you compare Table 2 and Table 3, the comparison makes it clear to me that each contender has some particular strengths and weaknesses. Here are a few that we can see as we look over all the contenders:
VZ had a solid showing in business metrics however its growth metrics were lackluster.
T and VZ were considerably behind RCI, BCE and TU in dividend metrics. It does not help that T and VZ have slowed their dividend growth and that it is now below the Chowder rule (Dividend yield + 5 year dividend growth rate = > 12%).
RCI had a great showing in the dividend and growth metrics but struggled in the business metrics.
TU was the best or second best in 5 out of 6 metric groupings, but did not have great valuation metrics. Most suggested that it was overvalued.
BCE was pretty much always in the middle of each grouping.
BCE was also the only company to have cut its dividend (Although in Part II I stated that AT&T cut their dividend in 2003 and 2000, a thorough explanation about why the "new" AT&T has had a continuous dividend increase for the last 29 years can be found in the comments section).
It should also be considered that due to the specific metrics selected for this analysis and having not reported others, the result may be a selection bias.
All in all, this shows you that one cannot rely and a handful of metrics to evaluate a company. Each one presents pertinent information and each type highlights strengths and areas of concern. This analysis further shows that in essence, no matter which contender you choose you really can't go wrong. In Canada, it is not likely that RCI, BCE or TU will ever fail despite everyone's love-hate relationship with them. The same goes for T and VZ. The only real concern that dividend-growth investors should have is whether there are any dark clouds that could threaten the annual increase in dividends. Although each company does have something that concerns me, continual monitoring of those concerns will lead me to decide whether it is time to sell and re-evaluate the situation of a competitor.
Conclusion
As for my dividend portfolio, I will be looking to pick up shares of VZ and TU on a pullback.
Disclosure: I am long RCI. I wrote this article myself, and it expresses my own opinions. I am not receiving compensation for it (other than from Seeking Alpha). I have no business relationship with any company whose stock is mentioned in this article.