A farmer's duties and responsibilities require the wearing of many hats and the tasks vary according to the type of operation. A farmer who raises crops is busy preparing the land in April and May for planting, and then caring for the crops until harvest time in the fall.
Some farmers sell their own crops at the market, while others have contracts with processing companies or other organizations. Both require a certain amount of business savvy and management skills.
Some farmers use their crops for livestock feed such as hay or grain, and some grow fruits and vegetables or specialty crops such as cotton, for our use.
God bless the farmer!
And then there's a wide variety of farming machinery and equipment that farmers must be adept at servicing, maintaining and operating. Whether they are a crop or livestock farmer there will be tractors, trucks, plows, combines, milking machines, sprayers and harvesters to keep maintained and operational.
Nobody likes bugs in their cereal!
In order to keep things operating correctly, farmer personnel need a reliable source for supplies. One such supply source is a company called Tractor Supply Company (NASDAQ:TSCO).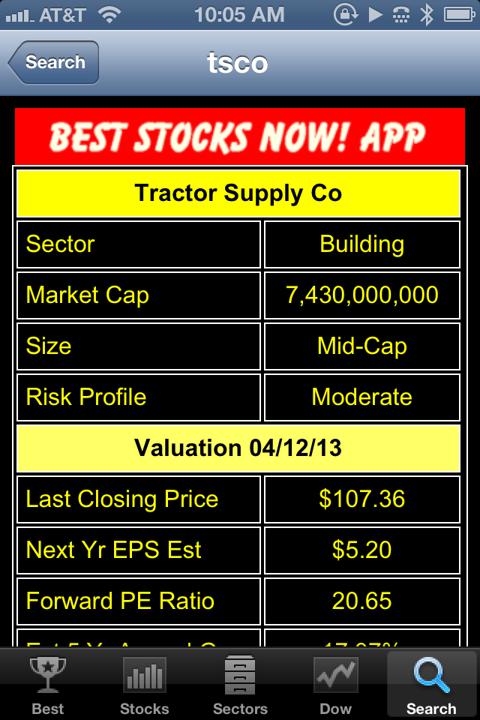 Click to enlarge
Data from Best Stocks Now app
Founded in 1938, and as of December 29, 2012, the company operated 1,176 retail farm and ranch stores in 45 states under the names of Tractor Supply Company and Dels Feed & Farm Supply.
They provide a selection of merchandise for livestock and animals, products such as items for their health, care, growth, and containment; hardware, truck, towing, and tool products; seasonal products comprising lawn and garden items, power equipment, maintenance products for agricultural and rural use. They even carry work and recreational clothing as well as footwear products.
In addition to this, it is a great place to pick up chicks on the weekend. There is nothing like a farm fresh omelet from one's own hens on Sunday morning.
The company is a mid-cap, $7.4 billion company headquartered in Brentwood, TN. Mid-cap stocks are currently one of the best asset classes to be invested in. Here is my current ranking of the top asset classes: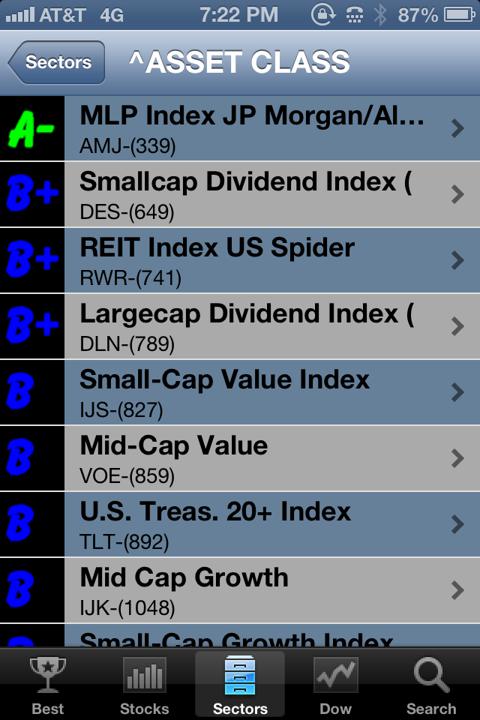 Click to enlarge
Data from Best Stocks Now App
Here is how the stock has treated its shareholders over the years.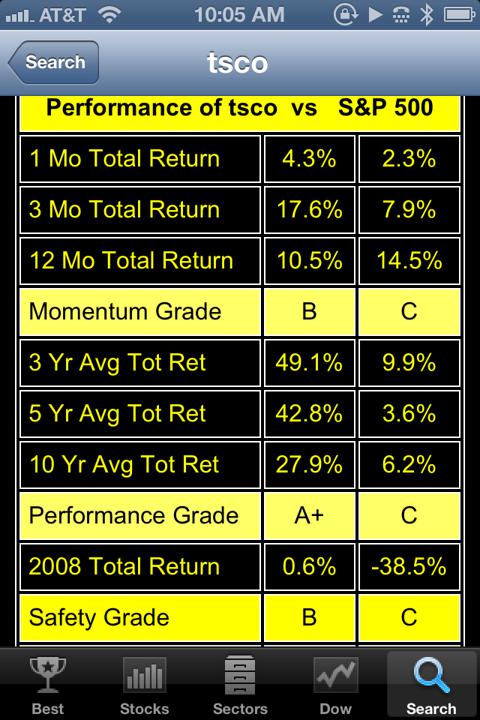 Click to enlarge
Data from Best Stocks Now app
The stock has outperformed the market over the last 3-, 5- and 10-year periods of time. It has lagged the market over the last twelve months, but is finally starting to pick up some momentum again.
Over the last three months, Tractor Supply has delivered 17.6% vs. the S&P 500's 7.9%. The stock receives a Gunderson grade of "A-" for performance and a grade of "B" for momentum.
It should be noted that the stock recently broke out to new, all-time highs after a three-month consolidation.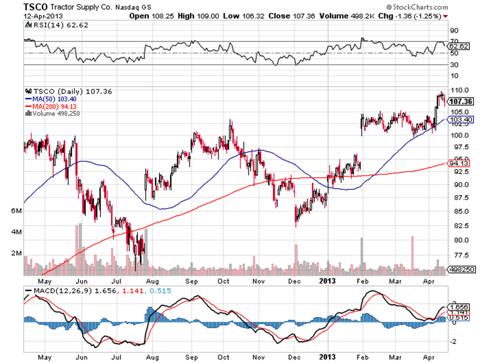 Click to enlarge
During the 2008 bear market downturn, Tractor Supply had a total return of +0.6%, while the overall market was down 38.5%. It would seem that farmers do not go away during bear markets either.
While I love performance and a healthy stock chart, I also don't like to pay too much for my stock. I like value too.
The stock currently has a PEG ratio of 1.19. When I extrapolate next year's EPS estimate of $5.20 by about 17% per year over the next five years and then apply an appropriate multiple, I come up with a 5-year target price of $202 per share.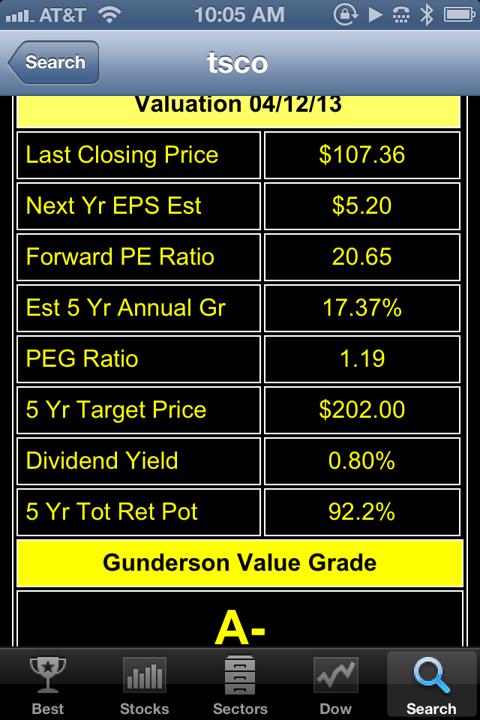 Click to enlarge
Data from Best Stocks Now app
I like stocks that have at least 80% or more upside potential over the next five years (along with performance and a healthy stock chart).
Tractor Supply currently has all three.
Tractor Supply Co receives an overall grade of "A" and ranks 63 out of the 3,320 total stocks that I track.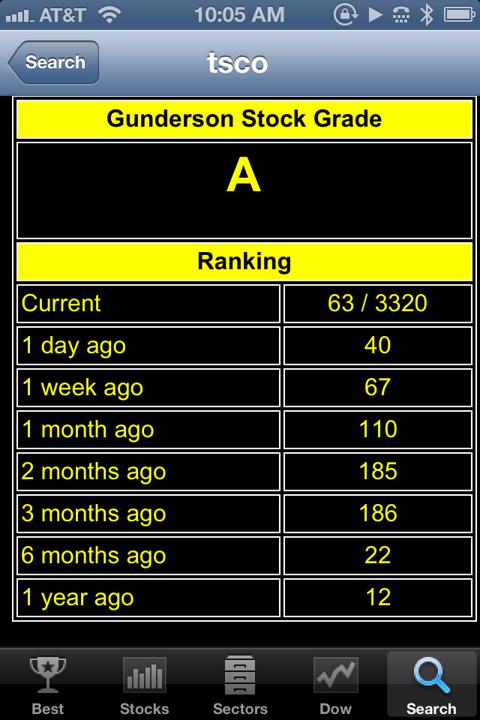 Click to enlarge
Clients of Gunderson Capital Mgt. are currently long Tractor Supply.
Disclosure: I am long TSCO. I wrote this article myself, and it expresses my own opinions. I am not receiving compensation for it. I have no business relationship with any company whose stock is mentioned in this article.